Baking macarons is no easy feat. They're an achievement of precision and technique. When you really nail it, though, the result is an impossibly delicate, lightly sweet, crispy-on-the-outside, chewy-on-the-inside meringue cookie. This recipe adds activated-THC distillate to the traditional vanilla buttercream. It may take a few tries, but creating perfect macarons is a truly satisfying accomplishment. Good luck, and enjoy the journey!
Ingredients
For the Shells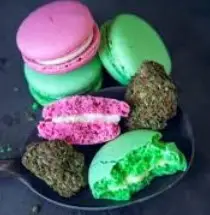 250 grams aquafaba (liquid from canned chickpeas)
1/4 tsp. cream of tartar
Pinch of finely ground sea salt
150 grams superfine almond flour
130 grams icing sugar (without cornstarch)
110 grams superfine caster sugar
For the Infused Filling
1 stick (1/2 cup) vegan butter, softened
2 1/2 cups icing sugar (without cornstarch)
1 tsp. clear vanilla extract
.5 grams 60 percent activated-THC cannabis distillate or Rick Simpson Oil
.5 grams liquid sunflower lecithin
Directions
Strain the aquafaba from the can of chickpeas, then pour it into a saucepan. Simmer over medium-low heat until it's reduced by more than half. Periodically check its weight by pouring it into a heatproof bowl or cup until it weighs 110 grams. When it's reduced, pour the liquid back into the heatproof container, cover and place it in the freezer for 15 minutes.
Next, sift the almond flour into the icing sugar, then whisk the two ingredients together to aerate and separate lumps. Sift the dry ingredients again, repeating until the mixture is as fine as possible. Pour the reduced aquafaba into a stainless-steel mixing bowl. Whisk on medium-low with a hand or stand mixer for about one minute. Add the cream of tartar and a pinch of salt. Continue to beat on medium speed, until soft peaks consistently form.
Slowly add the superfine caster sugar into the aquafaba mixture and continue to beat on medium-high speed until stiff peaks form—about 10 more minutes. It's ready when you can flip the bowl upside-down and the batter won't fall out.
Immediately sift in half the dry ingredients to the meringue, using a flexible spatula to fold the mixture together. Use a figure-eight pattern and count each full stroke. After 30 strokes, sift the rest of the dry mixture into the batter and continue to fold until fully incorporated. Aim for a consistency that is smooth and shiny (it should drop in thick ribbons that reincorporate after about 7 to 10 seconds), about 40 to 45 more strokes.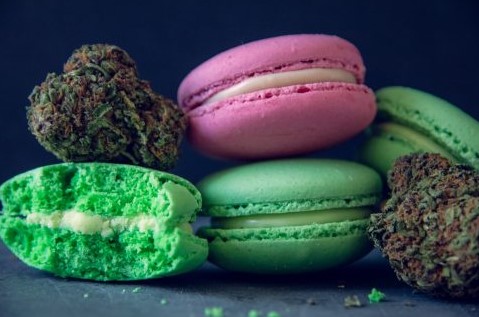 Fill a piping bag with the meringue batter and, at a 90-degree angle, pipe equally sized circles onto the parchment-paper-lined baking sheets (for a tie-dyed effect, paint vertical stripes of gel food coloring on the inside of the piping bag with a long watercolor brush).
Drop the trays firmly on a level countertop or table four to five times to remove any air bubbles and smooth the tops of the cookies. Place the trays in a cool, dry place and let the cookies sit for 30 to 45 minutes, or until a dry skin has formed and you can touch them without batter sticking to your finger.
Preheat the oven and establish a steady temperature of 248°F. Then bake each tray of macarons individually for 25 minutes without opening the oven door. Turn off the oven when the timer goes off, and wait 15 minutes before cracking the door and letting the cookies cool for an additional 15 minutes inside the oven.
Next, make the infused vanilla butter-cream frosting by beating softened butter and slowly adding the icing sugar, clear vanilla extract, activated-cannabis distillate and liquid sunflower lecithin until fluffy and fully incorporated (makes 1 1/2 cups butter-cream). Pipe one tablespoon infused buttercream onto each half of the meringue shells. Top with the remaining shells.
This recipe makes 24 macarons containing approximately 12.5 milligrams of THC each. The cookies will keep for two to three days if refrigerated in a closed container. Remember to clearly label macarons as containing cannabis.
The Best Weed Edible Dessert
Equipment
Large Bowl
Cookie Sheet & Parchment Paper
Sifter/Strainer with very tiny holes
Spatula
Hand Mixer
Piping bags
Ingredients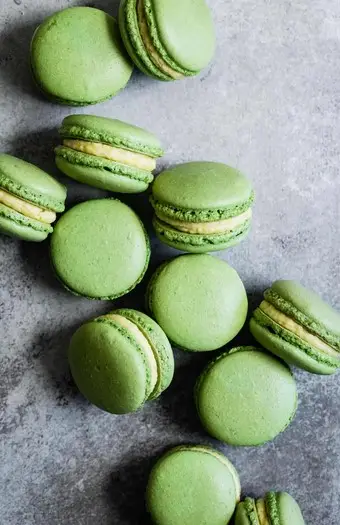 1/4 ounce Cannabis – decarbed (220 F for 20 minutes)
1/2 cup Butter
1 1/2 cups Almond Flour Note: MUST use almond flour, no subs.
1 3/4 cups Powdered sugar
4 eggs Separated – use egg whites only
1/2 cup Sugar
1 tsp Green food colouring
Filling
1/2 cup Cannabis butter
2 cups Powdered sugar
2 tbsp Milk
Instructions
Decarb your weed ( 220 F for 20 minutes)
Add your butter and decarbed weed together in a small dish/bowl
Next, strain your decarbed weed & butter with a cheesecloth ( don't squeeze) over a seal tight glass container or mason jar. A smaller size will suffice.
Refridgerate while you prepare the rest below.
PREPARING THE BATTER
Sift your almond flour and powdered sugar using a very small-holed strainer into a large bowl – note: sifting is key! You need to get the finest form of flour you can, and the only way is sifting. Stir with a whisk and let it stand whlie you prepare another bowl with more ingredients.
Separate your 4 eggs , and use only the egg whites. Place them in a separate bowl.
Add in your 1/2 cup sugar and blend with a hand mixer, you should have stiff peaks with your mixture – then you know it's ready to add the dry ingredients.
Slowly add in your dry ingredients while mixing on low. Do NOT overmix!
Add in a tsp of green food colouring, gently fold it in. No overmixing!
PIPING
Fill your piping bag with your mixture
Create small circular 'dollops' on your parchment lined cookie sheet( basically: one small squeeze about the size of a Canadian dollar/ loonie). Make sure they are far enough apart, as they settle they'll expand and you don't want them to touch.
Let them rest for one hour on the counter, uncovered.
Then bake them in the oven for 220F for 40 minutes
FILLING
While your macaroon shells are baking, you can prepare the delicious Cannabis filling!
Add 1/2 cup Cannabis butter to a bowl, and slowly pour in 2 cups of powdered sugar in small batches until all mixed up. Then add 2 tbsp milk. Blend with a hand mixer until smooth.
Put your filling into piping bags.
ASSEMBLY
When your macaroons are ready, let them cool for 10 minutes or so.
When fully cooled, you can pipe the filling inside and make your little macaroon sandwiches!
Cannabis Macaroons
Looking for a fun creative project in the kitchen? Why not try your hand at making these tasty cannabis macaroons from La Fee Verte420? Getting creative helps to our minds and bodies busy during these challenging times, and the bonus of making a creative recipe in the kitchen is that you get an amazing treat out of it. Thanks so much to La Fee Verte for sharing this amazing recipe.
INGREDIENTS
For the cookie:
3 egg whites (room temperature)
1/2 cup granulated sugar
1 cup powdered sugar
1 1/2 cups almond flour
For the filling:
2 tbs Coconut Oil
1/4 cup jam of choice
Dosage Notes:
Two tablespoons is approximately 94 mg THC or 60 mg CBD. Make sure to divide by the number of macaroons for an accurate dose; this recipe will make approximately 12-20 macaroons depending on the size you make them. You can increase the dose if you wish but La Fee Verte cautions from adding too much coconut oil as the filling may get oily.
Check out our measurement guide for information about accurate dosing with Miss Envy.
INSTRUCTIONS for Cannabis Macaroons
For the cookies:
Whisk egg whites until soft peaks form. Slowly add granulated sugar and beat until stiff peaks form (You should be able to flip the bowl upside down and nothing moves).
In a separate bowl mix almond flour and powdered sugar.
Gradually fold almond flour and powdered sugar into the whipped egg whites until mixed. (This is also where you would add food colouring if desired)
Scoop mixture into a Ziploc bag and cut off the tip. Pipe small circles onto parchment or silicone lined baking sheets.
Let sit uncooked on the sheet for at LEAST 45 minutes but an hour or two is better. This step is SUPER important otherwise your macarons will not hold their shape while baking.
Preheat oven to 300 degrees Fahrenheit and bake for 10-12 mins.
For the filling:
While the cookies are baking; In a saucepan melt coconut oil and add jam. Stir together.
Put filling in a bowl and place in the fridge for about 15 minutes to stiffen up a bit.
Once the cookies and the filling are cool it's just a matter of assembling these amazing cannabis macaroons.
Enjoy!