Today we're going to show you how to make one of our personal favorites: cannabis chocolate muffins . These chocolate muffins are delicious, spongy and moist; just the way we all love them. They're perfect as a dessert, a snack, or even a nice breakfast alongside a glass of milk.
One of the many ways to make chocolate muffins with an extra little something that's sure to impress your friends.
Easy Cannabis Chocolate Muffins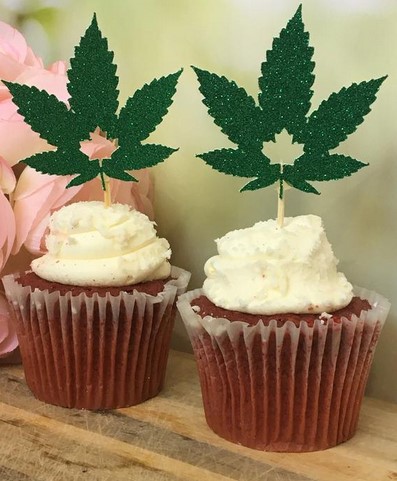 Ingredients:
50gr of ground oats or oat flour
40gr of cannabutter
180ml of milk
50gr of sugar
110 gr of baking flour
75gr powdered chocolate
3 eggs
1 spoonful of powdered yeast
8gr of ground up cannabis
4 spoonfuls of chocolate syrup
Chocolate balls for decoration
Crunchy nuts for decoration
Preparation:
First, mix the oats with milk and let it sit for about an hour. Meanwhile, mix up the sugar, ground cannabis, chocolate syrup and butter. Once it's properly mixed and the milk and oats have been sitting for long enough, add the two mixtures together.
Lastly, add in the flour, the powdered chocolate, the eggs, the yeast and mix properly until you end up with a smooth and equal mixture without any lumps in it.
Preheat the oven to about 180 degrees. Now, place the mixture in your muffin mold for the oven and sprinkle the chocolate balls or sprinkles over the top as well as the nuts. We decorated ours like this but you can do it however you like – with icing sugar, sprinkles etc.
Stick the tray with your muffins in it into the oven for about 15 to 20 minutes until they're nice and brown.
You can easily check if they're ready by sticking a toothpick into them – if it comes out clean, your muffins are just about ready to be enjoyed! Make sure to eat these muffins wisely as when ingested, cannabis takes longer to take effect and it also has a much more potent effect.
Vegan Cannabis Chocolate Muffins
Vegan edibles as chocolate muffins should be dosed lightly since they are so freaking delicious. If you garnish with sprinkles and shavings add them in the last few minutes so they don't just melt out.
Whether or not you add the weed component this vegan chocolate muffins recipe will be sure to delight.
Ingredients: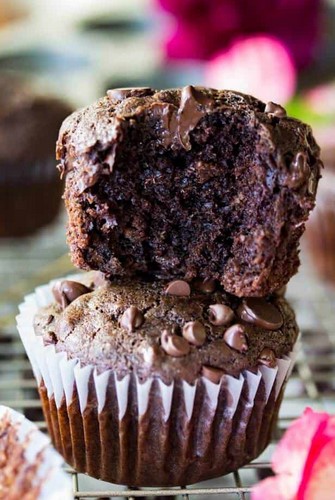 6 – 9 grams marijuana
1/3 cup coconut oil
1/4 cup unsweetened applesauce
1 cup almond milk or cannamilk
1 tbsp apple cider vinegar
1 tsp vanilla extract
1 3/4 cups all purpose flour
1/2 tsp salt
1 tsp baking soda
1/2 cup unsweetened cocoa powder
1 cup brown sugar
1 cup semi-sweet chocolate chunks
Chocolate sprinkles (optional)
Preparation:
Preheat your oven to 240°F, break your buds down into an ovenproof bowl, add coconut oil and cover the bowl with foil. Place it in the oven for 20-30 minutes to decarboxylate.
Remove and raise the oven heat to 350°F. Strain the weed oil with cheesecloth into a small bowl to remove the plant substance. Whisk in applesauce along with almond milk, vinegar, and vanilla extract. Set aside.
In a larger bowl, sift the flour with the salt, baking soda, cocoa powder, and brown sugar. Add the wet mixture to this dry mixture, stir into a thick batter and fold in the chocolate chunks. Be careful not to over-stir.
Divide the batter into your muffin tins and add some extra chocolate chunks and chocolate sprinkles over the muffins. Bake for 20 – 25 minutes until a toothpick inserted in the center comes out clean. Remove from the oven and allow it to cool before munching.
Cannabis chocolate muffins
Ingredients for 4 muffins:
100gr black chocolate
100gr powdered sugar
50gr cannabis butter
50gr flour
2 eggs
4 candied cherries
To make the cannabis chocolate muffins
Preheat the oven to 180ºC (356ºF)
Mix the chocolate and the cannabis butter and heat it in a water bath, stirring it until the mix becomes a uniform liquid.
Meanwhile, mix in a bowl the powdered sugar and the eggs. Beat the mixure vigorously until stiff and foamy.
Pour the chocolate/butter mixture into the bowl while stirring.
When the mixture is uniform, sieve the flour over it while beating the mixture with a wire whisk until you have a smooth, compact dough.
Fill up 4 muffin cups with the dough.
Bake the muffins for about 8-10 minutes, until a crust is formed and a toothpick inserted in the center of the muffin comes out slightly sticky. If it comes out clean, it means that it is a bit overcooked, resembling a cupcake instead of a muffin. We are looking for a coulant-like texture.
Double cannabis chocolate banan bread muffins
Classic banana bread, but adding cocoa powder, chocolate chips, and cannabis really makes it that much better!
Ingredients
1 1/2 cups flour
1/2 cup cocoa powder
1 teaspoon baking soda
1/2 teaspoon salt
1 cup chocolate chips
3 large bananas mashed (about 1 1/2 cups)
1/3 cup unsalted butter melted
2 tablespoons cannabis butter melted
1/4 cup brown sugar
1/2 cup granulated sugar
1 large egg beaten
1 teaspoon vanilla
Preparation:
Preheat oven to 350 F and line a muffin tin with cupcake liners. You can also use a lightly greased 9×5 inch loaf pan.
In a medium sized mixing bowl, whisk together flour, cocoa powder, baking soda, and salt. Set aside.
In a larger bowl, combine mashed bananas with melted butters. Stir in the brown sugar and granulated sugar. Then add the egg and vanilla.
Gradually stir in the dry ingredients, being careful not to overmix. Then, stir in 1/2 cup chocolate chips.
Fill each cupcake liner to about 2/3 full and top each with the remaining chocolate chips.
Bake for 15 minutes or until a toothpick inserted into the center of one muffin comes out clean.
Happy Highing!