Used interchangeably, using either infused coconut oil or infused butter will work in this recipe.
Oil infusions are an easy way to infuse a full-spectrum of compounds like CBD or THC from the cannabis plant into the food you are eating.
You will want to make sure you have your cannabis-infused coconut oil or cannabutter prepared BEFORE diving into making your own cannabis sugar cookies.
The process for making butter or oil first involves cannabis decarboxylation and then a water bath that cooks for approximately 4-hours.
Once you have your cannabis oil or butter ready, you can go ahead and use it in any other of our delicious cannabis-infused recipes like these classic cannabis brownies.
Infuse with cannabis sugar
You can also make these cannabis sugar cookies with actual cannabis-infused sugar.
It is entirely up to you whether or not you want to use infused oil, cannabutter, or infused sugar in this recipe.
Alternatively, you could also use both infused oil or butter AND infused sugar together for an extra potent batch of medicated cookies.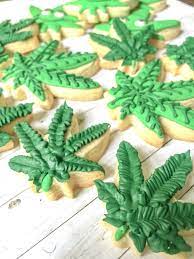 Cookies infused with CBD oil
Depending on where you live, it may not be easy to get your hands on THC dominant or CBD dominant cannabis flower to make your own infused oil or butter.
That is why we wanted to offer a way to make this recipe with CBD oil or CBD concentrate which is legal to obtain in nearly all 50 states.
For stronger cookies, we recommend using the CBD concentrate which packs in 500mg of CBD in just 1mL volume.
Because this is such a small amount, you can use the recipe and add this to the mixture when you add the eggs and vanilla.
For cookies that are not as strong, you can use a traditional CBD oil that will offer anywhere between 16-33mg per mL. Simply subtract the amount you want to add from the total fat content.
For example, if you add 1 tablespoon of CBD oil, subtract 1 tablespoon of oil or butter from your total amount.
Gingersnap cookies with medicated caramel frosting
Topped with a layer of weed-enhanced caramel frosting, these molasses-spiked morsels are the sweets you never expected would find their way into your holiday baking — but are glad you gave em' a shot.
Think of them as the perfectly spiced gingersnaps grandma used to make, only with something a little extra that grandma would never have thrown in.
Made with cinnamon, molasses, and ginger, the tasty delights only need 10 minutes in the oven. One batch makes 30 cookies, so put on a pot of tea, throw these in the oven, and freeze any leftover dough for next time.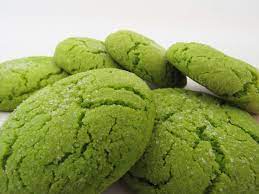 Cannabis-infused almond laced cookies
If you need a break from classic gingerbreads, we hear you. There's definitely a time and place for crispy snowflake-like cookies with a different kind of look and zing — one of fresh orange zest and almond.
(And a little cannabis-infused coconut oil.)
They're drizzle-coated with chocolate, so, as you can imagine, that combination is killer. These treats are vegan and gluten-free too, made with coconut oil, coconut milk, gluten-free all-purpose flour, and brown rice syrup.
But, as another reminder before licking the delicious spoon too many times — there's definitely cannabis-infused coconut oil in here. So if you want to finish the bake without getting baked, then it might be wise to refrain from spoon-lickage.
Cannabis chocolate chip cookie dough balls
When cookie dough cravings hit, cookies that require zero baking are a must.
Usually sneaking a chunk of cookie dough means risking the chance of a belly ache after eating raw egg. Not today, belly bother!
This recipe is sans egg but needs cannabutter, brown sugar, granulated sugar, milk, vanilla extract, flour, and semisweet chocolate chips.
You can store them up to a week in an airtight container, which is also ideal for a cookie you should refrain from devouring more than one or two of at once.
Oatmeal canna cookies
Oatmeal cookies are always a hit on the dessert table. These dense treats come to life as a result of raisins, oats, pecans, and the wild-card ingredient of cannabis-infused butter.
Bake these (very) bad boys until they're slightly browned and serve. But do let the people know what they're biting into — they're in for one heck of a journey.
Marijuana peanut butter cookies
Peanut butter cookies are a no-brainer.
They're both salty and sweet, and we often reach for them when a classic chocolate chip just isn't cutting it. Who doesn't love that soft, chewy, peanut buttery-ness?
This recipe, based on a grandma's very old recipe, provides a bunch of protein alongside a touch of cannabutter.
Cranberry, cannabis, and chocolate chip cookies
Wrapping presents, arranging food, trying to get everything finished at work before you get to put your feet up — the holidays can be super chill, but the weeks before can be mad. And the holidays themselves aren't always happy.
Don't worry though — these cookies can take the edge off.
Packed with brown sugar, vanilla, oat flour, oats, cinnamon, ginger, dried cranberries, dark chocolate chips, and cannabis-infused coconut oil, you'll forget that you're biting into something healthyish.
And also where you put your Santa hat.
Cannabis-infused sugar cookies
You wait all year to stuff your face with sugar cookies so might as well make them gorgeous. And intoxicating.
If the intended recipient of your cookie is fine and dandy with the surprise ingredient of cannabis butter, we see these as the perfect gift for any holiday visit.
Plus, you can regulate how potent your sweet treats come out by swapping out any portion of the cannabutter with standard butter.
Coconut almond macaroon edibles
With toasty coconut on the outside and dense almond on the inside, these medicated macaroons are a fun break from your spiked eggnog.
These fancy-looking desserts are vegan and gluten-free too.
Making cannabis edibles might seem like a daunting process to beginners, but it's actually simpler than first meets the eye. For both novices and those more experienced, marijuana cookies are the perfect recipe to allow one's culinary imagination to run wild. Following a cannabis infused sugar cookies recipe can be just as effortless as simply adding cannabutter to cookie dough. However, the recipe provided here will not be for pot cookies with premade dough but will instead include instructions for making the dough from scratch.
Cannabutter
To make marijuana sugar cookies, you need to make cannabutter beforehand, which acts as an extremely versatile base for all kinds of weed edibles. The most important component of making cannabutter is the decarboxylation process. This procedure involves heating up raw marijuana to convert the cannabinoids THCA and CBDA into THC and CBD in order to get that "high" feeling. When making the cannabutter, be careful to dose it properly. The potency of your THC sugar cookies is determined by the potency of your cannabutter. If you're not certain on how to dose correctly, then use this potency calculator to figure out the total amount of THC.
How to Make Pot Sugar Cookies
This recipe will make approximately 24 cookies.
Ingredients
1 teaspoon vanilla extract
1/2 teaspoon cream of tartar
1 1/4 cups white sugar
3 egg yolks
1 teaspoon baking soda
1 cup cannabutter
2 1/2 cups all-purpose flour
2 cookie sheets
Directions
Preheat your oven to 350 degrees Fahrenheit. While preheating, thinly grease 2 cookie sheets.
Add the sugar and cannabutter into a bowl, thoroughly mixing them.
Beat in the egg yolks one at a time. Afterward, add in the vanilla extract, flour, cream of tartar and baking soda, stirring the mixture until consistent.
Use an ice cream scooper to divide the dough into 24 equal portions. Roll each portion into walnut-sized balls and coat the tops by gently pressing with sugar. Place the balls 2 inches apart on the cookie sheets, making sure not to flatten.
Bake for about 10-11 minutes until the tops are cracked and just turning a golden brown color. Remove from the oven, letting them cool on the sheets for about 2 minutes before placing the cannabutter sugar cookies on a wire cooling rack.