Making Cannabis Infused Lollipops is fun & easy to do, as long as you follow a few simple steps. These marijuana lollipops are so easy to make, you'll want to make them on a regular basis. The key to making cannabis infused lollipops is temperature. While this is a very simple edibles recipe, requiring only 5 ingredients, it's not something you can set and forget. You have to be present and keep a close eye on your thermometer throughout the process. There's a thing in candy making called "Hard Crack Stage" and it simply means that you have to heat your organic sugar, corn syrup and water up to 300 degrees Fahrenheit before removing it from the heat source. Getting it to this temperature, makes your candy hard. Makes sense, right?
Temperature used to make cannabis infused lollipops
The tricky part with making marijuana infused lollipops is that you have to let it cool down to about 250 degrees Fahrenheit so you don't lose out on all of the incredible healing compounds in your cannabis tincture. This makes it a little messier to deal with since the liquid candy has already cooled and gets a bit sticky around this temperature.
You'll probably have little hard candy trails all over your molds and counter when all is said and done. The upside is that you can just wait until it hardens and eat it. I didn't have any issues with stubborn hard candy that I couldn't pry off, but you'll want to make sure that you work on non-stick surfaces. If you're worried about making a mess, just lay down a sheet of parchment paper underneath your candy or lollipop molds.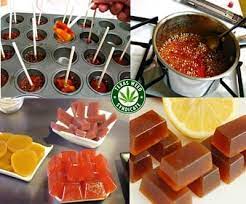 Cannabis infused lollipop molds

t's all in the mold. You can use your gummy bear molds from making Cannabis Gummies, or you can find molds specifically for hard candy making here. I prefer working with silicon since it's reusable and it's easy to remove your candy from silicon molds, but player's choice!
You'll have to make a cannabis tincture first or use decarboxylated hash (I haven't tried this yet, but will update this post as soon as I do). Be careful when using alcohol-based tincture and make sure you are far away from your heat source when stirring it into your candy mixture. Because… Booze + Heat = Fire.
This exact recipe can be used to make cannabis hard candy.
Organic Cannabis Infused Lollipops and Marijuana Hard Candy Recipe
The key to making cannabis infused lollipops is temperature. While this is a very simple edibles recipe, requiring only 5 ingredients, it's not something you can set and forget. You have to be present and keep a close eye on your thermometer throughout the process.
Cannabis Infused Candy Making: Materials List
There are a few things you're going to need ahead of time to make this recipe:
A good candy thermometer
Lollipop or hard candy molds
Lollipop sticks
Cannabis tincture or decarboxylated cannabis concentrate (hash, CO2 extract, etc.)
Are you a sucker for Cannabis Lollipops?
So are we! Follow this unique recipe for Cannabis Lollipops to create a sweet treat. This weed edible is a fan favorite and makes an excellent party favor. If you're looking for an easy to make, easy to travel, cannabis edible this weed lollipop may be right for you!
What flavors of weed lollipops can I make?
The sky is the limit for flavoring your weed edible lollipops. Add a little bit of lemon for a sour candy. Try adding liquorice to these pops for a unique flavor. You can flavor these pops with your favorite flavor extract.
Substitute the water in this recipe with a delicious juice to mix things up! Once your cannabis lollipops have set, you can dip them in water and then cannabis sugar for a potent garnish. Consider also dipping them in your favorite powdered candy or sugar.
How long do cannabis lollipops take to make?
Excitingly, these candy edibles only take 25 minutes to prepare. After 5 minutes of cooking, these weed lollies will need a bit of time to cool down. These cannabis infused lollipops will be visibly ready as they will harden.
What do I need to create these cannabis infused candies?
To complete this recipe you will need a short list of ingredients. Gather your cannabis tincture, sugar, water, corn syrup, and a flavor extract.

In addition, you will need a few cooking utensils. Be sure to have a cooking pan, a whisk, and your weed lollipop moulds on hand.

Furthermore, if you wish to color to these weed pops, you will need food coloring. Add a couple small drops of coloring to the mixture to create weed edibles that are easy on the eyes!
Don't worry, if you do not have a cannabis tincture you can follow this recipe to make your own weed tincture at home.
CANNABIS LOLLIPOPS
Ingredients:
1 cup granulated sugar
1/4 cup light corn syrup
1/4 cup water
1/4 teaspoon cream of tartar (a Martha Stewart touch. You don't have to, but the cream of tartar makes the finished sucker smoother and more professional looking)
1 teaspoon flavoring oil
1 gram cannabis concentrate
2-3 drops coloring
Edible flowers or colored sanding sugar
Spray molds with nonstick cooking spray or spread parchment paper on the kitchen counter.
Over high heat, mix sugar, corn syrup and water in a heavy pot. Stir until all of the sugar dissolves. Use a small brush to wipe sugar from the sides of the pot and into the mixture.
Add food coloring. Attach a candy thermometer to the pot and bring the mixture to a boil. Do not stir as the temperature rises.
At 300 degrees, remove pot from heat and place in an a ice bath to stop the cooking process.
When the syrup has stopped boiling, add flavoring and concentrate. Use a small silicone spatula and stir well.
Pour syrup into lollipop molds or pour round dollops on parchment paper.
Press and roll a small stick into each lollipop. Leave them for an hour to set.
When the suckers have hardened, they will pop out of the molds. Wrap in plastic or sucker bags and store in a cool, dry place for several months.
I spent years making a mess of hard candy. When it comes off the stove the sugar mixture is a hot 300 degrees, and we've only got a few minutes before it cools down and hardens. In those few minutes we need to add the perfect amount of color and the right amount of cannabis concentrate, stir it well and pour out 24 perfectly shaped suckers. And then add edible flowers or a sprinkle of glitter for fun.
It can't be done.
The syrup hardens up before all the suckers are evenly poured. The syrup hardens all over the pyrex cup so we waste a sucker or two. I had given up on hard candy when Martha Stewart offered a tip that saved my lollipops – the oven.
So now I can take my time and complete each step perfectly, which results in perfect pops. Since the oven is already at 250 degrees from the decarboxylation process, we can simply put the pyrex cup of syrup in the oven whenever it hardens. The heat in the oven will warm up and smooth out the syrup so it can be poured.