Falafel Balls
INGREDIENTS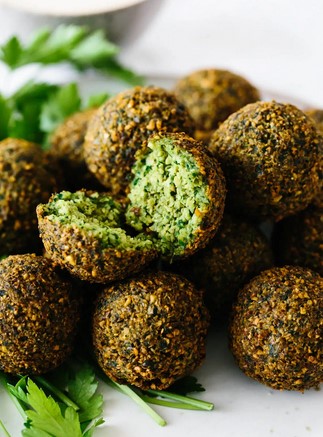 1 15-oz. can chickpeas, drained
4 cloves garlic, roughly chopped
1 shallot, roughly chopped
2 tbsp. roughly chopped parsley
1 tsp. ground cumin
1 tsp. ground coriander
2 tbsp. all-purpose flour
kosher salt
Freshly ground black pepper
Canna Vegetable oil, for frying
Instructions:
In a food processor combine chickpeas, garlic, shallot, parsley, cumin, coriander, and flour and season with salt and pepper.
Blend until mixture resembles a thick paste.
Using 2 tablespoons of mixture, form into falafel balls.
In a shallow pot, heat 1"canna vegetable oil. Fry falafels until golden, then transfer to a paper towel-lined plate.
Serve with pita, pickled turnips, hummus and tomatoes for a great falafel sandwich.
Sweet Pottatoe Fries
INGREDIENTS
2 large sweet potatoes, peeled and cut into 1″ x 3″ wedges
3 tbsp canna oil
1/2 tsp salt
1/2 tsp black pepper
1/4 tsp paprika
1/4 tsp garlic powder
DIRECTIONS
Position rack in the upper third of the oven and preheat oven to 425°F. Spray baking sheet with non-stick spray.
Place sweet potatoes and canna oil in a large bowl, toss lightly. Sprinkle with salt, pepper, and paprika.
Arrange potatoes in a single layer on a prepared baking sheet, being sure not to overcrowd.
Bake until tender and golden brown, turning occasionally. Cooking time is 18 to 24 minutes. Cool 5 minutes before serving.
Note: Don't forget to dip your fries in our delicious cannabis-infused ketchup
Tamale Stuffed Peppers
Ingredients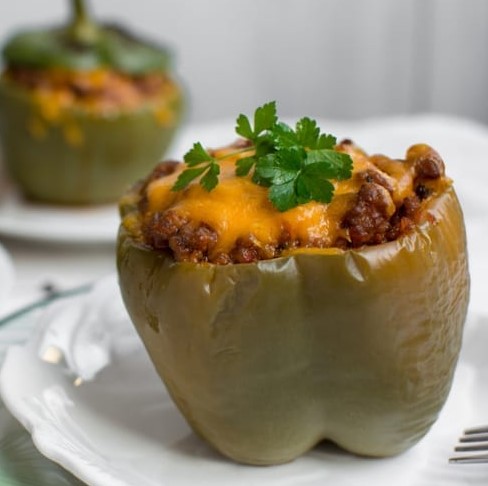 2 green or red bell peppers large
1 teaspoon butter
1 teaspoon oil
1 white or yellow onion small, diced
1 jalapeno pepper minced
1 tablespoon minced garlic
1 1/4 cups water vegetable stock or chicken stock
1/3 cup yellow corn meal
1/2 teaspoon cumin
1 gram decarboxylated kief or finely ground decarboxylated hash
1 teaspoon salt or to taste
3/4 teaspoon pepper
1/2 cup cooked black beans
1/2 cup fresh or frozen corn
1/4 cup chopped cilantro
1 cup shredded jack or cheddar cheese divided
Sour cream (optional)
How it's done:
Preheat oven to 400 degrees F.
Cut the two large bell peppers in half lengthwise and remove the seeds and core. This will leave you with four pepper half shells. Place these, cut side up in a small baking pan.
Melt butter and oil in a medium saucepan. Add onions and cook, stirring often, until starting to brown, about 5 minutes. Add jalapeno and garlic to pan and cooking, stirring, for another minutes.
Add water or chicken stock to pan and bring to a boil.
Stir kief or hash into the cornmeal along with the cumin. Whisk cornmeal/cannabis mixture into the boiling water in a slow steady stream. Reduce heat to a simmer, and continue whisking/cooking until slightly thickened, about 5 minutes. Season with salt and pepper.
Stir in beans, corn, cilantro, and 3/4 cup shredded cheese.
Divide the mixture between the 4 pepper halves (if your peppers are small you may need more than 4).
Sprinkle remaining cheese over the tops of the peppers.
Pour hot water into the baking dish to reach halfway up the sides of the peppers. Bake until peppers are tender, filling is hot, and cheese on top has melted and is starting to brown, about 20 to 25 minutes.
Cool for 5-10 minutes before serving. Add dollop of sour cream and enjoy!
Bowl of Eggs
Ingredients:
2 tbsp olive oil (use canna olive oil for extra potency)
4 slices bread of your choice
2 tbsp cannabutter
4 large eggs
1/2 tsp sea salt
1/4 tsp black pepper
1/4 tsp paprika
Instructions:
Pre-heat oven to 400 degrees F. Coat four 1-cup ramekins with oil and place on a cookie sheet, you may also use a muffin tin.
Butter the bread slices all over, then place each slice of bread inside a ramekin, pressing gently to tuck it inside the ramekin.
Break an egg into the middle of each slice.
Bake until the egg whites are fully cooked – approximately 20 minutes.
Gently remove bread from ramekin. Add salt, pepper and paprika to taste.
Bacon Wrapped Jalapeños
Ingredients:
15 fresh jalapeno peppers (around 3 inches long)
8oz cream cheese (room temp)
1½ cups sharp white cheddar cheese (shredded)
¼ cup mayonnaise
4 teaspoons cannabis sugar
3 Tablespoons of cannabis sriracha sauce
½ tsp granulated dry onion
½ tsp granulated dry garlic
1 tbsp kosher salt
1 tsp fresh cracked pepper
15 slices bacon (do not use thick cut)
How it's done:
Preheat oven to 400 and spray a foil lined sheet pan with non-stick spray…
Cut the jalapenos in half and use a spoon to scoop out the seeds and ribs…
In a medium mixing bowl, mix together the cream cheese, cheddar, mayo, dry spices, salt + pepper, cannabis sugar, and sriracha sauce… mix well…
Fill each jalapeno half with the cheese mixture…
Cut the slices of bacon in half crosswise and wrap each pepper half with a half slice of bacon, using a toothpick to secure the bacon…
Arrange the wrapped peppers on the foil lined, sprayed sheet pan and bake for 20-25 minutes or until bacon is crispy and browned… remove from the oven, season with salt and pepper and let cool 5 minutes….
Carefully remove the toothpicks and serve the peppers while still hot…
Enjoy!
CannaCauliflower Curry
Ingredients:
1 tablespoon Oil
1 large onion diced
1 tablespoon minced garlic
1 tablespoon curry powder
1 teaspoon turmeric
1/4 teaspoon cayenne optional
1/2 teaspoon black pepper
1 can 15 ounces, chopped tomatoes
2 cups small cauliflower florets
1 can 14 ounces, coconut milk
2 tablespoons canna-oil
1 can 15 ounces, garbanzo beans
Salt to taste
1/2 cup chopped cilantro
cooked brown rice for serving
Directions:
Heat the oil in a large pan over medium-high heat.
Add onion and cook until softened, about 5 minutes.
Add garlic curry powder, turmeric, cayenne (if using) and pepper and stir to combine.
Cook for 1 minute, stirring, then pour in the canned tomatoes and their juices and cauliflower.
Stir in the coconut milk, canna-oil, and garbanzo beans.
Reduce heat to lower, cover and cook, stirring often, until cauliflower is tender, about 10 minutes.
Stir in salt if needed. Serve curry over cooked brown rice.
Sprinkle with chopped cilantro just before serving.
Stoney Shrimp Scampi
Ingredients
2 lbs shrimp, raw, peeled
1/2 lb CannaButter
1 cup shallots, chopped
1 cup white wine
1/2 chopped parsley
Black pepper
Fresh lemon
2 ea garlic cloves, minced
Directions
Peel the shells off the shrimp.
Heat a large saute pan with a 2 tablespoons of oil and cook shrimp in small batches. When one batch has finished cooking remove shrimp from pan and place on a plate to the side.
After cooking the shrimp, add the butter to the pan and cook shallots in remaining oil over medium heat for a few minutes. We don't want any color here.
Now add the garlic and cook for one minute stirring constantly. Once the garlic has smelled up the room you will add white wine and reduce by 1/2 to 3/4 depending on your preference.
To finish you will swirl the remaining CannaButter into the pan and add the shrimp. Your pan should be on low now for your initial first taste.
Season with salt and some lemon juice if you wish.
Vegan Canna-Vegetable Soup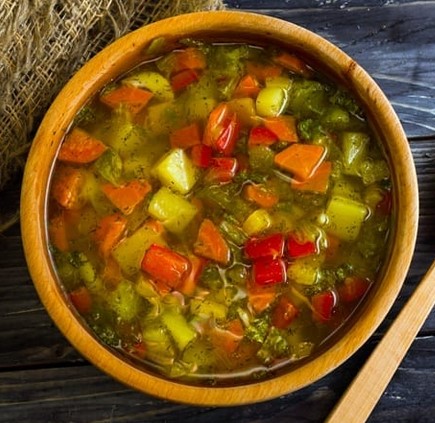 Ingredients:
1 tablespoon of olive oil
1 large leek (white part only), sliced
1 medium onion (yellow or white), diced
1 celery rib, diced
1 large carrot, peeled and diced
1 tablespoon of minced garlic
2 tablespoons of canna-oil
3/4 cup of red wine
1 tablespoon of vinegar (red wine, balsamic, or cider)
1 can (16.5 ounces) of diced tomatoes and their juice
1 tomato can (16.5 ounces) filled with water
4 cups of vegetable stock
1/2 small head of green cabbage,sliced
2 cups of chopped mixed vegetables
3 tablespoons of soy sauce
1 teaspoon of black pepper
1 teaspoon of dried oregano
NOTE: Add a cup of cooked pasta or rice to make it even more filling.

Directions:
In a large stockpot, heat olive oil at a medium-high temperature.
Add leeks and onions. Stir constantly until they begin to brown (approximately ten minutes).
Add carrots and celery; saute for another five minutes while stirring.
Turn heat down to medium, and stir in the cannabis oil and garlic. Cook for one minute while stirring. Mix in wine and vinegar to scrape up bits from the bottom of the pot.
Add vegetable stock, tomatoes, water, cabbage, and mixed vegetables. Bring to a boil, then lower heat to a simmer. Cover and cook for 10 to 15 minutes (until vegetables are tender). Add soy sauce, oregano, and pepper, and cook for an additional five minutes.
Serve hot, and freeze any leftovers.