Just how people enjoy an alcoholic drink after work, at social events, or during times of stress, people also enjoy cannabis drinks the same way.
Cannabis-infused drinks are gaining popularity as an easy and delicious way to consume CBD, THC, and other cannabinoids.
Of course, cannabis is new for many people as legalization slowly expands throughout the country, and cooking with cannabis can seem foreign and overwhelming when just starting out.
Cannabis Drinks To Make At Home
Making a cannabis drink recipe at home allows you a lot of flexibility in determining what type of cannabis product you want to use, what cannabinoids you want to consume, and in what ratios.
Each CBD, THC or other cannabinoid dosage and the ratio will be unique for each individual, their own tolerance level, and their desired outcome.
Remember, CBD is like the non-alcoholic beer of cannabis, while THC is more like a shot of liquor.
Both will contribute to unique experiences, but it is up to the consumer to decide exactly how much of what they are choosing to consume.
Here we will cover a variety of different ways you can add cannabis to your favorite drinks, with methods including:
Hot 'Pot' Cocoa
With winter season fast approaching, and each night getting colder than the previous one, it's time to conjure up a drink that will not only warm us up but keep us high at the same time. This hot cocoa is so exquisite and packs so much of a punch that it will get you through any night, be it stormy, freezing or lonely. It's delicious, steaming hot and boasts of a warmth factor that no other drink has. You can prepare this delicious brew at home in no time. Also, it's easy to make and doesn't require too many ingredients. Try it once and we are sure you'll be making it again.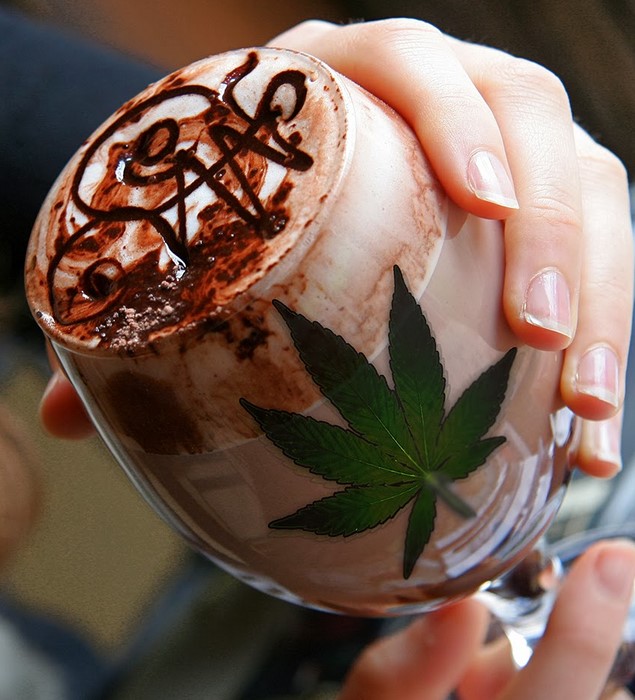 Ingredients
chocolate sauce
whole milk
the bud
Kitchen equipment
grinder
cheesecloth
sauce pan
pitcher
rubber band
mug
Directions
Pour ½ quart of whole milk into the sauce pan and bring to boil.
Grind the bud in the grinder and add it to the boiling milk.
Simmer for thirty minutes or so and remember to stir the mixture often.
Next, place the cheesecloth on the pitcher and secure it firmly to the rim using a rubber band. This will give the cheesecloth enough stability to strain the milk.
Once the cheesecloth is secured, slowly pour the milk through it into the pitcher. The cheesecloth will act as a strainer.
Fill the mug with the strained milk and pour chocolate sauce into it. Stir and serve hot. Your steaming cup of cocoa hot pot is ready.
Cannabis Vodka
We've all tried Sex on the Beach sometime or the other. It's delicious, and true to its name, it's great fun and one of the best cocktails you can have. And when you're in the mood for something new, there are a whole lot of other combinations you can try in order to appease your taste buds. And, not to forget, enjoy the bliss that follows.
Be it at your best buddy's party or on a romantic date, we've all sipped seductively at vodka based cocktails initially and gulped it down later, for we just couldn't have enough of it. And now, vodka drinks just got better! Or should we just say that vodka can be ten times more fun if you could fix yourself an easy-to-make cannabis infused vodka.
Here's the recipe for cannabis infused vodka .
Ingredients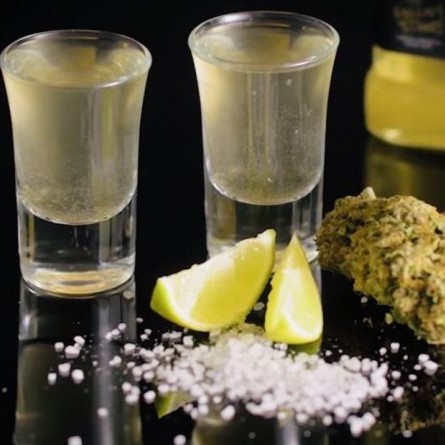 ½ cup hemp seeds
2 ounce vodka
½ ounce peach schnapps
¾ ounce orange juice
¾ ounce cranberry juice
potato chips for garnishing
Kitchen tools required:
A glass jar with lid
A muddler
A strainer
A funnel
A glass to serve
A toothpick for garnish
Directions
Let's start by crushing the hemp seeds. Put all the hemp seeds in the glass jar and add about ¼ ounce of vodka to it. You need to muddle the seeds for about a minute or so. Make sure you put enough pressure to break down the seeds.
Add more vodka to the mix, about ¾ ounce, and shake the contents nicely.
Let the mixture sit for several days. A week would be the ideal duration for the mix to get the perfect concentration. Make sure you shake the contents periodically, at least once every day. This step is important to make sure the vodka is infused with all the flavour from the seeds. You can notice the concentration change every day.
After a week, your cannabis infused vodka should be all set.
Strain the seeds using a strainer and a funnel. You can then transfer the drink to a bottle and use it to make the cocktail of your choice.
To make the perfect cannabis infused vodka drink you'll need a nice, big glass and some ice cubes to start with. Pour 1 ¼ ounce of hemp infused vodka in the glass. Add ½ ounce of peach schnapps to it. Top it with ¾ ounce of orange juice followed by the same amount of cranberry juice. Your drink is all set.
You can get creative with the garnishing part. A slice of lemon or a nice, red cherry will work fine. Potato chips or wafers will make for excellent garnishing options too. Spear 2-3 potato wafers with a toothpick. Use the toothpick to bridge the rim of the glass and suspend it above the drink. Your drink is ready to serve.
The cannabis infused vodka is a treat to the eyes and easy on the palate. It's smooth and fine and is worth every dime!
Weed Coffee
This is a remarkable recipe for cannabis instilled coffee that gives you a real buzz. Just imagine the power of cannabis and caffeine emanating from your cup! Here's the ultimate recipe for those on the move as well as for those who slog their long days at desk working hard! Here's how you make your pot of caffeinated pot!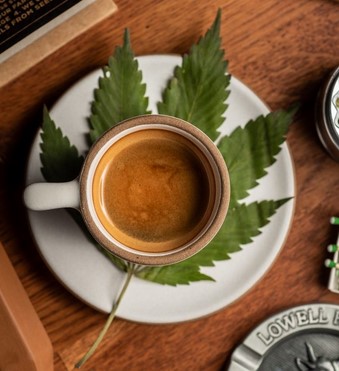 Ingredients
1 liberal pinch of pounded hash
4 teaspoons of finelypulverised Arabian mocha
2 pinches crushed nutmeg
2 pinches crushed cinnamon
1 full pot of freshly made coffee
Sugar
Milk or Creamer
Directions
First of all brew your coffee just the way you would do usually in your coffee pot. Put in all the ingredients on the recipe into the coffee- you may add more or less hash as you prefer. Add the mixture into a coffee pot. Then place the pot on a low flame allowing it to come to a boil. When the mixture starts to boil, remove the pot from the flame. Just wait till you add your creamer or sugar before you sip from your cuppa pot coffee. This is one cuppa that will liven you up and leave you wanting more!