Cannabis Tapioca Pudding Recipe
Cannabis tapioca pudding is easy to make, especially if you have cannamilk in your fridge. Ingredients are simple and include Minit Tapioca, cannamilk, egg, sugar and vanilla. This delicious pudding has an amazing texture and is naturally gluten free.
What is Tapioca?
Tapioca is a starch extracted from the roots of the cassava plant. In truth, tapioca on its own is not a significant source of protein, vitamins or minerals. However, ingredients like milk and eggs add nutritional value to cannabis tapioca pudding.
How To Make Cannamilk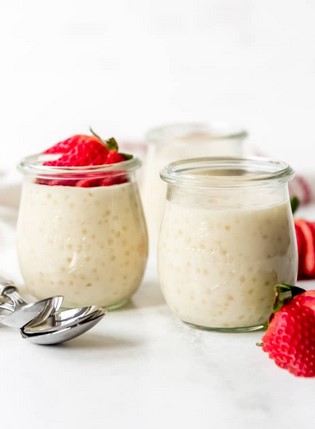 If you don't have cannamilk, you can easily make some with the simple instructions included here.
Start by decarboxylating your cannabis. In order to do this, break dry cannabis flower into small pieces that will not pass through a strainer. Heat cannabis in oven at 240°F for 25 to 30 minutes. Finally, remove from heat.
Add whole milk (3.25% MF) and decarboxylated cannabis to a double boiler over medium heat. Heat to 180°F and maintain this temperature for at least 30 minutes. Stir frequently while heating.
Pour mixture through a fine strainer. Press on the cannabis with the back of a spoon for the purpose of removing all liquid. Cool to room temperature. Use in cannabis tapioca pudding or store for later use.
In a medium saucepan, mix together cannamilk, sugar, egg and Minit Tapioca. Let this mixture sit for 5 minutes. Bring to a boil over medium heat while stirring constantly. Remove from heat. Stir in vanilla extract. Let cool for 20 minutes without stirring.
Makes 4 servings with 185 calories per serving
Ingredients
2 3/4 c cannamilk
1/4 c sugar
3 Tbsp Minit Tapioca
1 egg, slightly beaten
1 tsp vanilla extract
Instructions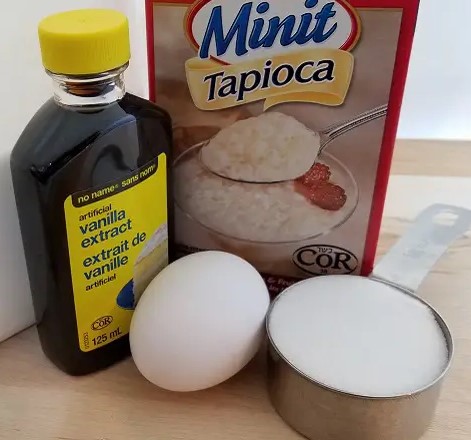 Add cannamilk, sugar, tapioca and egg to a medium saucepan. Stir together and let sit for 5 minutes.
Bring mixture to a full boil while stirring constantly. Remove from heat. Stir in vanilla. Cool for 20 minutes without stirring.
Serve warm or chilled.
Notes
Microwave Instructions
Put cannamilk, sugar, egg, and minit tapioca into a large microwavable bowl. Let mixture sit for 5 minutes. Microwave 10 to 12 minutes on high, stirring every 3 minutes, until mixture comes to a boil. Add vanilla. Do not stir for 20 minutes. Cool to desired temperature.
Serving
Cannabis tapioca pudding can be enjoyed warm or cold. Toppings may also be added including cinnamon, nuts, whipped cream, syrup or fruit.
Cannabis Yogurt Recipe
Upon seeing how many steps are involved in the cannabis Greek yogurt recipe, do not fear! It is actually much easier than it looks and the hardest part is waiting patiently for it to be done. In fact, once you have made a batch of this incredible infusion, you will want to make it again and again. As an added bonus, fruit bottom cannabis Greek yogurt makes a great gift at Christmas time and birthdays. It looks especially great if you dress it up with fancy jars and custom labels.
Eating Cannabis Yogurt
Eating cannabis yogurt provides many health benefits. Yogurt is rich in nutrients and high in protein. Probiotics in yogurt can also help aid in digestion. A strong immune system and reduced inflammation are reported in people who regularly consume yogurt. Infusing cannabis into yogurt takes it to a whole new level. With high THC strains of cannabis, you can create an amazing psychedelic experience.
Ingredients
Yogurt
4 cups Milk Use goat's milk or homogenized 3.25% MF
1 package Yogurt Starter
3-5 grams Decarboxylated cannabis Small nugs
Fruit Bottom
4 cups Fresh or Frozen Berries
1/2 cup Granulated sugar
1 tsp Vanilla extract
2 tbsp Lemon juice
Instructions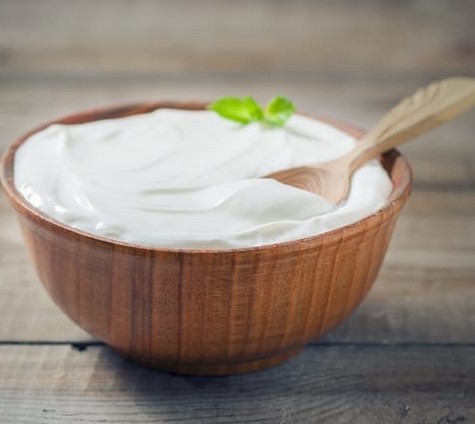 Break decarbed cannabis into small pieces but DO NOT GRIND.
Prepare double boiler by adding the appropriate amount of water. Add 4 cups of milk and decarbed cannabis. Heat on medium until temperature reaches 175 – 180° F, stirring frequently. Turn heat to low and maintain this temperature for 30 minutes, stirring frequently.
Remove double boiler from heat and place in a sink with a few inches of cold water. Stir frequently until temperature lowers to 108 – 112° F.
Strain the mixture into the incubation container of the yogurt maker. Squish all of the liquid out of the cannabis by pressing the cannabis against the strainer with the back of a spoon.
Place a few tablespoon of the milk into a small container. Stir in one package of yogurt starter. Whisk this mixture into the the milk. Make sure the yogurt starter is thoroughly mixed in.
With the lid on the yogurt incubation container, place into the yogurt maker. Set the timer according to the package instructions from the yogurt starter- usually 4 to 6 hours.
After the culturing period, the the yogurt must be sufficiently cooled by refrigerating for up to 6 hours.
To begin the straining process, place cheesecloth inside of a strainer and place over top of a bowl that holds the strainer suspended off the bottom a few inches. Pour chilled yogurt into the cheesecloth/strainer and place in fridge for 24 hours to separate the whey.
Place strained cannabis yogurt into container on top of fruit bottom. Store in fridge for up to one week.
Place whey into container and store in fridge for up to 3 months.
Fruit Bottom
In a nonstick frying pan, mix fruit, sugar, vanilla and lemon juice. Cook on medium heat until mixture becomes thick and bubbly, stirring occasionally.
Remove from heat. Cover the bottom of 5 containers with the mixture while it is still warm and workable. Cool, then place in refrigerator to chill thoroughly.
Top with yogurt.
Notes
What Type of Milk to Use
Full fat milk makes creamier, thicker yogurt. Goat's milk is traditionally used for making Greek yogurt and has excellent results. Additionally, people that are sensitive to cow's milk may have an easier time digesting goat's milk.
Creamy Variation
You can substitute a portion of the milk used in the recipe for cream. Depending on how rich you like it, you could use 1 cup of whipping cream and 3 cups of homogenized.
Chocolate Hash Cake
Ingredients
225 gram dark chocolate
225 gram cannabis butter
345 gram caster sugar, plus an extra pinch
6 eggs, separated into yolks and whites
145 gram soft white breadcrumbs
30 gram plain flour
4 teaspoon vanilla essence
120 gram ground almonds
Icing
85 gram cocoa powder
225 gram icing sugar
130 gram cannabis butter
6 tablespoon water
170 gram caster sugar
Instructions
Preheat the oven to 160°C and grease & line a 24-cm round cake tin. Melt the chocolate in a double boiler for the space cake or in a bowl placed over a pan of boiling water. Thereafter, you need to cream the cannabis butter with 345 gram sugar, until pale and softened. In a different bowl, whip the egg whites with a pinch of sugar until it gets stiff but not dry. Now, fold into the cake mixture and pour into the prepared cake tin. You now need to bake it for an hour until it gets firm.
For icing purposes, you need to sieve the cocoa and icing sugar into a bowl. After this, warm the cannabis butter, water, and sugar in a microwave or double boiler and simmer until the sugar has dissolved. Add the liquid to the dry mix and combine until it gets thick. The last step is all about spreading the icing over the cooled hash cake.