First introduced into pop culture in the 1950s, pot brownies have become one of the most popular THC-infused treats.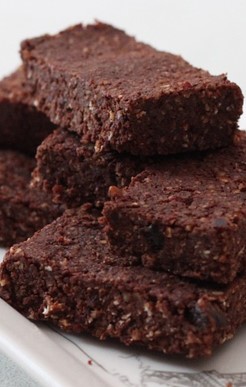 The first published recipe hit bookstores tucked away in a cookbook written by Alice B. Toklas that was an ode to her life spent with her longtime partner, Gertrude Stein. While Toklas is often heralded as the mother of pot brownies, the recipe was actually given to her by her painter friend, Brion Gysin. Gysin had spent a good amount of time in Morocco where edibles were nothing new.
Moroccans have been making a brownie-like edible for centuries called "mahjoun". This classic sticky treat is usually made of hash, dried fruits, chopped nuts, prized spices, and sometimes cocoa, giving it a brownie-adjacent flavor. Gysin took this recipe and slipped it into Toklas' book as "Haschich Fudge" for a bit of scandal that he knew would make his friend's book an instant bestseller.
Gysin's smart move has in part made this cookbook the bestselling cookbook of all time. While the "Haschich Fudge" recipe has gone down as a legendary part of edible history, pot brownies have been much improved since then. From complex chef editions to simple everyday boxed-brownies, cannabis is the perfect addition to any chocolatey dessert.
This particular recipe features a fluffy frosting, rich dark chocolate, and of course, ganja. Best of all, these brownies are adaptable to your taste and tolerance. Read on for Wikileaf's drool-worthy pot brownie recipe.
How do Weed Brownies Work?
There's a reason eating raw marijuana doesn't get you high. Weed brownies use the basic principles of decarboxylation and fat-infusion to achieve their intoxicating effect. Toasting your ground herb in the oven converts the THCA to THC, which activates marijuana's psychoactive properties.
Infusing your decarboxylated plant matter with a fat-like coconut oil or butter makes it easy for your body to absorb and results in the strong and long-lasting high for which edibles are known. Cannabutter or canna oil can be used in a variety of recipes, brownies are just one delicious example.
Brownies are a classic addition to any epic stoner party or "pot"-luck, and creating this cannabis-infused edible is easy for even the most-beginner home cook. Remember to weigh your bud carefully and allow your brownies to cool completely before consuming for a delicious and safe experience.
Vegan Weed Brownies Recipe #1
For those who wish to fly sky high while being vegan friendly, here's a vegan marijuana brownie recipe that will really knock your socks off!
Ingredients: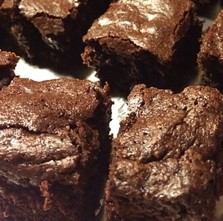 1 cup coconut oil
⅛ oz cannabis (or desired amount)
1 cup maple syrup
½ cup soy milk or other milk alternative
1 T vanilla extract
2 cups all-purpose flour (or Bob's Red Mill gluten-free all-purpose flour)
¾ cup unsweetened cocoa powder
1 cup granulated sugar
2 T baking powder
1 ½ tsp salt
1 cup dark chocolate chips
½ cup chopped walnuts (optional)
Directions
For the Cannabis Oil:
Begin by creating your cannabis coconut oil infusion. You can do this several days in advance and store the oil in the fridge. Making cannabis oil may sound daunting, but this easy method never fails.
Preheat the oven to 225 degrees F.
Use your scale to weigh out ⅛ oz or your desired amount of weed. Break your buds up with scissors or a grinder and spread onto a parchment-lined baking sheet.
Toast for 30-40 minutes, gently stirring every 10 minutes.
In a medium saucepan, melt the coconut oil on low. Add the toasted weed and cook on low for at least one hour, stirring frequently.
Place your cheesecloth or strainer bag over a cup or jar and carefully strain the plant material out of the oil mixture. If preparing in advance, store your cannabis-infused oil in the fridge until you are ready to use it.
For the Brownies: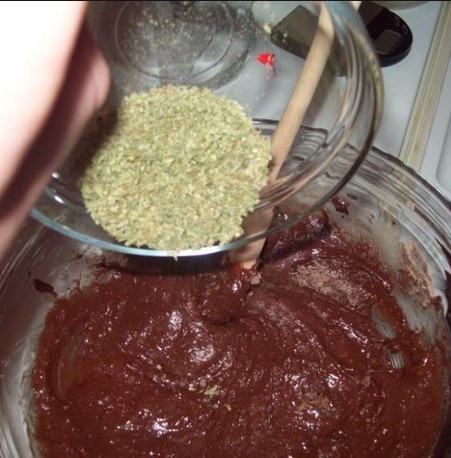 Preheat the oven to 350 degrees F. Lightly grease your baking pan with cooking spray or oil and set aside.
In a medium mixing bowl, whisk together the maple syrup, dairy-free milk, and vanilla.
In a large mixing bowl, sift together flour, cocoa powder, sugar, baking powder, and salt.
Pour the melted oil into the dry mixture. Add the wet ingredient mixture, chocolate chips and walnuts (if using), and stir until well-incorporated.
Pour brownie batter into your prepared baking pan and bake for 30-45 minutes.
Remove the brownies from the oven when small cracks appear on the surface. If you're unsure whether your brownies are done, insert a toothpick straight down into the center of the pan. If the toothpick comes out clean, the brownies are fully baked. If not, bake for three more minutes and check again.
Allow the brownies to cool completely before cutting into 16 equal servings. DO NOT SKIP THIS STEP. Yes, it's very tempting to eat a 350-degree pot brownie directly from the oven, but try your best to resist. When brownies are allowed to cool before cutting, they become more compact and easy-to-cut. This is VERY important when you want to control your THC serving. If the first brownie you eat is crumbly and too hot to savor the taste, you'll be more tempted to eat another right away. Anyone who has ever eaten too many edibles will tell you: this is a mistake.
Vegan Weed Brownie Recipe #2
INGREDIENTS
1 cup water or cannamilk
2 cups all-purpose flour
1/4 cup melted cannabutter
1/4 cup melted dairy-free butter
1 tablespoon cornstarch
3/4 cup unsweetened cocoa powder
1 cup brown sugar
1 cup white sugar
1/4 teaspoon salt
1 teaspoon vanilla extract
1/2 teaspoon baking powder
DIRECTIONS
Preheat your oven to 350ºF and put one cup of water or cannamilk in a pot over low heat.
Add 1 cup of flour to the pot and stir constantly until it reaches a thick, loose pudding like consistency. Set it aside and let it cool.
In a mixing bowl, add the cannabutter, standard butter, corn starch, cocoa powder, sugar, salt, vanilla, and mix it well.
Add the flour mixture from your pot into the bowl and mix everything thoroughly.
Add the other cup of flour and baking powder. Mix everything until all is blended.
Grease an 11×7 inch pan and spread your brownie mixture into it.
Bake for 25 minutes. After 25 minutes stick a toothpick in the center and if it comes out clean, the brownies are done. If it has wet batter on it let it continue cooking until you can insert a toothpick and have it come out clean. Happy BAKING!
Vegan Weed Brownie Recipe #3
INGREDIENTS
3/4 cup rolled oats
3/4 cup walnuts
1 cup dates
1 teaspoon vanilla extract
2 teaspoons cocoa powder
4 tablespoons Cannabis Coconut Oil
Glaze
1 tablespoon almond butter
1 tablespoon maple syrup
1 tablespoon cocoa powder
pinch of salt
DIRECTIONS
Use the food processor to pulse rolled oats and walnuts into a powder.
Add dates, vanilla extract, cocoa powder, Cannabis Coconut Oil and salt. Process until everything is mixed together.
Transfer raw Canna-Brownie mix to a lined baking sheet. Press batter down to flatten and shape. Rest brownies in fridge for a few hours to set.
Mix almond butter, maple syrup and cocoa powder together. Spread glaze on top of chilled brownies before serving.