Here's a scenario we have all seen in film before: Somebody consumes an entire bag of raw cannabis in order to avoid getting caught with it. Eyes pop wide open and gasps ensue. "You just ate that whole bag!" somebody shouts. However, the aftermath of this scene usually involves a very different representation of what actually happens when you consume raw cannabis. Spoiler alert: The effects will be lackluster at best. Why is this the case? The answer to this mystery lies in a process called decarboxylation, one that is necessary for us to enjoy the psychoactive effects of the cannabinoids we consume.
Why Decarb cannabis
In the cannabis community, the raw or non-decarboxylated cannabinoid compounds are referred to as the "acid" forms – such THCA or CBDA. Cannabidiolic acid (CBDA) is a non-psychoactive cannabinoid and the acidic precursor to potent CBD. Likewise, tetrahydrocannabinolic acid (THCA) is not psychoactive until it is converted into the more well-known compound THC. For instance, when you ingest raw cannabis there is very little psychoactive effect or "high" experienced. Then, when cannabis is decarboxylated it becomes psychoactive.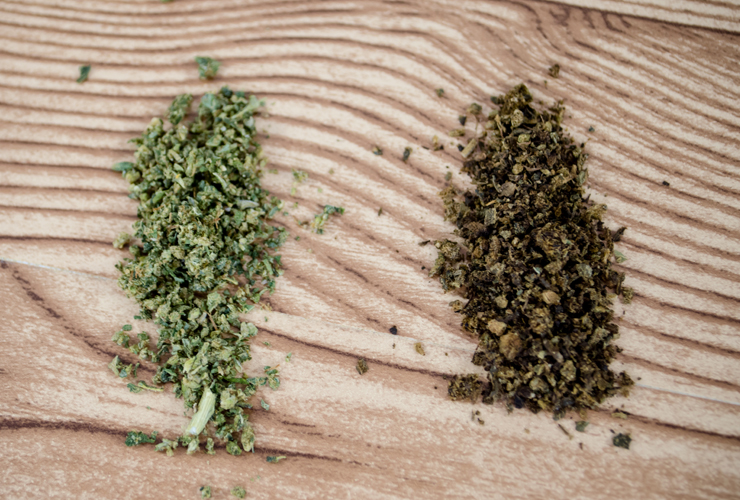 Obviously, this is important for folks who are hoping to feel the psychoactive effects of their cannabis edibles, oils, tinctures, or otherwise. Yet the benefit is so much more than just feeling the "high". Both THC and CBD exude scientifically-proven powerful healing properties in their decarboxylated forms. This includes providing relief from anxiety, pain, inflammation, and more. THC and CBD readily absorb in our bodies and interact freely with our bodies endocannabinoid system to work their magic.
On the other hand, the raw acid forms of THC and CBD (THCA and CBDA) also have some promising but lesser-studied medicinal applications of their own. Therefore, folks who are interested in a full-spectrum, ultra-healing experience may choose to use a combination of raw and decarbed cannabis in their homemade oils and salves.

Ways to Decarboxylate cannabis
The good news is that it is very easy to decarb cannabis. Especially the way we do it – in the oven! Because the basic idea behind decarboxylating cannabis is to heat it, there are clearly many ways you could decarb cannabis at home. This includes heating it on the stove, in a double-boiler, or in a crock pot. Some people add it directly in food or oil as part of the final cooking process. 
However, those methods require more hands-on monitoring or stirring. Also, they easily lend themselves to accidentally overheating or unevenly heating the cannabis. Overheating will destroy many of the beneficial cannabinoids, and the resulting product can also become very lethargic. In contrast, decarbing cannabis in the oven is extremely precise, effective, and virtually hands-off.  The only easier (and odorless) option is to use one of these badass Nova or Magical Butter automatic decarboxylator devices.
Decarboxylation explained
Decarboxylation is the process that activates compounds in cannabis such as THC. All cannabinoids contained within the trichomes of raw cannabis flowers have an extra carboxyl ring or group (COOH) attached to their chain. For example, tetrahydrocannabinolic acid (THCA) is synthesized in prevalence within the trichome heads of freshly harvested cannabis flowers. In most regulated markets, cannabis distributed in dispensaries contains labels detailing the product's cannabinoid contents. THCA, in many cases, prevails as the highest cannabinoid present in items that have not been decarboxylated (e.g., cannabis flowers and concentrates).
THCA has a number of known benefits when consumed, including having anti-inflammatory and neuroprotective qualities. But THCA is not intoxicating, and must be converted into THC through decarboxylation before any effects can be felt.
What causes Decarboxylation?
The two main catalysts for decarboxylation to occur are heat and time. Drying and curing cannabis over time will cause a partial decarboxylation to occur. This is why some cannabis flowers also test for a presence of small amounts of THC along with THCA. Smoking and vaporizing will instantaneously decarboxylate cannabinoids due to the extremely high temperatures present, making them instantly available for absorption through inhalation.
While decarboxylated cannabinoids in vapor form can be easily absorbed in our lungs, edibles require these cannabinoids present in what we consume in order for our bodies to absorb them throughout digestion. Heating cannabinoids at a lower temperature over time allows us to decarboxylate the cannabinoids while preserving the integrity of the material we use so that we may infuse it into what we consume.RelatedDosing homemade cannabis edibles: Why it's nearly impossible to calculate potency
What temperature does Decarboxylation occur?
The THCA in cannabis begins to decarboxylate at approximately 220 degrees Fahrenheit after around 30-45 minutes of exposure. Full decarboxylation may require more time to occur. Many people choose to decarboxylate their cannabis at slightly lower temperatures for a much longer period of time in attempts to preserve terpenes. Many mono and sesquiterpenes are volatile and will evaporate at higher temperatures, leaving potentially undesirable flavors and aromas behind. The integrity of both cannabinoids and terpenoids are compromised by using temperatures that exceed 300 degrees F, which is why temperatures in the 200's are recommended.
Heat and time can also cause other forms of cannabinoid degradation to occur. For example, CBN (cannabinol) is formed through the degradation and oxidization of THC, a process that can occur alongside decarboxylation. CBN accounts for a much more sedative and less directly psychoactive experience.RelatedWhat is CBN (cannabinol) and what are the benefits of this cannabinoid?
How to Decarboxylate Cannabis at home
In order to decarboxylate cannabis at home, all you need is some starting material, an oven set to 220-235 degrees F (depending on your location and oven model), some parchment paper, and a baking tray. Finely grind your cannabis until the material can be spread thin over parchment and placed on your baking sheet. Allow the cannabis to bake for 30-45 minutes, or longer if desired.
Cannabis can also be decarboxylated in a slow cooker by introducing solvents such as cooking oils or lecithin. These methods create infusions that can be used in a variety of cooking recipes, topicals, and even cannabis capsules. Since they contain decarboxylated cannabinoids, they will be effective any way you choose to consume them.
How to decarboxylate cannabis in the oven
Preheat oven to 250°F. Also, keep in mind that this is will make your house smell strongly of weed for a few hours. You've been warned.

Line a baking sheet or glass baking dish with parchment paper. This makes it easy to collect and package everything after baking.

Choose your cannabis of choice. We specifically save our more fluffy, loose, less-manicured homegrown buds for this. I also like to use the strains we grow that are high in both THC and CBD (as opposed to high-THC, low-CBD strains) to create well-balanced and healing oils or salves. You can obviously do this with a CBD-only strain of cannabis as well. If you're using homegrown cannabis, it is best to use material that has already been properly dried and cured first. If you need tips about harvesting, drying, and curing homegrown cannabis – see this article.

Rip the buds into small pieces. See the photos below for scale. Some people grind their cannabis for decarboxylation, but I don't find it necessary.

Now, decarboxylate the cannabis on 250°F for 25-30 minutes. You could also use a lower temperature for slightly longer time to preserve more terpenes (e.g. 230°F for 45 minutes). Refer to the chart above.

Some people cover their baking pan of cannabis with foil or second baking sheet upside down on top, in order trap any cannabinoids or terpenes that may volatilize in the process.

When the time is up, remove the tray from the oven and allow the cannabis material to fully cool. It should have changed from green to light brown.

Transfer the decarboxylated cannabis into a glass air-tight container with a tight-fitting lid, such as a mason jar.

Finally, store the jar of decarbed cannabis in a cool dark place, like you would with other cannabis.