You don't have to go on a mystery quest as to why more and more people are digging for coconut oil. The results are evident! It can bring many health benefits for you and your family especially if you cook with it. Cooking with coconut oil may be the easiest way to consume the sufficient amount of coconut oil needed to deliver its health benefits.
Unlike any other essential oils like olive oil, coconut oil has a high smoke point so it can tolerate higher temperatures of heat. It's pretty versatile too. You can cook anything with it and even bake or fry with coconut oil.
Benefits of Cooking with Coconut Oil
Coconut oil can fuel your energy.
Coconut oil kicks up your metabolism and helps you lose weight.
Coconut oil helps regulate your cholesterol and sugar levels.
Coconut oil moisturizes your skin and is perfect as a makeup remover.
Coconut oil has antimicrobial properties to fight against infections.
Coconut oil has anti-inflammatory properties that help reduce joint pain.
Coconut oil nourishes the hair, strengthens the hair follicles, and helps prevent hair loss.
Coconut oil is perfect for maintaining healthy teeth and gums.
Cooking with coconut oil (Sauté, Bake, Fry and Everything Else)
For stir-frying, sautéing vegetables and other proteins, replace your cooking oil with coconut oil. Stir-fry it like you usually do and voila! You get a healthier dish with coconut oil.
For vegans, coconut oil is the best substitute for butter. It can entirely replace the butter's role on your baked goodies. However, you must remember to use about 25% lesser than the amount asked if you're using butter. Why? It's because coconut oil is just about pure fat. Bake biscuits, cookies, cakes and brownies the healthier way with coconut oil. You can even try baking sweet potato chips brushed with coconut oil.
For some regular frying, you can use the unrefined coconut oil, but it's recommended to use the refined type especially for deep frying since it has a higher tolerance to high heat. Try frying eggs with coconut oil, and you'll instantly fell in love with its taste.
You can also use coconut oil on your popcorn for a flavorful twist. Use it as a topping instead of butter. You can even dress your salads with it.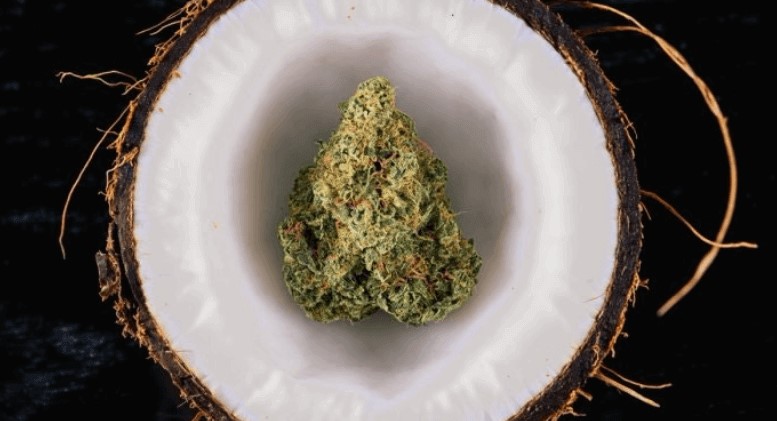 What Kind of Coconut Oil to Use for Cooking?
The best kind of coconut oil to use for cooking and consumption is the unrefined (virgin) coconut oil, especially if you're up for more coconut taste and aroma. However, you can also use the refined coconut oil for cooking. That's if you don't care much about the taste and smell. The refined coconut oil's smoke point is higher than unrefined, 450 degrees compared to unrefined coconut oil's 350 degrees which make it better for deep-frying. Make sure to buy a refined coconut oil that's unbleached.
Here are a few important things to remember when handling coconut oil for cooking.
Don't keep it an area where it's exposed to direct sunlight.
The melting point of coconut oil is 76 degrees Fahrenheit. If you're living in a place warmer than that, your coconut oil will be in liquid form unless it's refrigerated. Before using a liquid coconut oil, stir it first before scooping out.
In cold places, coconut oil will be solid form. If there's a need to melt it, just melt it in a saucepan over low heat.
Opt for a healthier choice for you and your family by cooking with coconut oil. It's the best way to maximize your needed daily consumption of coconut oil which is about 2-3 tablespoons. Find out more recipes with coconut oil on our website! We feature interesting articles about coconut oil every now and then!
Cannabis coconut oil is one of the healthiest things you can put on your body. Unlike other kinds of fat, coconut oil has the ability to stay solid in room temperature and won't melt. Cannabis coconut oil has such a great consistency which makes it so versatile for different purposes.
Here are 6 of the best applications for this miracle oil:
Cooking: Creating edibles in the kitchen will be so much easier (not to mention more delicious) when you use cannabis-infused coconut oil. When you cook edibles, it's important that you select a fat that can absorb the THC in the cannabis while retaining them in the cooking process – this is why coconut oil is the best kind of fat for this purpose. Coconut oil has such a high concentration of saturated fats which make it more effective in ensuring the cannabis loses its potency in the cooking process. Olive oil has around 20% saturated fats, while coconut oil has over 80% especially if you can get virgin and pure versions. Edibles made with coconut cannabis oil will give you a stronger and longer-lasting buzz.
Baking:Using cannabutter or alternatives such as cannabis canola (here's how to make edibles without butter) oil in baked goods are classic ways to make edibles, but a lot of people have started using cannabis coconut oil in their favorite sweet treats since it's vegan and paleo-friendly. You can also use infused olive oil in your baked goods although it's important to know that most olive oils have a strong flavor that may change the flavor of your finished goodie.
Coffee: Cannabis and coffee isn't exactly new, and many enjoy the pleasures of mixing these two first thing in the morning. In fact, for many, mixing pot and coffee is the best way to have a great wake and bake session. Add a few teaspoons or drops of cannabis-infused coconut oil to your cup of joe in the morning. Another delicious way to enjoy this mixture is by tossing it in a blender to make a latte-link drink.
Tea: Adding cannabutter or cannaoil to your tea may sound strange, but it actually results in a creamy, latte-like drink. As far as oil goes, coconut oil is the best choice due to the flavor and the fact that unlike other oils, it gets creamy when mixed up. Just brew a cup of your favorite tea and stir in the cannabutter or cannabis coconut oil until it's mixed well. The result is a warm, comforting, medicinal cuppa, sure to make you feel good.
Topical pain relief: Coconut oil is an excellent topical on its own, even better when you mix it with cannabis. In fact, cannabis coconut oil can easily replace everything in your medicine cabinet! If you suffer from chronic pain, arthritis, or similar conditions you can benefit from applying coconut cannabis oil directly to the skin. Cannabis coconut oil is a much more potent form of medicating, because it can go deep into the skin and address the muscle or joint pain at the very source. In fact, you can even make your topical more soothing and healing by adding vitamins C and E or aloe vera gel. The oil can also be used to medicate scrapes, wounds, cuts, and burns.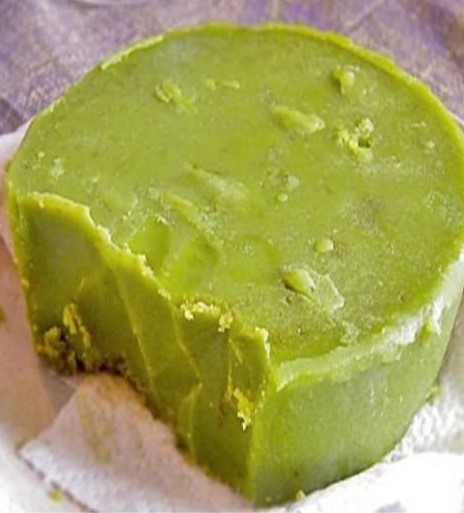 Smoothies: Cannaoil in your smoothie? Yes! Due to its reputation as a superfood and the creamy texture that results from blending coconut oil, it has become a popular addition to smoothies. There are a lot of cannabis recipes out there but you can experiment by adding a tablespoon of cannabis coconut oil or less if your infusion is strong (5-10 mg is a good starting point) to your favorite smoothie recipe.
Eating: Cannabis coconut oil can be enjoyed on its own, but the best part is that it has a ton of applications in the kitchen too. You can drizzle it on salads and soups, incorporate it into a spread, add it on pastas, mix it with sauces and dressings, use it as a poultry or steak rub, fry foods such as fish, chicken, and eggs, and even add it directly to your smoothies!
Lubricant: Whether you're indulging in the art of self-pleasuring or have a partner, cannabis coconut oil makes a great lubricant. Many vouch for its ability to increase and heighten sexual activities. Cannabis coconut oil can make any part of the body feel great because it goes deep down into the skin and nerves, so just imagine what that can do for your sex life! If you aren't keen on using it as a lube, you can use it to get things hot and steamy as a massage oil.
Moisturizer: Cannabis coconut oil is a great, natural way to keep your skin glowing and youthful looking. You'll get the medicinal benefits of both cannabis and coconut oil, plus you won't have to shell out crazy amounts of money for exotic serums made from slugs and other weird things. Cannabis coconut oil is excellent to prevent the signs of aging and help you look great.
Additional Canna Oil Recipes
If you are wondering what type of dishes to prepare with your canna oil, we recommend several different ways of eating decarbed weed in our recipes. Whether you are looking to make baked goods, alcoholic drinks using weed oil, or infused recipes for food, the possibilities are endless. Some of our most popular canna recipes include:
Elevated Cinco de Mayo Frozen Margarita
Margaritas are a drink of celebration. They're amazing paired with tacos, guacamole, and cannabis, of course! We've provided a few of our favorite elevated cocktail recipes for you to re-create. Dust off the margarita glasses and get ready to party with some yummy, dairy-free summer cocktails.
Ingredients
8 ounces silver tequila*
3 ounces orange liqueur
4 ounces fresh lime juice
1 oz Grand Marnier or Anejo Rum (as a float)
4 lime wheels
4 cups of ice
*Use mezcal instead for a smoky flavor or OJ to make it non-alcoholic. Skip the float if you're substituting.
You'll also need…
1 NOVA Lift
1 High-powered blender
1/4 gram starting material**
**See our dosing guide so you can decide how much cannabis to add to your batch of margaritas. You'll notice you don't need much! Start low, around 10mg or less per serving.
Warning: Mixing alcohol and cannabis needs to be done carefully and safely. We recommend starting with a very small dose. You can always have another drink, but you can't have less! Never drive or operate machinery after having an infused cocktail. And wait until you feel the effects before you have another round (it may take longer than you think).
Directions
Difficulty level: Easy
Prep time: 10 minutes
Total time: 10 minutes
Makes 4 drinks
** Extra time needed for activation and infusion. See our infusion guide*
Activate your cannabis in the NOVA Lift.
Remove your activated material and grind into fine powder. Set aside.
Add the silver tequila, orange liqueur, lime juice and ice to your blender. Blend until slushy, adding more ice if you need.
Add activated, ground bud and blend another 30 seconds.
Pour immediately into 4 glasses (salt rim optional), adding your Grand Marnier or Anejo Rum "float" to the top of each drink. Garnish with lime wedges and enjoy!
Roasted Eggplant Dip
Ingredients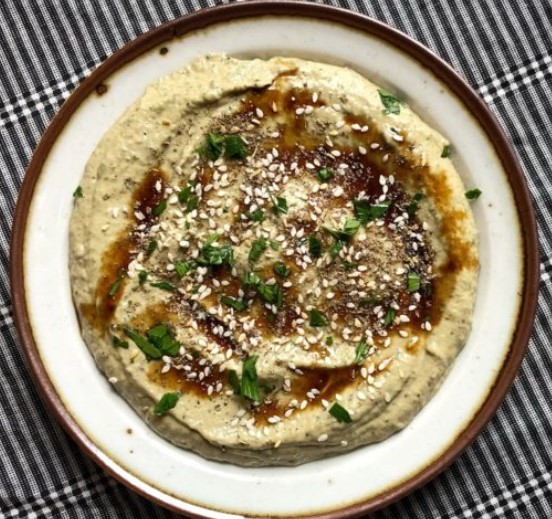 2 medium eggplants
2 tablespoons infused olive oil, divided
⅓ cup tahini
¼ cup chopped parsley
1 garlic clove
1 tablespoon pomegranate molasses
1 teaspoon ground cumin
½ teaspoon smoked paprika
1 teaspoon za'atar spice
Salt and Pepper to taste
You'll also need…
1 food processor or high powered blender
1 NOVA Lift
1 gram starting material* (cannabis)
Directions
Difficulty level: Easy
Prep time: 10 minutes
Cooking Time: 60 minutes
Total time: 1 hour 30 minutes
** Extra time needed for activation and infusion. See our infusion guide*
Activate your material in the NOVA Lift.
Remove your activated material and slide the infusion sleeve into the NOVA Lift's inner canister.
Pour 2 ½ tablespoons of olive oil into the infusion sleeve. Add your activated material to the oil and run it for a second cycle in the NOVA Lift to infuse. Strain the oil — now it's ready to use!
Poke your eggplants 6-8 times with a fork and place on baking sheet. Roast at 400F for an hour, turning over about halfway through. Once the skin is charred and eggplant looks "deflated," remove from oven and let them rest. Once they're cool enough to handle, remove the flesh and set in a colander for about 20 minutes to drain.
Place the eggplant and all other ingredients in the bowl of a food processor, reserving a little chopped parsley, za'atar spice and pomegranate molasses as a garnish. Blend for a minute until everything is well combined.
Transfer to a small bowl and garnish with molasses, za'atar and parsley. Serve alongside pita and sliced cucumber.
Infused Za'atar Hummus (Delicious Cannabis Hummus Recipe)
Hummus: it's a favorite snacking staple and your new favorite edible. With the Nova Lift's capabilities as both a precision activator and an infuser, we thought we'd highlight both uses in this one versatile dish. A za'atar spice blend and infused olive oil drizzle bring this dip to the next level; you can use both or simply choose one. For accurate dosing, see our guide.
This is a simple recipe to make from scratch; let your food processor do the work. If you're tight on time, though, you can also use store-bought hummus. A note on flavor profiles: hummus has nuttiness from tahini and brightness from lemon, which makes it a dream to pair with cannabis. You can choose an earthy, woodsy strain to bring out the richness of the sesame, or a more sour strain to highlight the citrus.
Difficulty level: Easy
Ready in: 30 minutes
** Extra time needed for activation and infusion. See our infusion guide**
Makes about 2 cups of hummus
For the Infused Olive Oil: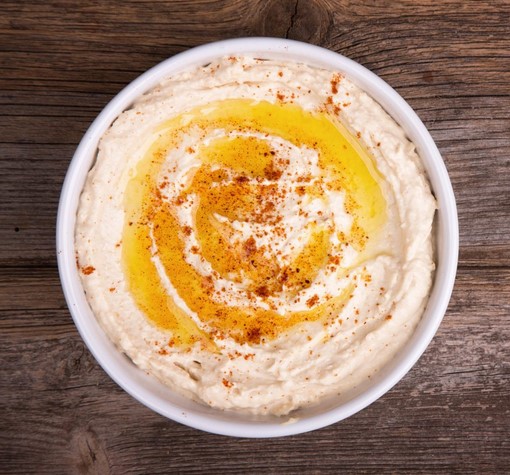 This will be used as a drizzle over the hummus.
Ingredients:
2 tablespoons extra virgin olive oil
½ gram cannabis*, activated
Directions:
Pour the oil into our silicone infusion sleeve. Add activated cannabis and put inside NOVA for a second infusion cycle. Strain and set aside.
*See our dosing guide so you can decide how much cannabis to add to the infusion.
For the elevated Za'atar Spice Blend:
This is a traditional Middle Eastern finishing spice that's bright, savory and is the perfect final touch for hummus. You can make it yourself or buy a premade blend at your local spice shop. This is a bigger batch that you can use for the hummus with some left over for other things like eggplant, toasted pita, and roasted chicken.
Ingredients:
1 tablespoon ground sumac
1 tablespoon ground cumin
1 tablespoon ground coriander
1 tablespoon dried time (or oregano)
1 tablespoon toasted sesame seeds
1 teaspoon kosher salt
1 teaspoon black pepper
Optional: 1 tablespoon Aleppo Pepper, Urfa Pepper, or other ground spicy pepper
1 gram (or desired amount) activated cannabis flower, finely ground or a bit of activated kief (blends wonderfully into the spice blend – try using our silicone infusion sleeve to activate kief)
Directions:
Add desired amount of flower or kief into the NOVA Lift. Activate one cycle. If using flower, grind finely once it's finished.
Place all dried spices and ground cannabis into a bowl and mix well. Set aside. Keeps well in a sealed container.
For the Hummus:
Ingredients:
1 can of chickpeas, drained, liquid reserved
¼ cup tahini
¼ olive oil
1 garlic clove (smashed)
2 tsp. Kosher salt
Juice of 1 lemon
Directions:
Add chickpeas, garlic, salt and lemon juice to a food processor. Combine until cohesive, then scrape down sides.
Add olive oil and 1 tablespoon of the reserved liquid and combine until very smooth. You can add more chickpea liquid/olive oil until desired smoothness achieved.
You can also add other flavors, such as roasted red pepper or oil cured olives, by adding into food processor, or chopping finely and folding into the hummus with a spatula.
The hummus may be quite warm after processing. You can refrigerate it in a bowl until you're ready to serve.
Put hummus in a serving dish and give an artistic swirl to the top, leaving little valleys for the oil and spices to settle. If you're using the infused olive oil, drizzle generously over the top (otherwise, substitute with plain olive oil). Give a generous sprinkle of the za'atar spice. Serve with crudites, pita chips, or warmed crusty bread.