No beverage has escaped an infusion of cannabis — even wine. Infused wine has ancient roots, though today's "weed wine" is a much different product than what may have been drunk in early Egypt. And the production of modern infused wines comes with unique challenges, as infrastructure is created alongside developing laws.
Like other contemporary THC-infused beverages, cannabis wine plays into the growing trend of swapping alcohol for weed. Weed wine caters to a niche audience, filling a space for people who want a social and relaxing beverage that's not weed beer or stoney cocktails.
Weedmaps News spoke with entrepreneurs and weed winemakers to better understand the emerging world of cannabis-infused wine and the challenges this new and innovative industry is facing.
What is weed wine?

The history of cannabis-infused wine may be surprising. Cynthia Salarizadeh, founder and president of House of Saka, points out, "Cannabis-infused wine has been around for thousands of years, it's one of the original marijuana products … [It's] less of a trend and more of a resurgence [now that the] regulations and industry have matured enough for people to bother doing it again."
Weed wine that can be found in a dispensary is dealcoholized wine, mostly from California, blended with a THC or CBD emulsion, meaning the alcohol is removed from the wine before it gets infused with cannabis. It looks and is served like a regular bottle of wine, but with a slightly different flavor because of the dealcoholization process, and optional additives to reintroduce flavor and texture. The cannabis, rather than any alcohol, gives the beverage its effects.
While the ancient versions were combinations of the plant and alcohol, current regulations prohibit the mixing of cannabis and alcohol. Laws also prohibit the use of the term 'wine' for packaging and marketing. Weed wine, like infused beer, must be dealcoholized before it comes into contact with cannabis.
How cannabis wines are infused

The chain of weed wine production is convoluted, involving a minimum of three separate companies: the company providing the cannabis solution, the beverage producer and the distributor before arriving at a dispensary for sale. New companies have popped up, blazing a trail of infrastructure to support the infused beverage category for the long term.
Once dealcoholized, the "vin-fusions," (vin=wine) as House of Saka describes them, are sent to a manufacturer that is licensed to infuse beverages with cannabis. Nanoemulsions, a process of breaking down cannabis particles into such small components that they act water-soluble enough to mix easily with liquids, are the leading method of infusing cannabis into beverages — wine included. This is because nanomulsions are stable when mixed into liquids and can be made relatively odorless, colorless, and tasteless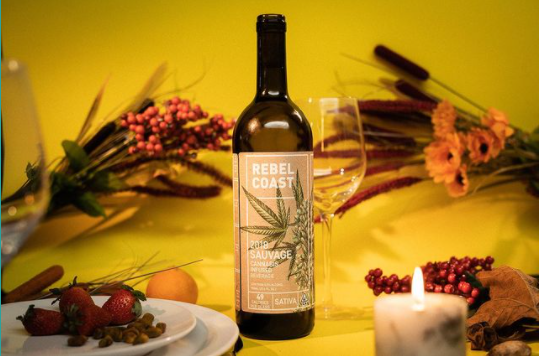 Ben Larson, CEO of Vertosa, a company that specializes in cannabis nanoemulsions explained that nanoemulsions are not a one size fits all technology, noting that the solution acts differently depending on what it is going to be mixed with and even packaged in. Vertosa customizes each client's unique emulsion, tailoring it to the needs of their specific product. Wine is delicate on the palate and you don't want to offset that with any off-putting flavors or textures.
While efficient — and the preferred method for most beverages — nanoemulsions are not the only way to go. Josh Lizotte, founder and CEO of Rebel Coast, the first company to release cannabis-infused wine, cautions that "we don't know the health effects of nanotechnology, and how such small particles [interact with] the body." They opt for a process that encapsulates cannabis molecules to prevent clumping.
Once a non-alcoholic beverage and cannabis solution are ready to be combined, they are both transferred to a company like Spacestation who is legally allowed to infuse products with cannabis before shipping them to distributors for eventual sale in dispensaries. Spacestation is in a unique and important position, ensuring the synthesis and cooperation of three different companies for one final product.
Bigger bottles, bigger problems 
In addition to the challenges shared by other infused beverages such as marketing language and navigating muddy legal waters, the logistics of large bottles presents challenges unique to wine. Salarizadeh laments, "Restrictions on infused beverages are crazy to begin with, but any beverage similar to wine is even more restricted … regulations are very favorable to single-serve jars, [for example] in terms of childproofing closures." In 2020 the bottles will need to be re-sealable and child-resistant for the life of the product.
Tracy Mason, co-founder and CEO of House of Saka shares the extreme challenge this represents by explaining "that technology is being developed, it doesn't exist…[we have] to meet a standard that doesn't exist yet, even in any other industry."
The standard 750-milliliter bottles, which contain five servings each, are also more difficult to work with in facilities licensed to distribute cannabis beverages that are typically packaged in single-serve bottles and cans; the infrastructure to get these bottles from point A to point B had to be created by pioneering brands in California, and still doesn't exist in most states. 
4 Cannabis-Infused Wines Worth Buying
That supposedly healthy glass of wine a day might now be even more appealing to those that stay away from alcohol. Late last year, a new trend started brewing in states where recreational bud is legal — Cannabis-infused wines hit the market, offering its consumers an alcohol-free, cannabis-potent alternative. It may be more costly than the convenient and cheap box o' wine. But try something even more daring than the spout, something that won't cost the wicked hangover one usually has to survive after a night of savoring red vino. No matter what, get to wherever you can legally buy these wines before the state you live in starts banning these bud-infused beverages. Stock up while it's still possible, and then pop the cork on these 4 cannabis-infused wines worth buying.
CannaVines in California, USA
Unfortunately, these delicious wines are not yet available outside of Cannabis Tours, a must-see wine and weed pairing tour there in the golden state. This tour takes millennials, wine-os, and the classiest of agro-tourists on a culinary and cannabis adventure, matching food and marijuana to wine. But luckily, soon CannaVines will offer up a diversity of wines all infused with classic favorite strains. Soon residents of California will be able to make an online purchase of a red blend infused with Headbead to alleviate stress. Or perhaps a Chardonnay combined with an uplifting Sour Diesel for a general euphoric feeling. Red and white don't quite satisfy the tastebuds? Try on their rosé blended with CBD and Grand Daddy Purple to relieve stress and ease anxiety. Once these guys finally hit the market, their options can suit any mood or soirée.
Rebel Coast Winery in California, USA
Like CannaVines, this company offers an aromatic blend of THC and alcohol-free wine. In fact, Rebel Coast Winery began the hoopla when cannabis-infused wines became a new product in early 2018. Currently, you can only pre-order your $59.99 bottle of cannabis-infused Sauvignon Blanc. Even then, you must be a California resident. For those not in California, Rebel Coast hopes to keep consumers updated on when their worthwhile product will become available to other states with recreational marijuana. Nonetheless, they promise 20mg of THC in every bottle, roughly about 5mg of THC in each glass. Soon, they also plan to release a cannabis-infused rosé and a sparkling. And furthermore, their website advertises these cannabis-infused wines aim to make its drinkers just want to "get giggly and naked with someone." Yes, please.
Mary Jane's Magical Hemp Wines in Canada
Take a trip to the land of maple and poutine, and Mary Jane's Hemp Wines becomes available. This hemp-infused wine comes in many tastes. Try Magic White, BC Buddy White, BC Buddy Red, and a traditional Canadian classic: a BP Hemp Ice Wine. Unlike the cannabis-infused wines in the USA, these luscious libations are hemp-infused and alcoholic. Feeling like you need something heavier than alcoholic hemp-infused wine? Try Mary Jane's premium hemp-infused spirits, like this hemp-infused gin, which can be ordered online, through their website from Black Prince Winery.
Greenway "Know Label" Wine Tinctures in California, USA
Like most of the wines on this list, these cannabis concoctions are only available to cannabis card carriers in California. And like most of the other products on this list, you must add your name to a long waiting list of hopefuls yearning to swish and sip on these vinos. Unlike Rebel Coast Winery, these bottles look like they've come from someone's backyard and each are completely unique. They have no label, like the punny name "Know Label" suggests, but each bottle comes with a small tag which notes the strain used, the year, and the type of wine. So each experience is different. Additionally, this wine is backed by cannabis advocate, cancer survivor, and singer Melissa Etheridge.