We're keeping our "childhood treats re-mixed into edibles" kick going with these adult Rice Krispie Treats! Stuffed with a generous layer of cannabis-infused caramel sauce made extra-thick with sweetened condensed milk, these sticky-gooey treats are sure to delight – and energize with uplifting cannabinoids and terpenes.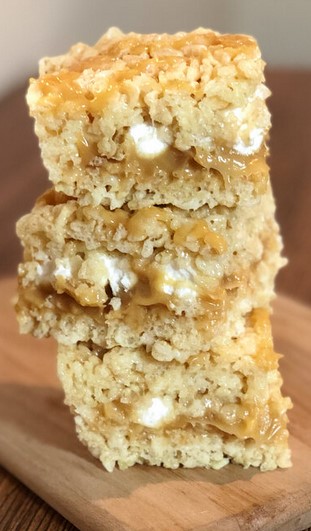 The best part about this edible recipe is that it can be made entirely in the microwave! You can also follow these steps on the stovetop if you don't have a microwave, but no matter how you do it, these cannabis caramel infused rice krispie treat edibles couldn't be easier to make.
We used our Balance caramel edible variety (available at select retailers across Oregon – visit our Buy page to order online in Portland, Eugene, Salem, and Bend!) to infuse these no-bake caramel treats with THC & full spectrum cannabis terpenes – this caramel recipe and the infusion are nearly foolproof even if you've never made caramel OR edibles at home!
The gentle flavor profile of the Limonene & Terpinolene terpenes in our canna-caramel provide very subtle terpy notes to the rich and creamy condensed milk caramel sauce. Our Oregon Roots Dogwalker strain-specific Canna-Butter provides an even-handed cannabis experience from these caramel edibles, making them a great errand-powering treat or the perfect dessert to end your night – whatever you choose!
The Original Rice Krispies Treat Recipe given to us by the fine folks at Kellogg's themselves.
For ingredients you'll need:
3 tablespoons of butter
1 40oz package of marshmallows OR 4 cups mini marshmallows
6 cups Rice Krispies cereal
And our method is:
Step #01: Melt butter in saucepan over low heat; add in marshmallows and stir until completely melted.
Step #02: Remove from heat and add in Rice Krispies cereal, stirring until completely mixed
Step #03: Using a buttered spatula press mixture evenly into a 13×9-inch pan well-coated with cooking spray; lining said pan with wax paper first is also recommended, though not strictly required
Step #04: Let cool to room temperature before cutting into 2-inch squares; makes 12 servings
What that will get you is, again, the classic Rice Krispies treat. But you're on a site devoted to the world of cannabis, so let's talk about how you can transform this basic recipe into something a bit more "special
Infusing your Rice Krispie Treats with THC
Using the above recipe as a template, here are some modifications you can make to maximize your edible's potential:
Replace Your Butter with Cannabis Butter
If you want to turn your rice crispy treats into bonafide marijuana edibles swapping out your regular butter for cannabis butter is the most basic and easy way to do so. Take extra care when heating it on the stove top, though, as you want to avoid boiling away the THC and other cannabinoids preserved within.
Replace Your Marshmallows with Cannabis Marshmallows
These sweet treats are a popular item at cannabis bakeries and easy to make at home (if you have the right equipment); for an extra hit of marijuana goodness toss these in as an ingredient along with your cannabis infused butter.
Use Your Cannabis Butter Instead of Cooking Spray
Anyone who's ever made rice krispie treats before knows the importance of ensuring that every last millimeter of your receiving pan must be greased and greased thoroughly. Though cooking spray is fast and easy any kind of oil will do, so why not use one that's been infused? Cannabis butter is fairly standard for this type of recipe but you could also use cannabis infused olive oil or even coconut oil for this; just remember that these oils then become ingredients, and their flavor will carry over to the final treat.
Switch Up Your Flavors
Though this won't contribute to the psychoactive nature of your edibles you can mix it up and create some unique flavor combinations by using different brands/flavors of cereal or marshmallows. Nearly any puffed-rice-based cereal (such as Fruity Pebbles) make an excellent substitute for the Rice Krispies. Just think: Cannabis infused Cocoa Pebbles treats made with chocolate marshmallows and topped with a layer of dark chocolate ganache? Yes, your friends will want that recipe. Side Note: Using a Microwave
It is possible to make this recipe with only the use of a microwave oven, if you lack access to a stove burner or saucepan for any reason. We recommend using miniature marshmallows for this technique, as they will melt more evenly in the heat of the microwave. Try to heat your cannabis butter in short, even bursts, stopping every 15-20 seconds to stir the mixture around and let it cool slightly.
Otherwise proceed with the recipe as normal, emptying your mix into a well-greased pan or casserole dish when done. Take care not to burn your hands as this mixture will likely be incredibly hot for quite some time after being removed from the microwave (or the stove top for that matter).
Rice Krispie Treat Base

Ingredients
12 tbsp butter (divided in half)
10 cups mini marshmallows (divided into 4 cups, 2 cups, and another 2 cups)
10 cups Rice Krispies cereal (divided in half)
Cannabis Caramel Sauce
14oz caramel candies
1 can sweetened condensed milk
1/2 cup butter
2 Periodic edibles Balance Cannabis Caramels
Directions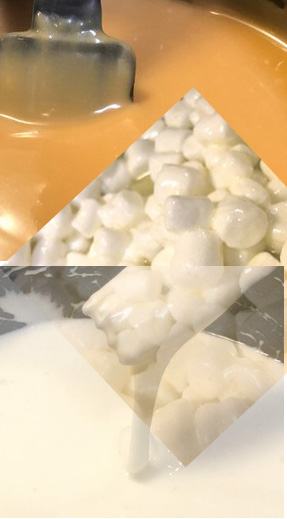 Thoroughly grease a 9×13" baking dish and set aside.
In the microwave or over medium heat on the stovetop, combine non-infused caramel candies, sweetened condensed milk, and 1/2 cup of unsalted butter. Microwave in 1 minutes bursts stirring between heating, or stir constantly over medium heat until all elements are melted and combined. Immediately add your 2 Periodic edibles cannabis caramel edibles and stir vigorously to evenly distribute cannabinoids & terpenes throughout binding sauce, heating minimally if needed to fully incorporate. Set aside while preparing marshmallow fluff mixture.
In a separate bowl or saucepan, combine the 4 cups of marshmallows and 6 tbsp of butter and heat as done with the caramel sauce, stirring to combine frequently until completely melted and combined. Stir in 5 cups of Rice Krispie or equivalent cereal until evenly coated.
Using slightly moistened hands, press the Rice Krispie Treat mixture firmly into the bottom of the prepared baking dish. Coat rice krispie layer evenl y with about half of the caramel sauce, leaving a small gap around the edges to seal the caramel in and create a "stuffed" cereal bar once cut. Sprinkle with about 2 cups of mini marshmallows in a single layer over the caramel. Place in the fridge to set slightly while preparing the top layer of rice krispie treat mixture.
In the same bowl or saucepan as used before, combine the remaining marshmallows and butter as in step 3. Stir in remaining rice cereal and coat evenly. Remove baking dish and press rice krispie layer evenly and firmly on top of caramel & marshmallow layer, especially around edges to seal in caramel. If desired, drizzle top of bars lightly with about 1-2 tbsp of remaining caramel sauce (remember that the sauce is infused, so adding more adds slightly more THC! Use caution accordingly.)
Allow to set at room temperature for at least 1 hour before cutting into evenly sides bars and serving.
Store in the fridge for up to 5 days.
Enjoy your edibles responsibly, and be sure to store any leftovers in an airtight container clearly.