Cannabis-infused burgers are among the easiest and best-tasting dishes you can prepare when it comes to cooking with cannabis. Research has shown that eating too much meat is not healthy, so it is a good idea to focus on using less, but high-quality meat. If you would prefer to leave meat out of the equation, this recipe can be adapted to a vegan diet utilizing soy derivatives.
CHOOSING YOUR INGREDIENTS

Burgers are among the easiest recipes you can make, making this a great entry level for those wanting to experiment with cannabis in the kitchen. Ground meat is the basis for any burger, and it is recommended you take the time to good meat – from a local organic farmer, or originating from a country with strict animal and farming regulations. For a juicy cannabis-infused burger, the meat chosen should be fairly fatty.
When it comes to the cannabis you are going to use, you want to use some dried bud. The strain you choose will determine the type of effect and potency, so choose something you consider to be a favourite. Personally, we like to use ICE for ultimate relaxation. Anyway, half a gram is usually enough for a couple of big burgers, but can be adjusted to suit your experience.
Packed with cannabis, cheddar cheese, bacon and onion, better grab the big buns 'cuz this cannabis burger is a monster!
⅛ oz Dried Cannabis flowers
2 tbsp Butter
½ Medium Onion
1 lb Ground Beef (80% fresh chuck preferred)
4 Slices Cheese (your choice of flavor)
2 Slices thick cut bacon
Decarboxylate and Infuse Cannabis
Grind cannabis, cover and place in oven safe dish, place in oven set at 250°F for 25 minutes .
Remove cannabis from oven and combine with butter in , cover and place in oven still set at 250°F for 25 minutes.
Strain butter from cannabis flowers. Let chill until solid.
Assemble Burger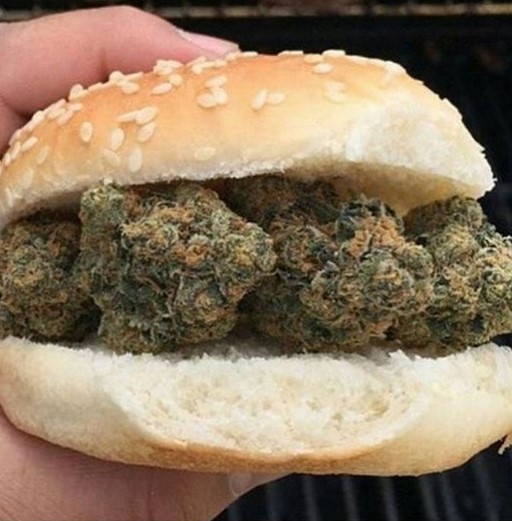 Cut 2 thick slices from the onion.
Divide beef into 4 equal balls and flatten into thin patty.
Stack each burger on a separate piece of foil about 10″ square. Start with onion slice on bottom, then add a patty of beef.
Smear each patty with half of the butter. Add a slice of cheese on top pulled into smaller pieces leaving an edge of meat.
Finish stack with second meat and seal edge as best as possible.
Now wrap each burger stack with a slice of bacon. Wrap and seal each burger with the foil squares.
Bake in oven 325°F for about 20 minutes. Remove from oven and unwrap but leave them in the foil as a boat for the juices but leave the top exposed.
Replace in oven turned up to 425°F until browned and cooked as desired.
Remove from oven, let rest for a few minutes, top with cheese and make your burgers.
Mile High Hamburger
Ground meat recipes like this one are one of the few places where I will cook with actual bud. Simply decarb crumble flowers by heating in a 250-degree oven for 20 minutes, then stir into the meat along with the seasonings.
Ingredients
1 pound ground beef 20% fat
1/4 teaspoon black pepper
1/2 teaspoon onion powder
1/2 teaspoon garlic powder
1 gram decarboxylated crumbled marijuana flowers
Instructions
Place all ingredients in a bowl and use your hands to blend until everything in evenly incorporated.
Divide mixture into 4 patties and grill or cook over medium-high heat for about 2-3 minutes per side.
Weed Hamburgers
These mouthwatering super thick beef patties are quick to prepare for parties and easy to monitor for dosing. For the best flavor and texture results use a high-quality beef that is a medium ground.
Time to make: 1 hour
Makes: 4 individual servings
Ingredients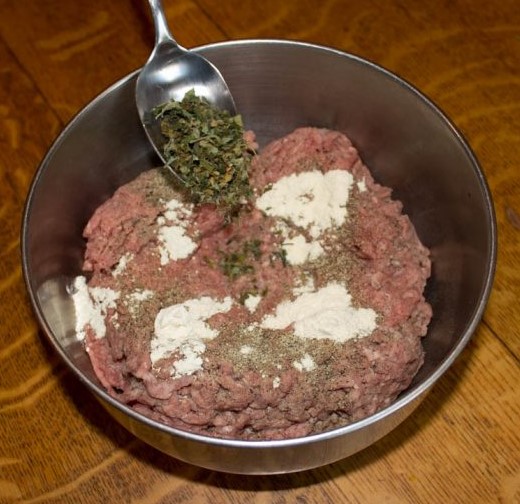 2 grams of dry cannabis
1 onion
2 eggs
¼ teaspoon of paprika
¼ teaspoon of salt
¼ teaspoon of garlic
¼ teaspoon of pepper
1000 grams of ground beef
4 buns
condiments (ketchup, mustard, relish, etc.)
toppings (lettuce, cheese, tomato, etc.)
Instructions
Grind the cannabis using a weed grinder. Remove any seeds or stem and spread it over a layer of parchment paper on a cookie sheet.
Decarboxylate the bud in the oven by baking it at 250 F for 30 minutes.
Prepare the onion by dicing it into cubes.
Use a large mixing bowl to combine the ground beef, onion, eggs, decarboxylated marijuana, Mix the ingredients together using your hands.
Mold four weed hamburger patties out of the mixture.
Cool the burgers in a fridge for 20 minutes before cooking.
Once the patties are cooled, you can remove them from the refrigerator and begin the process of cooking using either a frying pan or barbeque.
Place the burgers onto a pan or grill that has been preheated to a medium temperature.
Cook one side of the burgers for 10 minutes.
Use a spatula to carefully flip the weed burgers and allow them to cook for an additional 10-12 minutes depending on how you prefer them done.
Serve the cannabis burgers on buns with toppings readily available for people to choose from.
Weed Turkey Burgers
These moist and delicious pot filled turkey burgers are sure to be a hit at any party and are perfect for those seeking a low carb low-fat option to regular beef burgers.
Time to make: 1 hour
Makes: 4 individual servings
Ingredients
1000 grams of ground turkey
2 grams of dry cannabis
2 tablespoons of bread crumbs
1 tablespoon of mayonnaise
1 onion
1 garlic clove
1 teaspoon of sea salt
¼ teaspoon of pepper
1 ½ teaspoons of Worcestershire sauce
1 tablespoon of all-purpose flour
4 buns
toppings (lettuce, cheese, etc.)
condiments (ketchup, relish, mustard, etc.)
Instructions
Grind the cannabis using a weed grinder. Remove any stem or seeds and then spread it over a layer of parchment paper on a cookie sheet.
Decarboxylate the bud in the oven by baking it at 250 F for 30 minutes.
Add the turkey, decarboxylated cannabis, bread crumbs, mayonnaise, seasoning, and Worcestershire sauce to a large mixing bowl.
Prepare one full onion by peeling it and dicing it into chunks that are as fine as possible.
Shell and either mince or dice the clove of garlic.
Add both the garlic and diced onion to the bowl and combine the ingredients using your hands until they are evenly mixed.
Shape the turkey mix into round burger shapes.
Cool the patties on a plate in a fridge for 20 minutes.
Once they have firmed, you can remove them from the refrigerator to cook.
Use the flour to perform a light dusting on the outside of the turkey burgers.
Cook the cannabis-infused turkey burgers for 10 minutes before flipping them with a spatula.
Continue to cook the patties until they reach an internal temperature of 180 F.
Weed burger dosing
The amount of cannabis that is called for in these recipes is meant to be ideal for a beginner crowd. Each burger will contain around 20mg of THC which isn't a lot if you have prior experience with marijuana edibles. To up the dose, you can double or even triple the amount of dry weed that you add in each recipe, be sure to do so in small increments so that you know what to expect from the effects of consuming them. The felt sensations may take up to two hours to completely kick in and six hours after that to diminish, so eat one burger and wait at least two hours before deciding that it might be time for more.
Cook and enjoy