With fall upon us and winter fast approaching, tis' the season for steamy cups of tea to warm the chill. Whether it's CBD paired with green tea leaves, or THC and soothing chamomile, these beverages stimulate the senses to bring you an extra-comforting cannabis session—all you need is a bit of hot water.
Grab a blanket or your favorite book and sink into the buzzy comfort of the following cannabis-infused teas. Love another tea not listed below? Share it in the comments!
Types:
Stillwater Tea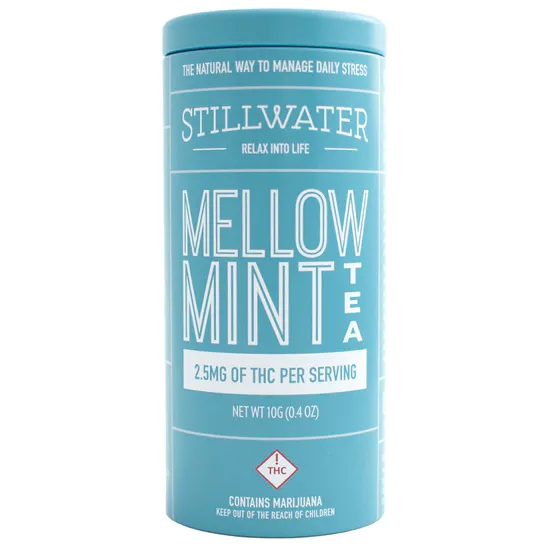 With 2.5mg of THC per serving, Stillwater's Mellow Mint Tea was designed for simple dose management without the fear of going overboard. It's packed with delectable Egyptian peppermint and is perfect as a nightcap.
Evergreen Herbal Tea
Arguably the most autumn-centric tea on this list thanks to notes of cinnamon, clove, and cardamom, Evergreen Herbal Tea's Chai High Tea is coziness in a cup. With an extra boost of 10mg THC, Chai High ties warmth together with elevation.
Kikoko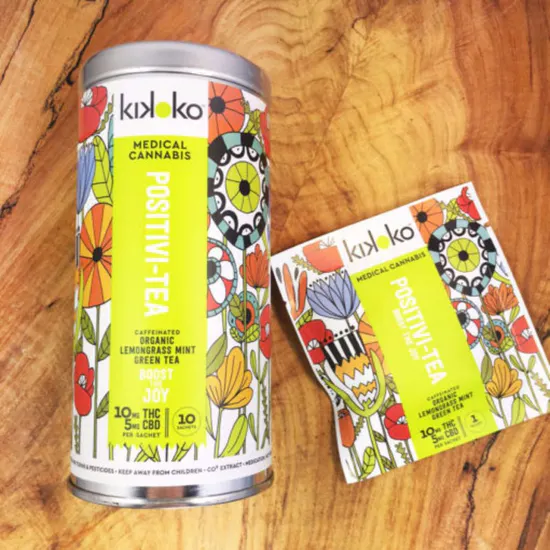 Take Kikoko's delicious Positivi-Tea on the go for its energizing effects. This infused green tea provides boosts of 10mg THC and 5mg CBD to soothe your senses while keeping you alert. Organic ingredients such as lemongrass and spearmint line these tea bags for additional wellness benefits.
Canna Tea
Canna Tea's soothing Honey Rose Chamomile Tea is the ultimate relaxation beverage. Filled with 25mg of pure indica and full notes of chamomile and honey, this lightly sweet drink will carry you off to dreamland in a state of bliss.
Mad Hatter Coffee and Tea Co.
Ready to go down the rabbit hole? Reach for Mad Hatter Coffee and Tea Co.'s citrus-forward SuppleTea. This delicious blend boasts 20mg THC alongside revitalizing tangerine and spicy ginger to awaken your senses while calming your nerves.
Mary's Wellness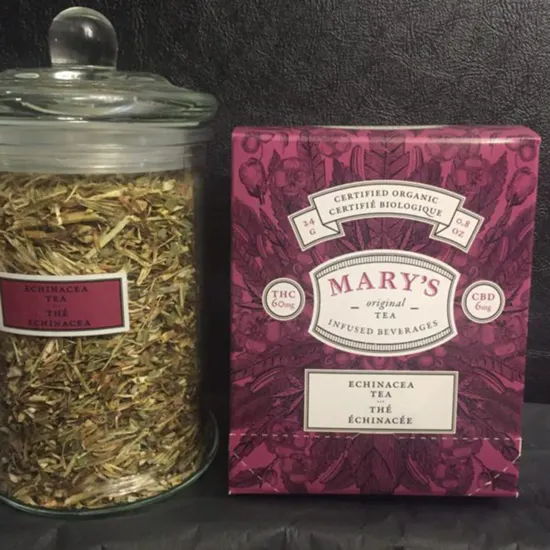 Mary's Wellness is looking to combat the flu and cold with their stimulating and healthful Echinacea Tea. Packed with 60mg THC and 6mg CBD with a large serving of cold-fighting echinacea, fill a mug with this immunity booster to minimize any chance of sickness this season.
Skyline Boulevard Co.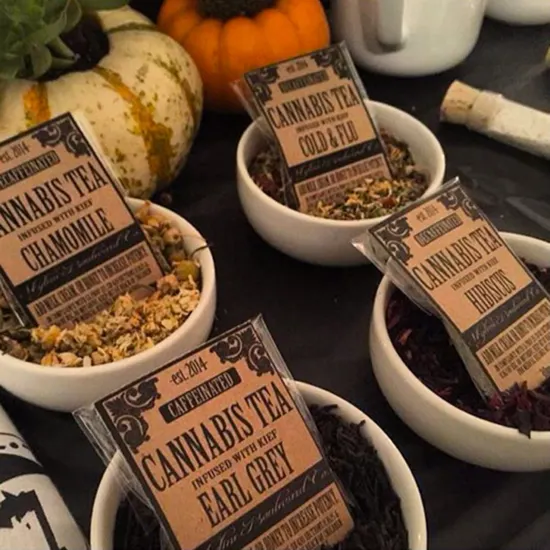 Skyline Boulevard Co.'s vintage packaging isn't the only reason to scoop up their fresh high-dose teas. With options such as Peppermint and Passion Peach (with a full 30mg THC), you can get elevated with whichever of the eight flavor options suits your taste.
Winter is officially here, and it's time to get warm, toasty and mellow as temperatures plunge. Enter marijuana tea — like a regular herbal blend, but infused with cannabis. When brewed properly in a spot where marijuana is legal, weed tea can be delicious and effective.
How to use cannabutter to brew marijuana tea
Making marijuana tea isn't just pouring hot water over marijuana leaves or flowers, however. Tetrahydrocannabinol (THC), the main psychoactive ingredient in weed, has a minimal presence in the leaves. The flowers, or buds, also won't disperse much THC throughout the tea because THC has a very low solubility in water. You need a solvent to effectively infuse the THC in tea. 
Cannabutter, a butter-based mixture infused with THC and other cannabinoids, is often used in marijuana edibles, and it's just as helpful in tea. Once a batch of cannabutter is whipped up, it's just a matter of adding it to a tea bag and letting the water brew the mixture. 
Marijuana tea recipes
Once you have a batch of cannabutter prepared, you can make a variety of marijuana-infused snacks within minutes. In this case, you'll be using it for tea.
Scoop a teaspoon of cannabutter into a tea cup, add a tea bag of your choosing and pour hot water on top. Let the cannabutter fully dissolve throughout the mixture, and then remove the tea bag. Feel free to add milk, honey, cinnamon or any other ingredients to achieve your preferred taste.
Here's a simple recipe, courtesy of Medical Jane:
Gather the ingredients, which are two sticks of butter, .5 ounces of cannabis, and two cups of water. The cannabis can be raw or ground, but it should be fresh off the plant.
Where to buy marijuana tea
Of course, if you live in a state that has legalized marijuana for recreational or medical purposes, you could try your hand at a cannabis tea shop. Dispensaries and cafes are opening around the country as marijuana law loosens. 
Marijuana tea effects and highs
Regardless of where you consume weed tea, you should be aware of the effects. Similarly to edibles, marijuana-infused teas take longer than smoke inhalation to feel its impact.
Typically, users report an onset of effects around 30-90 minutes, but it varies on tolerance, metabolism and a number of other factors. Additionally, the high experienced from drinking weed tea is much more relaxed and mellow. You're unlikely to feel the anxiety-ridden "stoned" feeling smokers sometimes complain about.
You should be all set to enjoy of cup of weed tea now. It'll keep your warm and hopefully pretty happy as well. Cheers. 
Cannabis tea is beginning to make a splash in kitchens across the country, as people become aware of how pleasant these drinks can be. The scrummy benefits of edibles have been around for a while, popularized with cannabis cooking shows and recipe cookbooks. But cannabis teas can stand up just as well in terms of flavor, aromas and of course, mind-expanding effects. Read on for a glimpse into the world of cannabis tea, and try out a few of these recipes for yourself.  
WEED TEA, REVIEWED
This must be the best possible way to have a tea party
As a major anxiety sufferer and California resident, I've had a prescription for medical marijuana since 2006. In the decade since, I have tried — and made — all sorts of crazy cannabis products, but these days every time I go to the dispensary I see some new thing that you can eat or drink or rub on your body. As a public service, I decided to test out some of the more intriguing options to see whether they live up to the hype.
I'm getting high for you, folks, and don't you forget it.
So what happened this week, as fall finally arrived in Los Angeles and it was chilly enough outside to warrant a piping hot mug of pot-infused tea? Did I cure my lingering case of dab lung? Did I Postmates a preposterous number of doughnuts? Did I do an impromptu photoshoot with said doughnuts on my tits? Let's find out.
Product: Tea Pot Cannabis Infused Calendula Guava Mango Black Tea