If you are to believe industry experts, this year could be the most innovative year yet in the marijuana industry. Now that weed is legal throughout Canada, and medicinal marijuana is legal in 35 American states plus D.C., cannabis companies in North America have a potentially huge target market.
If last year was the year of CBD, it seems this one could be the year when cannabis drinks finally make it into the mainstream. The legal marijuana market earned around $9 billion in the U.S. recently, a figure that is certain to increase this year and beyond. In fact, it could exceed $23 billion by over the next several years.
Aside from the usual edibles, balms, and oils that are on sale, you can also purchase weed-laced coffee capsules, and cannabis-infused lubes to spice up your sex life. As for weed drinks, the path towards claiming a major market share seems straightforward. Back in 2018 for example, Constellation Brands, the owner of Corona beer, invested $4 billion in a Canadian cannabis company.
Late last year, Molson Coors announced that it was teaming up with a different Canadian marijuana firm. These are interesting developments for the American market because edibles and drinks made from weed were not yet legal in Canada, even though cannabis is legal recreationally. Other major drinks labels such as Diageo, Tanqueray, and Johnnie Walker, have also been looking to invest in marijuana.
There have even been suggestions that soft drinks giants, Pepsi and Coca-Cola, have considered creating weed-infused beverages. With the first Cannabis Drinks Expo held in San Francisco in July 2019, it is clear that marijuana drinks are coming whether you like it or not. Here are a few to keep an eye on this year.
1 – HiFi Hops
This is an IPA-inspired drink created by Lagunitas. Each 12fl. Oz bottle contains no calories, 5mg of CBD and 5mg of THC. It is a drink that is a quarter of a century in the making. The Lagunitas Brewing Company was founded by Tony Magee in 1993, and within six years, its staff was enjoying weekly parties at 4:20.
After releasing several memorable drinks in protest again weed prohibition, the company finally had the opportunity to create Hi-Fi Hops, a zero-calorie hoppy sparkling water infused with an equal amount of THC and CBD. There is also a special brew which contains 10mg of THC and no CBD. While the 5:5 drink should not get you too high, the THC-only brew should provide you with a buzz, especially after drinking a few!
2 – Two Flowers IPA
This cannabis-infused drink is brought to you by Coalition Brewing. Unlike HiFi Hops, there is no THC in this drink. Instead, Two Flowers contains 4mg of CBD per 12oz glass. It is the first in a series of beverages and is widely available in Portland, Oregon. It has been brewed as a west coast IPA which offers, a light, crisp, yet bitter taste. It is a refreshing beverage but don't expect it to provide you with a high.
3 – Province Brands
Province Brands is a relatively small beer firm, but it is hoping to make a big splash this year. At present, the company has released Cambridge Bay Pilsner, a drink with an alcoholic content of 7% ABV. The pilsner is made from a mash that comes from the stems, stalks, and roots of cannabis plants. This mixture is then fermented in the presence of hops and yeast to create an "authentically crafted cannabis beer."
However, this Pilsner is not filled with CBD or phytocannabinoids. Indeed, the brand recently announced plans to release non-alcoholic, THC-infused beverages this year. Although the brewing method will be the same as with the pilsner, the THC drink will be made by mashing and fermenting cannabis biomass.
4 – Cannabis Quencher
This drink has been on the market for a while but as its creator, VCC Brands, is based in California, we expect this beverage to take off in terms of popularity this year, now that recreational marijuana legality has taken hold in the Golden State. The company has released several types of Cannabis Quencher drinks. There is a CBD Mango offering which contains 50mg of THC and 50mg of CBD.
Alternatively, you can go big and try the Mango, Hibiscus, Strawberry Lemonade, and Old-Fashioned Lemonade drinks, each of which contains a whopping 100mg of THC. Each 16oz bottle contains just 20 calories, but you need to be sensible! VCC Brands recommends trying no more than four capfuls (one capful = 2mg of THC) per serving. Wait at least 45 minutes before drinking more. If you're not used to weed, and down an entire bottle in one sitting, you will be sorry!
5 – Molson Coors
Although we have no details about the name or composition of this beverage, we know that Molson Coors made clear its plans to release a cannabis-infused drink. The company's CEO, Mark R. Hunter, stated that as soon as weed drinks became legal in Canada, the company would release a cannabis drink.
What isn't known is whether or not Molson Coors will attempt to produce a Coors Light type drink with THC instead of alcohol. Whatever the plans, you can be sure that its marketing team will be working hard to advertise the beverage weeks or even months before it is due for sale.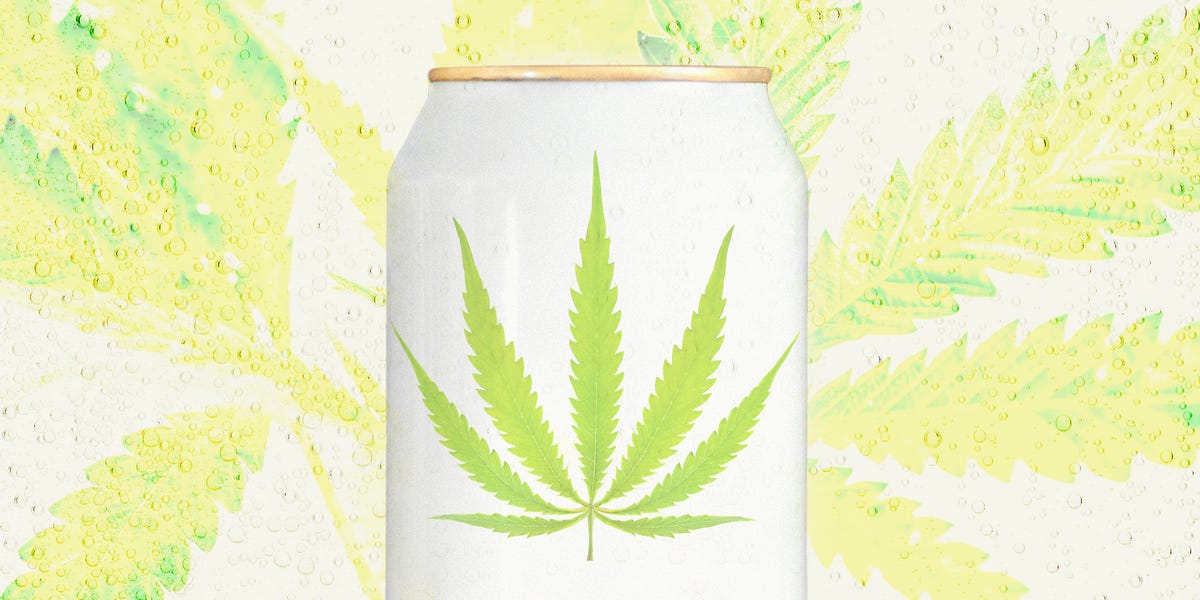 Final Thoughts on Cannabis Drinks
Marijuana is already the world's most produced, consumed, and trafficked 'illegal' drug. Now that it is becoming legal in most states, and is fully legal in Canada, North American drinks manufacturers will be eager to create their own cannabis-infused drink and rush it to market.
By the end of the year, we expect there to be dozens of new marijuana beverages to choose from. There will be tea, coffee, fruit drinks, and non-alcoholic beers. Regardless of the one you drink, take note of the THC content and don't consume everything at once!