For an herbaceous twist on traditional Christmas cookies, this classy cannabis shortbread recipe strikes the perfect balance between sweet and savory.
When baking cannabis-infused sugar cookies, I've always noticed how the grassy taste of herb stands out in such a simple recipe, even when covered in icing. Since discovering this savory shortbread recipe from Martha Stewart, I've shifted towards infusing cannabis into foods where it complements the existing flavors, instead of overwhelming them. Combining the cannabis with rosemary allows the herbaceous flavors to blend nicely, making this flaky, dense cookie deliciously different.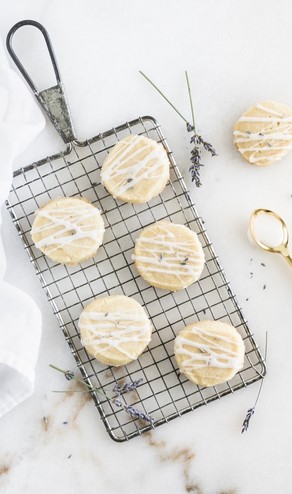 Loaded with butter, shortbread also offers plenty of opportunities for THC molecules to latch onto the body's lipids, their favorite fatty friends. You can introduce the THC into these cookies by combining a stick of melted butter with one gram of cannabis flower in a Mason jar in order to make a simple infusion, and estimate your THC potency based on the strength of your weed.
If you're using a lab-tested cannabis cultivar with 20 percent THC, one gram of flower would yield a potential 200 milligrams of THC. When infusing the cannabis into the butter, though you're activating THC, some is also being lost as it evaporates or converts into other cannabinoids like CBN. Estimate that 70 percent of the THC remains in the infused butter, or about 140 milligrams. This recipe yields 24 cookies, so each one would have a maximum of about five to six milligrams of THC. Don't forget to wait two hours after eating a cookie to feel its effects, and then decide it you'd like to have more.
Rosemary contains pinene, a terpene also found within cannabis that's responsible for the unmistakable aroma of fresh pine needles. Hence, a cannabis cultivar high in pinene, such as In the Pines, would be fitting choice to infuse into these cookies in order to further harmonize the flavors. For this recipe, I don't decarboxylate (that is, heat up) the cannabis before infusion because of how toasting affects the taste, but if you'd like to increase the potency of your cookies, toast the flower for 30 minutes at 240ºF before infusing into the butter.
The dough for this recipe can still be shaped using a cookie cutter, making these cookies a wonderful, rustic option for holiday festivities. Pair this Cannabis-Rosemary Shortbread with fine aged sharp cheddar and glazed nuts for a sophisticated holiday dessert plate.
Cannabis-Rosemary Shortbread Cookie Recipe
Yield 24 cookies (5-6 mg of THC each)
Ingredients
1 stick of butter, plus extra
1 gram of cannabis flower, broken up
1 1/4 cup all-purpose flour
1/2 cup walnuts, ground finely
2 tsp fresh rosemary, chopped
1/2 tsp salt
1/4 cup brown sugar
1/4 cup sugar
1 tsp vanilla extract
Equipment: 8 oz. Mason jar with lid, cheesecloth, parchment paper, rolling pin and cannabis leaf cookie cutter
Directions
First, begin by melting the butter in a small saucepan. Pour the melted butter in the jar and add the cannabis flower, then screw the lid onto the jar. Fill a small saucepan with water and place the sealed jar in the saucepan. The water should reach up to the lid of the jar. Bring water to boil over high heat and reduce to a simmer for 30 minutes.
While the infusion is underway, combine the flour, ground walnuts, rosemary and salt in a large bowl.
Remove saucepan from heat and allow to cool for another 15 minutes until you can safely handle the jar. Pour the infused butter through a few layers of cheesecloth to remove the cannabis plant matter, squeezing gently. Measure your yield, adding more butter if necessary to make sure 8 tbsp. goes into the cookie dough.
Combine the infused butter and sugars into the bowl of an electric mixer. Beat on medium until the butter and sugar have "creamed" together and gotten fluffy, about 3 – 5 minutes. Add the vanilla extract and reduce the mixer speed to low. Slowly add the flour mixture a few scoops at a time and mix until it's thoroughly combined, about 3 minutes. Scrape the sides of the mixing bowl before adding more flour. The dough might look like a collection of loose pebbles, but that's OK.
Turn the dough out onto a parchment-lined baking sheet. Work it with your hands into a smooth round. Place another sheet of parchment over the top, and roll out the dough until it's about quarter-inch thick. Put the entire baking sheet into the fridge for 30 minutes to chill the dough.
Preheat your oven to 325ºF. Remove the dough and carefully cut cookie shapes, placing the cookies on parchment-lined baking sheets. Collect the scraps and re-roll the dough again, chilling and then cutting out more cookies. Remember that the scraps contain THC, so try to use up all of the dough.
Bake for 15 minutes, checking to see if the edges are golden brown. Let cookies cool on wire racks. Serve warm with cheeses (such as aged sharp cheddar or gouda) or store in an airtight container for up to 5 days.
MARIJUANA SHORTBREAD COOKIES
1 cup all-purpose flour
1/4 teaspoon salt
10 tablespoons Cannabutter, room temperature, divided
1/4 cup confectioners' sugar
1/2 teaspoon pure vanilla extract
1/2 cup semisweet chocolate chips
Cannabutter Directions
1 Grind marijuana to a very coarse meal.
2 Cube butter and add to small saucepan over low heat.
3 Now clarify the butter. As milk fat renders from the oil scoop it out, straining through mesh or cheesecloth.
4 Bring butter to medium heat separating milk fat, pour through skimmer or cheesecloth to remove all milk fat. Now that the butter is mostly clarified, return the butter oil to a clean sauce pan.
5 Bring to medium heat, using a candy thermometer, bring the oil to 250 Degrees F. ( Be careful not to touch the bottom of the pan with your candy thermometer, place it just barely off the pan bottom. Use a small, thick bottomed, durable sauce pan. )
6 Stir in ground marijuana. Carefully monitor heat and keep oil as close to 250F as possible for [timer length=27]27 Minutes[/timer].
7 If you get too hot, reduce or remove heat. Adjust duration to compensate if temperature reaches above 265F. Reduce time by ten minutes for every 20 degrees over 250 degree temperature reached. DO NOT EXCEED 290 F!!!
8 Ground Marijuana will darken in the butter. Remove from heat and filter through a sieve and through a couple of layers of cheesecloth to refine.
9 Pour into a container for storage for 2 -3 weeks in the refrigerator or use right away.
Shortbread Cookies Directions
10 Line a rimmed baking sheets with parchment.
11 Divide out 2 tablespoons of butter, set aside for chocolate sauce.
12 Whisk together flour and salt. In a bowl, beat butter until fluffy, 3 to 5 minutes.
13 Add sugar, and continue to beat until pale and fluffy, occasionally scraping down the sides of bowl, about 2 minutes more.
14 Beat in vanilla.
15 Add flour mixture, and mix on low speed, scraping sides if necessary, until flour is just incorporated and dough sticks together when squeezed with fingers.
16 Turn out dough, forming into a disk; wrap in plastic.
17 Refrigerate until firm, at least [timer length=60]1 Hour[/timer].
18 Preheat oven to 325 degrees.
19 Roll out disk to a 1/4-inch thickness.
20 Cut out shapes using desired cookie cutter, and transfer to prepared baking sheets. Re-roll scraps. Repeat.
21 Indent cookies with desired stamps.
22 Refrigerate until firm, at least [timer length=30]30 Minutes[/timer].
23 Bake until firm and golden, 13 to [timer length=15]15 Minutes[/timer] minutes.
24 Let cool completely on a wire rack.
25 Melt 1/2 cup of chocolate in double boiler, add reserved butter and whisk together over heat until glossy and smooth.
26 Remove from heat and immediately dip 1/2 of each cooled cookie into the chocolate and let cool on wax paper. Repeat until all cookies are dipped, double dip until chocolate is gone.
27 Let all cookies cool completely before transferring to a serving dish or storage container.