Cannabis Sugar Cookies: Simply Great
Cannabis sugar cookies can be made in any colour or flavour. These simple cookies taste great with or without added flavour.
Infused Cannabutter
Use margarine or butter that has been infused with cannabis for sugar cookies. Make sure your cannabutter or cannamargarine is room temperature before mixing the ingredients together.
Mixing The Dough
To make cannabis sugar cookies, start by creaming together cannabutter and sugar. Add egg, food colouring and vanilla and mix until creamy. In a separate bowl, mix dry ingredients together. Add dry ingredients to wet ingredients and mix until well incorporated, being careful to not over mix.
Divide dough into 12 equal portions using an ice cream scoop. Rolls into balls and press tops in sugar. You can use regular white granulated sugar or coarse sanding sugar. Evenly space coated dough balls on 2 baking sheets lined with parchment paper. Gently press dough down to about 3/4″ thickness.
Bake Cannabis Infused Sugar Cookies
Bake sugar cookies, one tray at a time in preheated 375° F oven for 13 to 15 minutes. Cool on baking sheet for 5 minutes, then remove and place on cooling rack to cool completely.
Store in the fridge in a sealed container for up to one week or store in the freezer for up to 3 months.
Attractive Edibles
Good looking food temps our eyes and entices us to taste it. There are many different ways of jazzing up your cookies so have fun, get creative and express yourself through food.
Glistening Sugar
Rolling your sugar cookie dough in white sugar before baking creates a sparkly, eye catching appearance. Sanding sugar is more coarse and reflects even more light. This adds a dramatic visual effect as well as texture.
Make Edibles Taste Great
Don't forget flavour. There are many exciting flavours you can add to sugar cookies. Use good quality flavours and concentrated oils. Some popular flavours include orange, mint, anise, butterscotch, grape and lemon. Ground spices can also be used including cinnamon, nutmeg, ginger and cloves.
Consume Responsibly
Always consume edibles responsibly and don't consume too much at once. Use the Dosing Edibles Calculator to determine the amount of THC per serving in your sugar cookies. Store all edibles safely out of reach of children and pets.
Cannabis Sugar Cookies
This cannabis sugar cookies recipe is unique. It is not like traditional sugar cookies, which are rolled out and cut into shapes. Because the dough lies in between a drop cookie and a rolled cookie, it easier and less messy to work with. As a bonus, you can make them any flavour or colour.
Ingredients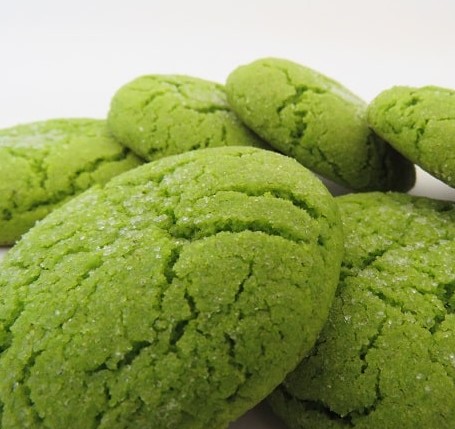 1/2 cup cannabutter or cannamargarine
3/4 cup granulated white sugar
1 extra large egg
2 tsp green food coloring
1/2 tsp vanilla
1 1/2 cup all purpose flour
1/2 tsp baking soda
1/4 tsp baking powder
2-3 tbsp sugar for rolling
Instructions
Preheat oven to 375° F.
Cream together butter or margarine and 3/4 cup sugar. Add egg, vanilla or custom flavour and food colouring. Mix well.
In a separate bowl, mix flour, baking soda and powder. Add to wet mixture and mix until incorporated, being careful not to over mix. If the dough is too crumbly and won't come together, knead by hand for a minute or two.
Using an ice cream scoop, divide dough into 12 equal portions. Roll into balls and coat tops by pressing into sugar. Spread evenly on 2 parchment lined baking sheets. Gently press down to flatten dough to about 3/4″ thick.
Bake each sheet separately for 13 to 15 minutes at 375° F.
Cool on baking sheet for 5 minutes, then remove and place on wire rack to cool completely.
Notes
Different Colours
You can use any colour you like or no colour at all. Some colours that create fabulous looking cookies include green, red, orange, blue and purple.
Different Flavours
Substitute vanilla with custom flavours like mint, lemon, grape, anise and more. You can use natural or artificial flavours from your favorite brands. Concentrated oils also work but you may have to use less. Dried spices like ginger, cinnamon and nutmeg can be used as well by mixing them into the dry ingredients.
Being that this recipe is over 100 years old and European, it is traditional to make this all with your hands, however at Budzu we are lovers of modern technology and we totally recommend using a mixer or hand held mixer to make it quicker and more fun. But if you like to get your hands dirty go for it!
We also like to make it into a cake like shape so that we know once one is in the fridge!. Enjoy Baking!
Tools Needed
Kitchenaid mixer OR and hand mixer with standard mixing attachments
2 x Medium size bowls
Sifter ( preferred but if you don't have one it still works fine)
Measuring cup full standard set of 1/4, 1/3,1/2, 3/4 & 1cup.
Measuring spoon set full standard set of 1/8, 1/4, 1/2, 1tsp, 1tble
Wooden Spoon or Spatula
Baking tray
Baking paper or parchment paper
PREP 15 mins
COOK 15 mins
READY IN 35 mins

Ingredients:
Recipe makes 15 crescent shaped or 1 dozen medium cookies
250g of cannabutter – softened
200g white sugar
vanilla essence 2tbs
pinch of salt
2 eggs
500g flour

Direction:
Preheat the oven to 325 degrees F (165 degrees C). Grease cookie baking tray or line with parchment paper.
Beat cannabutter and sugar until creamy. Add the vanilla extract and mix again until the golden brown essence colour is mixed though.
Add the salt and eggs and mix again.
Slowly add the flour by the spoon full and mixing well and slowly. When its consistency is like dough, kneed to form little palm size dough balls on a lightly floured surface area.
When you have a few palm size balls done, roll them on the flat surface gently back and forth and make into crescent shapes and place on the baking tray and place into oven.
When slightly browned on edges remove from oven and cool on wire rack until cool to touch.
Decorate as desired.