Ramen noodles made with cannabis needs to be included in every cannabis aficionado's repertoire. Ramen is a traditional Japanese food. It has a broad variety. A variant of ramen can be known by the geographical area in which it is being consumed, although, differences still exist within the variants. Generally, ramen can be classified by its two major ingredients: noodles and broth. Ramen is produced in different shapes, lengths and sizes. It could be thick, thin, straight, or curled. Ramen is usually served in meat or fish broth, and seasoned with soy oil, green onions, or any other spices a cook wishes to add to it.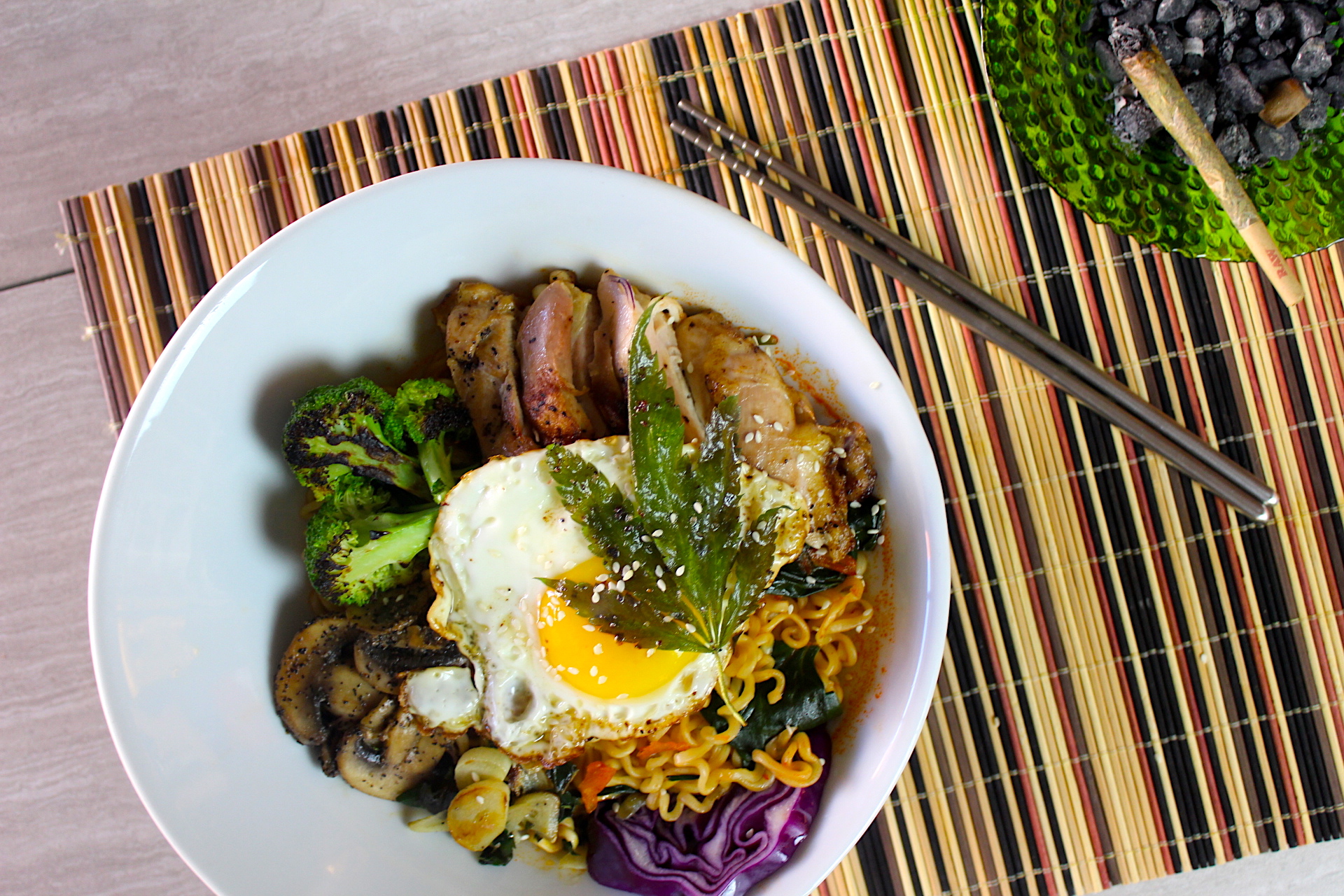 Ramen noodles are an essential dietary requirement for cannabis enthusiasts. They're delicious, quick to make, and come in a variety of delicious flavours. Infusing one's ramen noodles with cannabis can boost the culinary experience, while simultaneously getting you high. Here, we guide you through a simple cannabis-infused ramen noodle recipe.
Cannabis infused ramen noodle soup is like a bowl of comfort. While you can simply buy a store bought package, we decided to put a little more time into this recipe. Create your own cannabis ramen soup using fresh ingredients. This soup is deliciously simple. If you love spicy sriracha and the effects of a mellow weed edible, this recipe is for you!
Follow these tips to create an amazing pot infused ramen noodle soup:
Firstly, it is best to make sure that the temperature of your pan is not too high. This is to preserve the integrity of your cannabis oil. By keeping a low heat you will protect your THC from degrading while your soup is cooking. Once all ingredients are added to the pot, you can crank up the heat to serve a piping hot soup.
Get creative with your weed infused noodle soup!
This recipe teaches you to make a basic weed infused ramen soup. If you are feeling adventurous or creative, you can play around with this recipe.
Try adding additional vegetables for crunch and flavor. Perhaps you like an egg drop soup? Add an egg to the broth prior to serving. Parsley, bean sprouts, and shaved carrots make an excellent addition to this soup! You can also serve your soup with a plethora of sauces to self customize the cannabis soup after serving!
Create THC oil or CBD oil infused ramen noodle soup!
If you are not feeling like getting high with this satiating weed infusion, you can substitute your THC oil for CBD! Perhaps you're just looking to warm up on a chilly day and enjoy the flavor of cannabis. Simply add the 3 tablespoons of CBD oil instead of your THC infusion.
If you're seeking a high, then use THC oil instead of CBD oil. This recipe is thoughtfully dosed. It is still important that you enjoy this cannabis soup infusion responsibly.
Start your Cannabis Infused ramen noodle soup now!
Ingredients
3 Tbsp Cannabis oil
1 Tbsp Minced garlic
1/2 Tbsp Grated ginger
4 Scallions Sliced
1/2 Tbsp Sriracha
3 Cups Chicken stock
3 Cups Beef broth
1 Tbsp Fish sauce
1 Tbsp Soya sauce
1 Cup Water
12 Ounce Pack ramen noodles
Instructions
Place the oil, garlic, ginger, scallions, and chili sauce in a dutch oven or large pot and cook over low heat for 2-3 minutes, until fragrant and the scallions start to soften.
Add both chicken and beef stock, fish sauce, and soy sauce and bring to a boil over high heat. Taste and adjust as necessary
Add the noodles to the boiling soup, and cook for about 3 minutes or untill cooked according to package.
OPTIONAL
Cheese
Additional spices—chili, oregano, etc.
Vegetables—carrots, onion, garlic, etc.
Hardware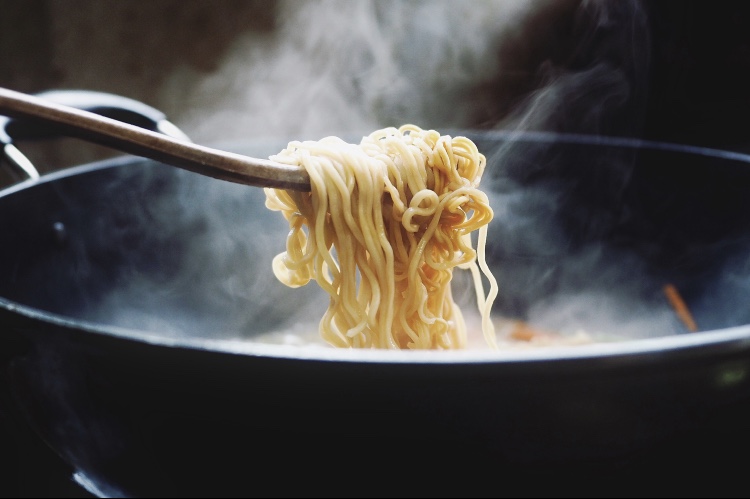 Instructions
Pour the water into a pot, and set the heat on medium. You want the water to simmer, not boil.
Finely grind the bud if you intend to eat all plant material, or keep it relatively chunky if you want to sift out the material later on.
Place the butter and weed in the hot water. The heat decarboxylates the buds, making them psychoactive, and the butter is necessary to bind the cannabinoids to fat. The temperatures can't get too high otherwise the cannabinoids will degrade. The water is essential because it has a lower boiling point than the fat in the butter, cooling it down. Add more water if there's barely any left.
Cover the pot with a lid, and heat the mixture for around 30 minutes. Don't turn up the heat; it should remain equally hot as before. Consider that cooking weed has a very distinct smell, which can be recognised by your flatmates or neighbours. You can turn on the ventilation if required.
After 30 minutes, you can either sift out the cooked bud material, which barely contains any desired cannabinoids, or simply eat it together with the noodles. If you decide to sift out the buds, try not to remove too much fat, as that's exactly what will get you high. You can do this by straining the liquid through a mesh sieve large enough for the fat to pass through, but too small for the chunks of plant matter.
Add the ramen noodles into the mixture, together with the included spices. Keep simmering the water without boiling it, and stir the noodles for an even cook. When the noodles reach the desired consistency, place them in a bowl together with the broth, and voilà, your cannabis ramen noodle masterpiece is ready for consumption! The effects will hit anywhere between 30mins–3hours after eating the noodles.
This IPot Ramen is delicious, with tender chicken, gooey ramen eggs and vegetables in a hearty chicken soup. Spice up the ramen noodles with chili oil for an extra kick. This is comfort food in a jiffy and takes only 15 mins in the pressure cooker.
How to make pot ramen?
Do you know that you can make ramen in an Instant Pot and it takes only 15 minutes in the pressure cooker? This Instant Pot chicken ramen is a two-step process. First of all, you pressure cook the chicken and the broth. Next, you cook the ramen and vegetables using the Saute mode. It's that simple. Many people make the ramen eggs by using the trivet before making the soup. For me, I chose to make the eggs using the stove top when the chicken broth was in the pot. It's faster and save a lot of time! To make proper eggs with soft, gooey egg yolk just like Japanese restaurants, you can try my Japanese ramen eggs recipe.
Notes
Watch the cooking video on this page for step-by-step guide.
To make eggs, please follow my Ramen Eggs recipe here.
If you don't have an Instant Pot, you can make this ramen noodle soup on a stove pot. Just use a regular pot to make the recipe.
For the seasoning, please use Japanese Bonito-Flavored Soup Base such as Mizkan, if you have it. If not, use light soy sauce.