All about cannabis-infused wine
With the legalization of medical and recreational cannabis in over half the U.S. and all of Canada, there is no shortage of unique types and styles of marijuana products that are packaged and sold commercially. With the ever-increasing spread of marijuana cultivation and production, especially in the west coast's wine-producing regions, it is a no-brainer that eventually a wine and weed crossover product would hit consumer shelves as a new means of blending culinary craft sectors and enhancing the imbibing experience. Marijuana-infused wine, frequently called "cannawine", is an infusion of hemp or cannabis into a commercially produced wine-flavored beverage.Try these quick snacks for when the munchies strike.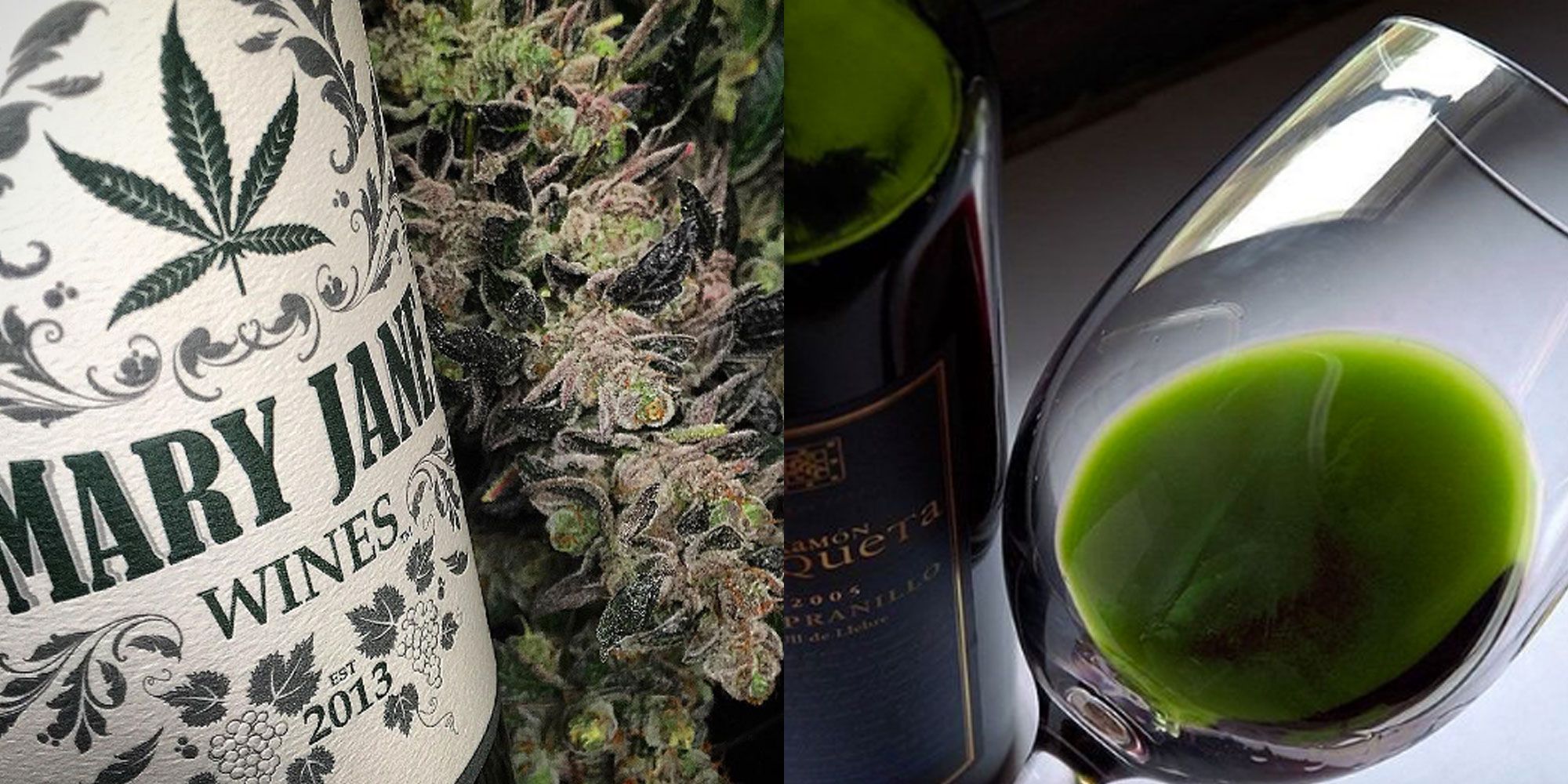 As with any new emerging category, the rules and regulations this new sector launched with were initially somewhat murky. As this beverage sector continues to evolve and progress, the associated legal regulations will also continue to develop to give consumers greater confidence in the types of products they are ingesting and what to expect. Today in the U.S., it is illegal to produce and sell alcoholic beverages and THC-inclusive food and drink in the same facility, and definitely not in the same bottle. This means that of the several types of weed wines produced commercially for the market, they must be labeled one of three ways. These products may be traditionally-produced alcoholic wines infused with CBD, alcohol-free or alcohol-removed wines infused with a combination of THC and CBD, or items labeled as tinctures that must be sold medicinally. Several products on consumer shelves today bearing the tell-tale green marijuana leaf are handily misleading uninformed customers by implying the product in their bottles will get them high, but in fact, contains no THC.Examples of these products are hemp-infused liquors, wines, and beers. Simply put, if a product is being sold commercially in the United States, it contains alcohol, and may be sold to recreational (non-medical) consumers, then it does not contain any THC over the legally acceptable imperceptible trace amounts of 0.03%.
The history of mixing medicinal herbs and wine for pain and euphoria is practically as old as grapes and cannabis themselves. Some archaeological finds show that wine and cannabis infusions were popularly used for a variety of uses to pain relief and sedation during surgery and for religious rituals as far back as the second century A.D., though specific documentation and recipes of particular blends have been difficult to find. Indeed, up until the last few years, the mysterious mixing of weed and wine has been an almost explicitly underground endeavor. The commonly understood modern origins of the style can be traced back to the mid-1970s in California when a few enterprising and adventurous winemakers at Chalone Vineyard were cultivating both grapes and cannabis and decided to attempt to infuse them. Winemaker Billy Wrathen spent time at Chalone learning the practices of making so-called "green wine," before eventually making a name for himself and opening Santa Maria's Foxen winery in 1985. In the years making wine there, Wrathen has passed on his special knowledge of cannabis and wine infusions to several local winemakers, making the Central Coast the veritable hotspot for Cannawine production and history. Indeed, many accounts from the mid-90s to recent years mention unlabeled special proprietary "green infused" bottles being passed around at wine industry trade conventions and gatherings.
What is weed wine?
When you think of wine you're most likely thinking of the bottles you buy from the store that are made out of various fruits. You might be surprised to learn that weed wine is actually pretty close to your traditional bottle of wine. Wines made with weed are made from grapes and then infused with weed. There are many ways to infuse weed into wine from cold in-barrell processes to putting the concoction in a plastic jug.
No matter what the method is the idea here is to infuse the cannabinoids and terpenes from the plant itself into the wine mixture. If you think of how herbs can be infused into wine (such as mint and thyme to name a few) it's the same age-old process. Even though the process seems simple there is a lot of planning that goes into each bottle. Just like master winemakers choose each grape they bottle carefully winemakers that infuse their vint with weed choose each strand carefully. Lighter wines such as moscatos will have sativa strands that are fruity and have citrus-heavy terpenes. On the other side of the spectrum, heavier wines such as merlots will have pungent and bold indicas.
One of the earliest commercial adopters of weed-wine tinctures was Lisa Molyneux, proprietor of Greenway Compassionate Relief Inc. in Santa Cruz, CA, established in 2005 for medical marijuana consumers. Molyneux is a cancer survivor who began her shop, the first commercially-available medical marijuana dispensary in California, in order to provide compassionate and holistic care to cancer patients and survivors. She launched her Canna Wine line in 2010 after meeting, tasting, and feeling the effects of an under-the-table cannawine from a local winemaker who later invited her to barrel and bottle her own infusion. In the years since, Canna Wine has garnered a large following, attracting the attention of several celebrities interested in producing their own unique blends. In 2014, singer/songwriter Melissa Etheridge commissioned Molynieux to create her Know Label cannabis-infused tincture after she had a glass or two of Canna Wine and experienced relief from pain associated with chemotherapy.
Although there is always some risk involved in consuming multiple inebriants at once, rest assured, there is some scientific methodology in play to keep one from getting too inebriated. In wine production, very rarely do fermentations reach temperatures over 90 F. At these lower temperatures, cannabis introduced into the fermenting wine will release the cannabinoid (CBD) compounds, known to create relaxation and pain relief, but, the temperature is far too low to extract the more psychoactive substances such as THC. The resulting product contains both naturally-produced alcohol and naturally-extracted CBD. The blending of alcohol and CBD requires that these products, called tinctures, be sold only to medical marijuana consumers. A typical dose of cannawine tincture contains around 8 to 10 milligrams of CBD per 6-ounce glass, though a certified medical bud-tender can tell more specifics based on the bottling. The more limiting factor might be a consumer's budget. With regular 750mL bottles ranging from $150 to $300 each, a single 6-ounce glass may cost upward of $70. CannaVines wines have the potential to equalize the market, though public sales have not yet begun. Currently, their items are only available through Cannabis Tours, which hosts a bay-area wine and weed tour.
Other more recreationally-driven products rely on a base wine that has either no alcohol produced or the alcohol removed. Due to the current legal climate regarding the mixing of alcohol and cannabis extracts, no products available to the general public for recreation purposes may contain both. These products are still limited to areas where recreational cannabis consumption is completely legal. Prime examples like Rebel Coast begin their products with a quality-made premium wine that is then processed through reverse osmosis to remove the alcohol. The wine is then mixed with a proprietary sativa based THC extract to create the finished product. Rebel Coast is the first such product on the market and bottles their California white blend to contain 40 milligrams of THC per bottle, so approximately 10 milligrams per glass. The low dosage and use of sativa strain keep the party going without getting consumers completely stoned (unless they finish the whole bottle).
Another popular emerging sector is that of hemp-infused products. These items may be marketed to imply they contain weed, but in reality, have no cannabis compounds in the bottle. They are flavored with hemp extracts but do not contain either CBD or THC. Granted legality in 2018, hemp-infused wines contain alcohol, and steep hemp in the wines during fermentation to extract the plant's flavorful (but non-intoxicating) compounds. New York state's Sovereign Vines produces an array of styles to include an off-dry white, a sweet rosé, and a dry red blend among others.
With the legal landscape surrounding wine and weed constantly changing on an international scale, the sorts of beverage products available medicinally and recreationally continue to evolve. As long as clever beverage craftspeople continue to innovate and create new styles, there is bound to be no shortage of innovative ways to imbibe and inebriate in the upcoming few years.
Top Tip: Grow your own weed for the best wine
If you're looking to make the best weed wine there is then you should consider using weed strains that you grow right in the comfort of your own home. You may think this sounds impossible but there are things such as the Grobo automated grow box that can help you have amazing strains grown right in your house.
This automated grow box uses deep water culture which is a hydroponic technique used to grow plants. All you will have to do is add your plant either from a seed or clone. Then you will pick what recipe you want from the handy application. From there the Grobo automated grow box will do all the hard work.
Not to mention the best part about Grobo is that they have hundreds of strains so you won't be limited in what you grow. This growing system will offer reduced smells when growing.
Users will have a yield of anywhere between 2 to 3 ounces every 3 to 4 months. Also, this grower is amazing from beginners and experts alike. Grobo offers plenty of educational videos to help make growing a breeze.
In addition to these awesome benefits, you're not just limited to growing cannabis. The Grobo automated grow box can be used to grow any type of plant you like.
Now you know how to make the best weed-infused wine
Before reading this post you may have been confused about what weed wine actually was. We have provided you with a detailed explanation of what weed wine is and have given you the tools to help you match the best stain with the wine of your choice. In addition to giving you the facts on weed wine we have given you detailed steps on how to make your own infused wine from the comfort of your home. From giving you a list of supplies to teaching you how to activate your weed, you're bound to have an amazing product that will please any crowd.