The "special brownie" needs less introduction than most baked goods, but you'll find no sloppily constructed, slightly burnt bars here. For those who don't live near a dispensary (or a group of friendly college kids), here's a low-key way to get your hands on safe, tasty edibles: Go homemade.
How much weed?
Not only will they taste better, but when you DIY, you're also fully in charge of how much bud actually ends up in the brownies. This recipe calls for a full 1/8 ounce of cannabis, yet the process still works if you decide to use less.
BTW, if you go by this spice conversions chart, 1/8 ounce of parsley (the closest cannabis comparison we could find), is equal to about 3 tablespoons. So, roughly 3 tablespoons of weed is about what you need. You're welcome.
We made the full batch of the cannabutter recipe below, used our preferred amount in the brownies, and stored the excess in the fridge in a clearly marked container (emphasis on "clearly marked").
Must-know tips
Before you dump the contents of your grinder into a box of Duncan Hines Double Fudge, hang on a sec. To draw out cannabis's full potential in edibles, it must be decarboxylated.
Decarba-what? Decarboxylation is basically a fancy way of saying that the herb needs to be heated to fully activate it to its psychoactive form. Think: A joint won't get anyone high unless it's lit on fire.
This recipe makes 16 potent brownies. While they're delicious, we don't recommend you eat more than one at a time. If you're new to all this, eat a small one. And be patient. It could take up to 90 minutes for the brownie to digest and the high to hit you.
Also, different strains of marijuana have varying levels of THC, so they can impact each person differently.Trusted Source That, combined with how long it takes for the effects to kick in, and it's easy to take more than intended.
We don't mean to kill your buzz, but some adverse side effects of ingesting too much THC include motor impairment, extreme sedation, agitation, anxiety, cardiac stress, vomiting and, in rare cases, psychosis.
AUTHOR NOTES
The iconic weed brownie reigns supreme over all edibles for two reasons: They whip up in a snap and chocolate makes everything taste good, even weed. While boxed mix works in a pinch, from-scratch brownies reach a new level of scrumptious with cannabutter in the batter. Plus, this recipe only needs one bowl for easy cleanup.

Cakey brownies have their fans, but these brownies bring on the fudge. The molasses gives a caramel note and adds moisture while dark chocolate (at least 60 percent cacao) balances the sweet with a hint of bitterness. Chewy and gooey rank high on the texture meter, and these brownies capture both in one bite.

To make cannabutter, just follow my all-in-one guide, where I walk you through each step. Want to plan ahead? In the fridge, tightly wrapped cannabutter lasts about one to two weeks. In the freezer, that stretches to up to six months.

This recipe yields 16 chocolatey brownies. 1 gram of weed infused into 1/2 cup (1 stick) of butter doses the brownies at 8 to 10 milligrams THC (the chemical that gets you high) per brownie. For edibles newbies, use less cannabutter, supplementing with regular butter, to start at an even lower dose of 2 to 5 milligrams per brownie.

When edibles taste as good as brownies do, they can cause a munchies loop of getting hungry, then eating more brownies. Think ahead and make a second batch of regular brownies to avoid the temptation of eating one too many. You can follow this recipe, using the same quantity of standard unsalted butter instead of cannabutter. The combination of rich chocolate and crunchy nuts masks the flavor of weed, so be sure to label them carefully. No one likes to play edible roulette.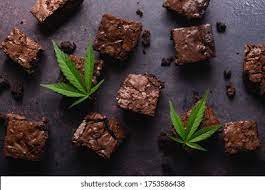 TEST KITCHEN NOTES
If you're considering enjoying this recipe, please consult and follow the legal restrictions for controlled substances in your state. Because there are so many variables with homemade edibles, go slowly. You may want to start with half a serving and determine your tolerance and ideal dose from there. And always wait a couple hours to feel the effects.
Ingredients send grocery list
Cannabutter
1/2 cup (113 grams) unsalted butter
1 gram quality cannabis flower
Weed brownies
1/4 cup (21 grams) natural cocoa powder, plus more for the pan
Cannabutter (above)
1/2 cup (100 grams) chopped dark chocolate
1 1/4 cups (250 grams) granulated sugar
1 tablespoon molasses
1 teaspoon vanilla extract
1/4 teaspoon kosher salt
2 large eggs
3/4 cup (90 grams) all-purpose flour
1/2 cup (57 grams) chopped toasted nuts (optional)
Directions
Make the cannabutter, following the quantities listed above and my step-by-step guide linked in the Author Notes.
Butter an 8×8-inch pan, then dust with cocoa. Heat the oven to 350°F (177°C).
In a bain marie (or in the microwave in 10-second intervals), melt the cannabutter and dark chocolate. Remove the bowl from the heat, then add the sugar, molasses, vanilla, and salt.
Add one egg at a time, mixing well after each. Beat for about 5 minutes, until a 5-second ribbon forms on the top of the batter when you lift the whisk. Stir in the chopped nuts (if you're using them). Sift or whisk the flour with the cocoa powder, then add to the chocolate mixture. Combine just until the flour disappears (don't overmix).
Pour the batter into the pan and place in the center of the oven. Bake for about 25 minutes, until a glossy top forms and starts to crack. Keep an eye on the edges, they will firm up first. To check, insert a toothpick near the corner—it should have a few moist crumbs.
Let cool on a wire rack for at least 10 minutes before cutting into 16 brownies. (If you'd like—and if your pan isn't glass—you can plunge the pan into cold water immediately out of the oven. The temperature shock achieves a chewy crust while maintaining the gooey center, a tip I learned from Eric Kim.)
Store the brownies in an airtight container for up to a week. For longer storage, cut and freeze the brownies, then warm up in the microwave or oven before serving.