Cannabis rice crispy treats are one of the most simple, and quick, cannabis edibles to make at home. These can be made with any type of cereal, think Fruity Pebbles, Cheerios, Frosted Flakes, anything you desire. Cannabis-infused rice crispy treats can also be made with either cannabutter or cannabis coconut oil.
Rice crispies (also known as rice bubbles) originated in 1927 and have become a part of a beloved treat in the rice crispy square.
As a pro tip, it is highly recommended that you still use some rice crispy treats if you are using a larger cereal such as cheerios or frosted flakes. Using a small amount of rice crispies will fill the gaps as you can see in the photo below which were made with chocolate Cheerios and Rice Crispies.
These treats are made with equipment that should be easily found in any kitchen.
Non-stick frying pan
Silicone Spatula
Large Baking Dish/Tray
Parchment Paper
Cannabis edibles may seem daunting to begin with, but, easy recipes like this make cannabis edibles a convenient way to ingest THC regularly.
Ingredients to Make Cannabis Rice Crispy Treats
As mentioned, the cereal can be changed, however, it is still advised that a minimum of half a cup of rice crispies is used.
1/4 Cup of Cannabutter (OR Cannabis-Infused Coconut Oil)
3 Cups of Rice Crispies (or other cereal)
250 grams mini-marshmallows
As you can see, there are just 3 ingredients needed to make these easy cannabis edibles. If you need a recipe for cannabutter or infused coconut oil, make sure you click the links above and bookmark them for future use.
How to Make Cannabis Rice Crispy Treats
Rice crispy treats are especially simple to make, even with no kitchen experience. If you have any questions please comment below.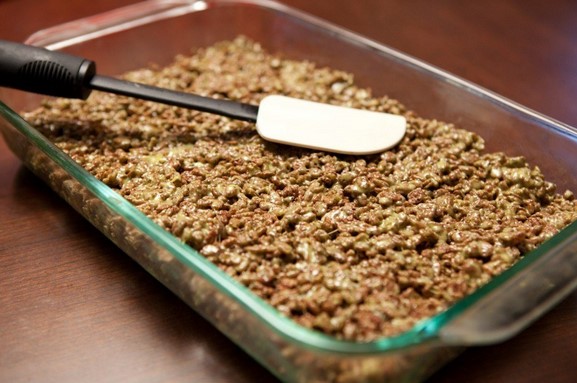 Place pan on medium heat and melt cannabutter/coconut oil if it is solid
Once melted, place the mini marshmallows in the pan and leave for 3-4 minutes to melt
Grease parchment paper with oil (or cannabis oil) and place inside the large baking dish
Stir consistently, ensuring an even melt of the marshmallows
Once the marshmallows have completely melted, add 1 cup of cereal at a time until all 3 have been added
Stir vigorously, the mixture will begin to bind very strongly, and combine as much as possible
Remove from heat and transfer the entire mixture into your greased and lined baking dish
Using another piece of parchment paper you are able to smooth the top level out for symmetrical rice crispy treats
Add sprinkles if you like
Leave for 30 minutes to cool and then cut into desired portions
Cannabis Rice Krispie Treats "Lucky Charms"
It's classic rice krispie treats is crunchy, chewy, and loaded with Lucky Charms marshmallows.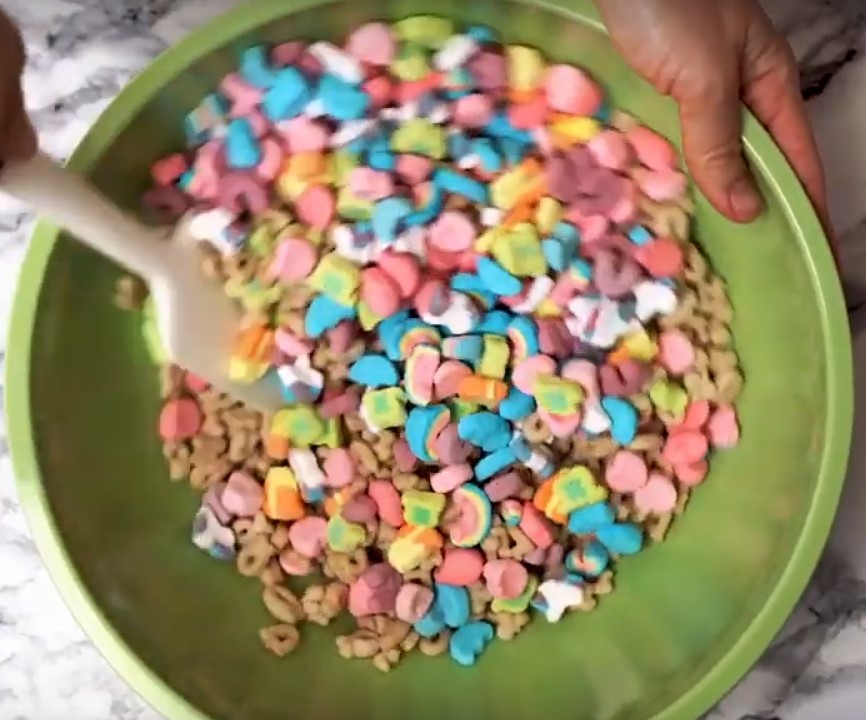 Ingredients
3 cups Rice Krispies Cereal
1 cup Lucky Charms Cereal
2 cups Lucky Charms marshmallows divided
3 tablespoons unsalted butter
1 tablespoon cannabis butter
10 oz. package of miniature marshmallows
1/2 to 1 teaspoon green food coloring optional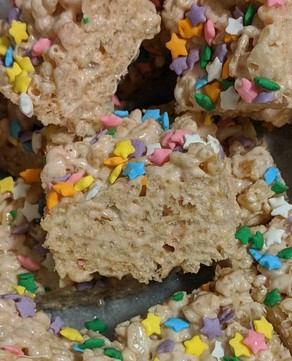 Instructions
Grease a 9×13-inch pan and set aside.
In a large mixing bowl, combine the Rice Krispies Cereal, Lucky Charms Cereal, and 1 cup of Lucky Charms marshmallows.
Melt the cannabis butter and regular in a large saucepan over medium-low heat. Add the marshmallows and stir until completely melted. Remove from heat and stir in the green food coloring.
Pour the marshmallow mixture over the cereal and stir until cereal is evenly coated.
Turn the mixture into the prepared pan and press into an even layer.
Allow to set at room temperature until firm, 30 minutes to 1 hour. Cut into 12 equal pieces.
Edible Honey Nut Cheerios Rice Krispie Treats Recipe
This edible rice krispie treats price should come with a bit of a warning.
You're going to want to eat way more than one. Like WAY more.
You're going to want to eat so many more, that we actually recommend whipping up two batches of this recipe. One batch should contain weed. The second batch should be made without the ganja. That way you can eat one of the "special" treats and then eat the entire other pan without getting so high that you forget your name for a week.
If you don't follow step 2, just know that you might want to eat the entire pan of Cannabis Honey Nut Cheerio Rice Krispie Treats. If that happens, you may forget your name for a week. Don't say we didn't warn you.
BEFORE YOU STARTED you'll need to know:
· How to Decarb your Weed
· How to Make CannaButter
· Our dosing guidelines
Ingredients
Scale x3
6 tablespoons CannaButter
3 tablespoon regular butter
3 package (10 oz., about 120) Marshmallows
18 cups Honey Nut Cheerios cereal
Instructions
STOVETOP INSTRUCTIONS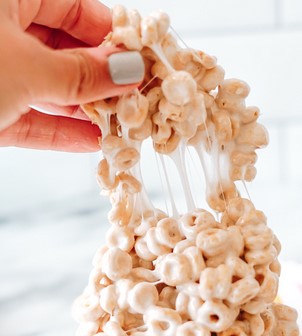 In a large saucepan, melt CannaButter and regular butter over low heat.
Add marshmallows and stir until completely melted. Remove from heat.
Add Honey Nut Cheerios cereal. Stir until well coated.
Using wax paper, evenly press mixture into 9×13 pan coated with cooking spray.
Cool.
Cut into 2-inch squares to create 12 equal servings.
Best if served the same day.
MICROWAVE INSTRUCTIONS
In microwave-safe bowl heat regular butter, CannaButter and marshmallows on HIGH for 3 minutes, stirring after 2 minutes.
Stir until smooth.
Follow steps 3-7 above.
Notes
For best results, use fresh marshmallows.
Store no more than two days at room temperature in airtight container.
To freeze, place in layers separated by wax paper in airtight container. Freeze for up to 6 weeks. Let stand at room temperature for 15 minutes before serving.
To make this recipe vegan and dairy-free, use the dairy-free butter of your choice when making your CannaButter and as a substitute for the regular butter.
Medicated Coconut Oil Krispie Treats
Cannaceutics is celebrating! We recently added medicated coconut oil to our menu, so let's all have a treat! I've adapted this recipe to use both coconut oil and butter; the flavor seems to be better when both are used – all butter will be a more familiar flavor for most people, and coconut oil lends a nuttier flavor to the finished treats. The addition of sprinkles at the end is not optional!)
Ingredients
4 tablespoons butter (if using Cannabutter this is 188mgs of THC)
4 tablespoons coconut oil (if using our medicated oil this is just over 143mgs of THC)
2 bags (10.5 ounces each) miniature marshmallows
12-13 cups Rice Krispies Cereal (depending on how sticky you like them)
Sprinkles!
Instructions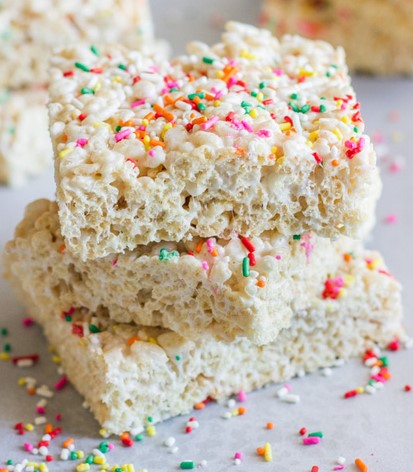 Prepare a 9×13 baking pan or a cookie sheet by lining with parchment paper and spraying with nonstick spray. In a large pot, melt butter and coconut oil over medium heat. Add marshmallows and stir constantly until the marshmallows are all melted. Remove from heat and stir in Rice Krispies cereal they are evenly coated with the marshmallow mixture. Pour into prepared pan and spread into an even layer.
Top with sprinkles while still warm and allow to cool before cutting.
The entire pan of treats will contain about 331mgs of THC, so if you used a 9×13 pan, this will make 12 squares that have about 27.5mgs of THC. If you used a cookie sheet, you can probably get 16 squares that have about 20mgs each. Of course, you can divide up your treats whatever way works for you – just divide 331 by the number of treats you've cut and you'll have your dosage.
Enjoy!