In today's recipe we're going to show you how to make one of our personal favorites; chocolate muffins with cannabis. These chocolate muffins are delicious, spongy and moist; just the way we all love them. They're perfect as a dessert, a snack, or even a nice breakfast alongside a glass of milk.
Today we're going to show you one of the many ways to make chocolate muffins with an extra little something that's sure to impress your friends; cannabis.
Ingredients:
50gr of ground oats or oat flour
40gr of cannabutter
180ml of milk
50gr of sugar
110 gr of baking flour
75gr powdered chocolate
3 eggs
1 spoonful of powdered yeast
8gr of ground up cannabis
4 spoonfuls of chocolate syrup
Chocolate balls for decoration
Crunchy nuts for decoration
Preparation:
First, mix the oats with milk and let it sit for about an hour. Meanwhile, mix up the sugar, ground cannabis, chocolate syrup and butter. Once it's properly mixed and the milk and oats have been sitting for long enough, add the two mixtures together.
Lastly, add in the flour, the powdered chocolate, the eggs, the yeast and mix properly until you end up with a smooth and equal mixture without any lumps in it.
Preheat the oven to about 180 degrees. Now, place the mixture in your muffin mold for the oven and sprinkle the chocolate balls or sprinkles over the top as well as the nuts. We decorated ours like this but you can do it however you like – with icing sugar, sprinkles etc.
Stick the tray with your muffins in it into the oven for about 15 to 20 minutes until they're nice and brown.
You can easily check if they're ready by sticking a toothpick into them – if it comes out clean, your muffins are just about ready to be enjoyed! Make sure to eat these muffins wisely as when ingested, cannabis takes longer to take effect and it also has a much more potent effect.
These marijuana muffins are amazingly quick and easy to make (assuming you already have cannabis oil).  I promise.  Even non-cooks can get great results!
Infused coconut oil is my favorite to use for these. You could also use vegetable, canola, or any other neutral flavored oil.
The nutmeg is optional but it does add a terrific flavor to these muffins.
I use marijuana infused oil to medicate this recipe. My making Marijuana Oil tutorial will help you learn how to make it.
A note about the Dosing on this recipe!
This recipe will have about 25 mg THC per marijuana muffin IF you made your marijuana oil from average cannabis (10% THC) and used 1/2 ounce of marijuana to make 1 cup oil. To adjust the dosage up or down to meet your personal needs and to reflect the strength of the marijuana you are cooking with and the amounts you used to make your oil, be sure to take my basic Dosing course. Even better, my handy dosage calculator tools will do all the math for you.
Cheri's Dosage Calculators
Perfect dosing every time, even when not cooking with lab tested weed. Easy to use!
Blueberry Marijuana Muffins
EQUIPMENT
INGREDIENTS
1 1/2 cups all-purpose flour
3/4 cup granulated sugar plus 1 tablespoon for muffin tops
2 teaspoons baking powder
1/2 teaspoon nutmeg optional
1/4 teaspoon salt
1/4 cup cannabis infused oil see note above
1/4 cup coconut oil or other neutral flavored oil
1 large egg large
1/3 cup milk
1 1/2 teaspoons vanilla extract
1 cup fresh or frozen blueberries do not thaw if frozen)
INSTRUCTIONS
Preheat the oven to 300 degrees F. Place paper liners into a 12 cup standard size muffin pan.
Mix together flour, sugar, baking powder, nutmeg (if using), and salt in a small bowl.
In a medium bowl, whisk together oil, egg, milk, and vanilla.
Add dry ingredients and mix just until blended. The batter will be thick. Do not over mix.
Fold in the blueberries.
Divide mixture between the 12 prepared muffin cups. Sprinkle to tops with a little sugar.
Bake for about 17 minutes or until a cake tester or toothpick comes out clean.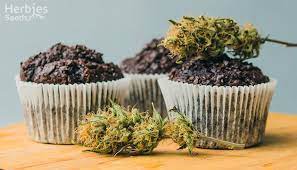 Marijuana muffins: how to make them?
In this article we will tell you how the famous marijuana muffins are made, but also about the use of hemp in the kitchen. Have you ever tasted a cannabis dessert? Do you know what decarboxylation is? Read the whole article to discover the tricks and secrets of cannabis in the kitchen. Specifically, we will deal with the following topics:
Cannabis in the kitchen
The benefits of Cbd
Cbd in the kitchen
Decarboxylation: What is it?
Smoking Vs Eating: What are the differences?
Light cannabis muffins
Cannabis in the kitchen
Enjoying the intoxicating effects of cannabis while savouring a soft and tasty pastry could become the dream of every marijuana lover. Since it was legalized in the USA, cannabis has become the protagonist of many pastry blogs and cooking blogs in general. Netflix has even produced one show where amateur cooks and food-bloggers compete with each other in grass-based recipes. It is surprising to see cannabis valued in even very complicated preparations, when until recently no one would have gone beyond the dear old cokiees.
Will the future of cannabis really be in the kitchen? We don't know, but we can confirm that the so-called edible are in high demand in Amsterdam's coffee shops. Moreover, hemp has many interesting properties from a nutritional point of view and, whether it has an active ingredient or not, it is in great demand in the kitchen.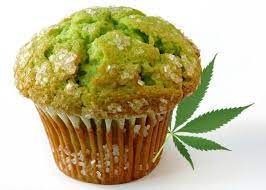 Benefits of the CBD
At first glance, the hemp fruits appear as a small walnut covered with a thin, shiny and hard layer. Rich in nutrients, they are brown or black and sometimes even grey-green in colour and their diameter varies, on average, from 3 to 4 mm. I hemp seeds contain between 28% and 35% fat, 30% to 35% carbohydrates and 20% to 24% protein, as well as high percentages of vitamin B (more than other foods of plant origin), vitamin E, calcium, magnesium, and iron. Hemp seeds are a truly "amazing" product: they contain all eight essential amino acids that the body cannot synthesize autonomously, and this makes them highly protein and recommended for a diet healthy and balanced.
This is not all: the vitamin content and the presence of mineral salts (calcium, magnesium, potassium) are also noteworthy. Moreover, hemp has a very high nutritional value, suitable both for those who follow a highly protein diet, such as athletes and sportsmen, and for those who would like to compensate for the lack of animal proteins for the choice of specific diets, such as vegans and cruelty. The presence of polyunsaturated fats also makes hemp an excellent ally against cardiovascular diseases (the ratio Omega 3 and Omega 6 is the perfect 5:1), arteriosclerosis, eczema, acne and diseases of the respiratory system.