Cannabis edibles have been around for ages, but their purpose and design have shifted greatly since they were first adopted by the greenery-loving generation that came before us. Plus, the legalization of cannabis in California – and other states – paved the way for a massive influx of new products on the market, edibles being one of the categories that expanded the most.
Strawberry Weed Jam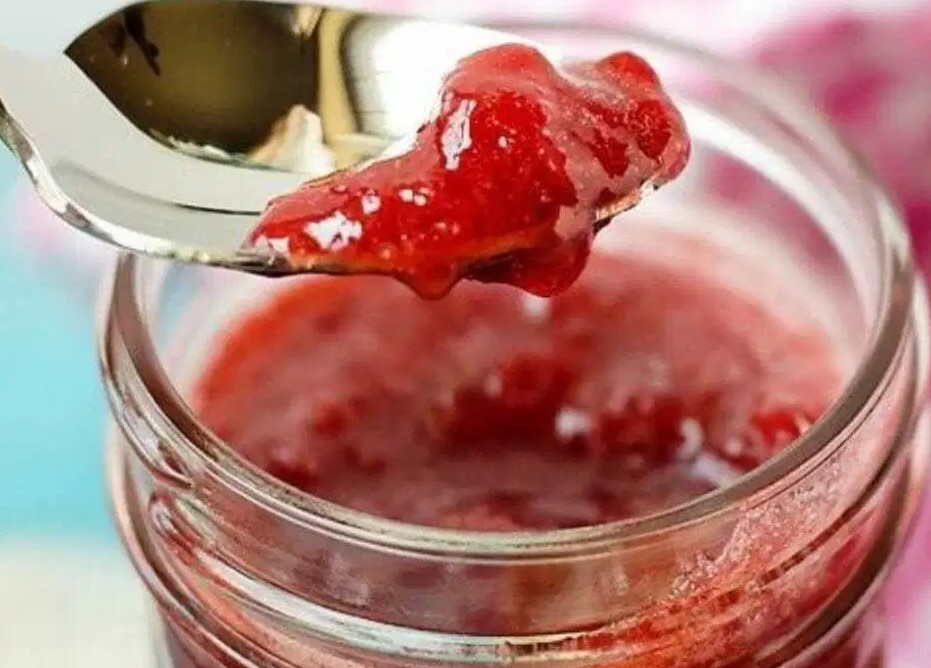 Why buy basic ass strawberry jam from the store when you can make a much more tastier version at home AND infuse it with weed? Sounds like a win-win situation to me. A key ingredient to strawberry weed jam is cannabis-infused syrup but don't worry, you'll learn how to do everything right here so read on.
INGREDIENTS
CANNABIS MAPLE SYRUP
2 – 4 grams marijuana
1 cup maple syrup
STRAWBERRY WEED JAM
6 cups whole strawberries
2 tablespoons sugar
1 tablespoon lemon juice
1/4 cup weed-infused maple syrup
1/4 cup chia seeds (optional)
You're also going to need a couple of jars to put your jam in.
DIRECTIONS
Making the Cannabis Maple Syrup
Preheat your oven to 240°F and grind your weed into a small oven-safe bowl. Cover the bowl with foil and place it in the oven for 30 minutes to decarb.
Fill a saucepan until it's about 1/4 full and place it on the stove over medium-low heat. Pour the maple syrup into a mason jar or ceramic bowl then add the baked weed. Place the jar in the saucepan of water for 1 hour to allow the syrup to heat up and infuse with the cannabis.
Strain the weed syrup using cheesecloth to remove the plant substance and set it aside to cool.
Making the Strawberry Weed Jam
Crush your berries in a large bowl, add it to a saucepan with the sugar and lemon juice, and stir over low heat until everything is dissolved.
Transfer your strawberry weed jam mix to jars, leaving 1/4 headspace then seal tightly and let it cool before refrigerating. Enjoy!
No-Bake Cannabis Infused Cheesecake
INGREDIENTS
1 Large Pre Made Graham Cracker Pie Crust
1/3 cup Cannabis Infused Coconut Oil, room temperature
2 8-ounce packages cream cheese, room temperature
1 14-ounce can (1 1/4 cups) sweetened condensed milk
1/4 cup fresh lemon juice
1 teaspoon vanilla extract
DIRECTIONS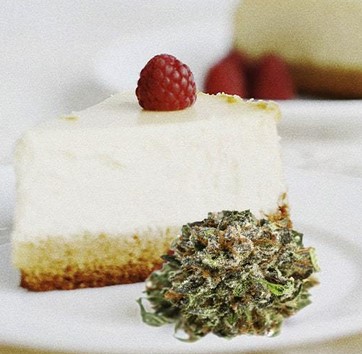 If you do not already have your infused oil, follow your favorite method for making fully activated cannabis coconut oil or cannabutter. You will need ¼ to ½ cup depending on how potent you want your recipe to be.
Beat together the infused coconut oil and cream cheese in a large bowl until smooth. Beat in the condensed milk a little at a time, scraping the sides of the bowl, as necessary. Beat in the lemon juice and vanilla.
Pour the filling into the crust; smooth the top with a rubber spatula. Cover with plastic wrap, and refrigerate until firm, 2 1/2 to 3 hours.
Add toppings (optional), slice and serve.
Top with fresh fruit, toasted coconut flakes or shaved dark chocolate pieces. As an option you can replace the ¼ cup of lemon juice with ½ cup key lime juice for a No-Bake Key Lime pie.
Cannabis Infused Molten Chocolate Desserts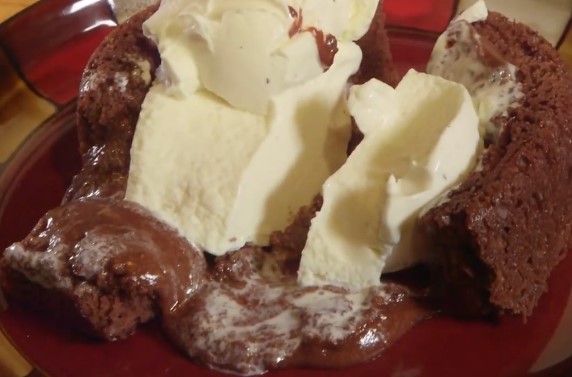 Molta'n Lava Cakes are a decadent cannabis infused dessert treat. Your guests will be tantalized when the rich marijuana laced lava oozes lazily out of these lavishly moist and delicious cakes.
INGREDIENTS
2 Grams Dried Cannabis Flowers
1 stick butter
2 ounces bittersweet chocolate
2 ounces semisweet chocolate
1 1/4 cups powdered sugar
2 whole eggs
3 egg yolks
1 teaspoon vanilla
1/2 cup all-purpose flour
Vanilla ice cream, for serving
DIRECTIONS
Preheat oven to 250 degrees F. Grind cannabis add into small oven safe bowl. Cube butter and combine add to bowl, cover tightly with foil and bake 2 to 2 ½ hours at 250 degrees F.
In a medium mixing bowl break the chocolate into small pieces. Remove butter/ cannabis mixture from oven and strain oil through cheesecloth letting the hot infused butter pour over the chocolate.
Allow the butter to melt the chocolate and whisk together until smooth.
Stir in the sugar until well blended. Whisk in the eggs and egg yolks, then add the vanilla. Stir in the flour. Divide the mixture among the custard cups.
Preheat the oven to 400 degrees F. Spray four custard cups with baking spray and place on a baking sheet.
Bake until the sides are firm and the centers are soft, about 15 minutes. Let stand 1 minute. Invert on individual plates while warm and serve with vanilla ice cream.
Red White and Blueberry Cobbler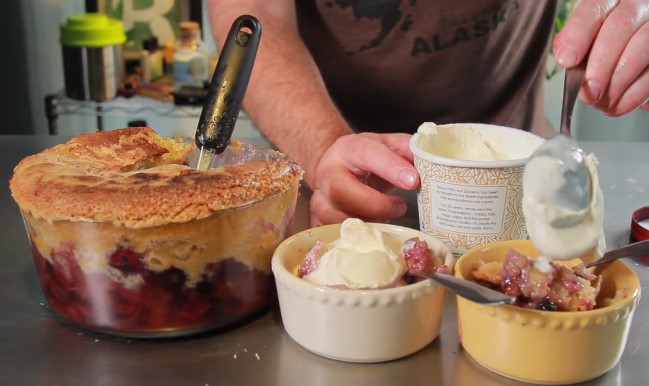 Cannabis is infused into clarified butter and combined with fresh red cherries, blueberries and topped with vanilla ice cream for the white in this delicious 4th of July dessert recipe.
INGREDIENTS
For the filling:
1 lb cherries (halved and pitted)
12 oz carton of fresh blueberries
1 lime
For the batter:
3.5 – 7 grams dried cannabis flowers
¾ cup (1 ½ sticks) unsalted butter, to be clarified (or use ½ cup + 2 tbsp clarified butter/ ghee)
1 ¼ cup granulated white sugar
1 ⅓ cups all-purpose flour
2 teaspoons baking powder
½ teaspoon salt
⅓ cup rolled oats (optional)
⅔ cup whole milk
For the topping:
1/4 cup granulated white sugar
cold water to drizzle over the top
DIRECTIONS
Grind cannabis and decarboxylate in oven at 250 °F for 12 minutes.
Clarify butter.
Infuse cannabis in butter over double boiler for 1 hour.
Strain infused butter from plant material and discard. Set aside and let the infused butter cool.
While butter cool, halve and pit the washed fresh cherries. Also wash and destem the blueberries. Set aside and keep chilled.
Combine flour, salt and baking powder in a large mixing bowl and whisk together. (You substitute self-rising flour and omit the salt and baking powder.)
Add the sugar and the infused butter and cream together until smooth crumbles. Add the milk and (optionally add rolled oats here) whisk into a batter.
Pour the batter over the berry mixture and smooth with a spatula.
Spread the sugar generously on top. Sprinkle the water heavily across the top to saturate the sugar from rim to rim.
Place in an oven preheated to 375°F for 15 minutes to set the top. Reduce heat to 325 and cook for 1 hour. Cover top with foil or parchment if getting too brown.
Remove from oven and let cool for 30 minutes before enjoying warm with a scoop of vanilla ice cream.