Humans have been consuming cannabis-infused goodies for centuries. Just look at the long traditions of bhang in India or mahjoun in Morocco. It should come as no surprise, then, that the gradual legalization of weed has led to a spike in creative weed infusions. These days, the sky's the limit thanks to liposomal CBD, water-soluble THC, and advanced extraction methods. But every now and then, it's nice to bring it back to the basics.
If you haven't found a store-bought edible you love or simply want to infuse baked goods with your favorite strain, pot cookies are a great place to start. Here, you'll find pro tips, what you'll need, and a simple semi-homemade recipe. 
Decarboxylation
Making sure to decarboxylate your flower is the most important step in any weedy baking project — if you're hoping to get high, that is. Whether you use a specialized device or an everyday sheet pan, baking crumbled weed in an oven set to 200°F will convert non-intoxicating THCA into the THC we all know and love so much. Skip this step and your cookies might leave you with some warm, fuzzy feelings, but they're unlikely to produce the full-body high you'd expect from an edible.
Dosing
The next most important step is to dose your edibles properly. Knowing how strong your cookies will be starts with knowing how strong your flower is, so make sure to check the lab results of your herb. Calculating the precise dose in each cookie will require some math, but air on the side of caution and choose a high-CBD flower for your cannabutter if you're nervous about overdoing it.
Cannabutter
On the topic of cannabutter, there are a few different ways to make it. Whether you go the traditional stovetop method or would prefer to simmer your butter in a slow cooker, there's a route for everyone. To make your own, check out our comprehensive guide to cannabutter.
Oven temperature
To preserve the cannabinoids in your baked goods, try to keep the oven temperature relatively low. Keep the temperature at or below 350°F if you can and skip recipes that won't work without a high cooking temperature.
Strong flavors
You can add cannabutter to any recipe to make it infused, but to make it taste good, you'll want to pair that weedy butter with some strong flavors. Gingerbread and other heavily spiced cookies can be strong as you like with almost no lingering flavor of weed. Chocolate is another favorite for its strong, earthy flavor that can actually complement herbal notes.  
What you'll need
Making weed-infused cookies is as simple as swapping out all or part of the regular butter in a recipe with cannabutter. To make it even easier on yourself, use a boxed cookie mix. At a minimum, you will need:
3.5 grams of ground cannabis
2 sticks of butter (more if you want to do a mix of regular butter and cannabutter)
Boxed cookie mix
Eggs 
Mixing bowl
Spoon 
Cookie sheet pan
Small saucepan
Spatula 
Vegan Edibles: Cannabis Infused Almond Laced Cookies
To me, the holiday season is all about making cookies with the fam, putting the cookies in napkins, hiding cookies in your top desk drawer, and eating cookies by yourself in the middle of the night (ohhh… fat kid food hoarding memories).
These cannabis infused florentines (or almond lace cookies) are tipping the cookie v. pie argument in my favor. Light, crispy and not too sweet, they are surprisingly simple to make, and extremely delicate and fancy.
There's really nothing "healthy" about them, but they are vegan and gluten-free… so there's that. And, they make a great gift for absolutely anyone (where it is legal and when the person is of legal age and when the person is also of sound mind and body).
Almond Laced Cookies
Ingredients:
2 cups sliced almonds
3 tbsp gluten-free all-purpose flour (I like this one) or white flour
1 tbsp powdered or fresh orange zest
1/4 tsp salt
1/2 cup sugar
1/8 cup coconut oil
1/8 cup cannabis infused coconut oil
2 tbsp brown rice syrup (this one is my fave)
2 tbsp full-fat canned coconut milk
1 tsp vanilla
1/4-1/3 cup dark chocolate chips
1/2 tsp coconut oil
powdered sugar (optional)
Directions:
1. Preheat the oven to 275° and line 2 baking sheets with parchment paper.
2. Chop the sliced almonds into small pieces and add them to a bowl with the Flour, Orange Zest, Salt and Sugar.
3. In a small saucepan, over medium high heat, combine Green Oil, Coconut Oil, Brown Rice Syrup, and Coconut Milk. Stir just until the mixture comes to a low boil. Remove from heat and add Vanilla. 
3. Add the dry ingredients to the saucepan and mix until combined. Allow to cool for 10 minutes, or until the mixture is cool enough to handle with your fingers.
4. Using a Tablespoon, scoop mixture onto the prepared baking sheets, leaving about 3-4 inches of space in between the cookies.
5. Bake 15-17 minutes, rotating the pan once during baking. Cool on sheet for at least 5 minutes before moving them onto a cooling rack.
6. In a double boiler, melt chocolate chips. Using a fork, drizzle chocolate over cookies and sprinkle with powdered sugar.
Foods Can Fight Inflammation
There are foods that are high in antioxidants. Antioxidants fight inflammation by removing the free radicals that cause cell damage. Cannabis is a powerful antioxidant. Aside from the anti-inflammatory of marijuana oil, these weed cookies contain a variety of other foods that have anti-inflammatory power.
I'm always looking for ways to incorporate anti-inflammatory foods into my diet. These cannabis cookies are ideal because they're loaded with anti-inflammatory foods like oats, ginger, cranberries and dark chocolate. But the real stress-busting power in these weed cookies comes from cannabis.
Weed Cookies Fight Inflammation & Are Also Delicious
Maybe a little too delicious. Use caution! Don't be tempted into eating more than one of these weed cookies until you've determined how strong they are. I nearly had a green-out when I made these.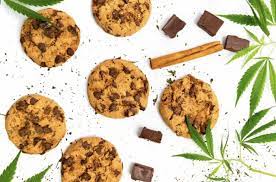 Cranberry, Cannabis & Chocolate-Chip Weed Cookies
Weed Cookie Ingredients:
1/2 cup cannabis infused coconut oil
3/4 cup light brown sugar
1 egg
1 teaspoon vanilla
3/4 cup oat flour (I make my own by running oats through my Nutri-bullet)
1 1/2 cup oats
1 teaspoon baking powder
1 1/2 teaspoon cinnamon
1/2 teaspoon salt
1/2 teaspoon ginger
1/4 cup dried cranberries
1/4 cup dark chocolate chips
Weed Cookie Directions:
Cream together brown sugar and coconut oil
Mix in egg & vanilla
Add dry ingredients until combined
Fold in dried cranberries & dark chocolate chips
CHILL dough in the refrigerator for at least 30 minutes (or your cookies will be flat)
Bake at 350 for 10-12 minutes or until the edges begin to brown (the center may still appear moist)