Making weed bread opens up many doors when it comes to getting creative with cannabis edibles. Use this recipe to make weed toast, sandwiches and even pizza bases.
Innovation within the world of cannabis is constantly leading to inventive and creative outcomes within the field. Edibles, in particular, is an area that seems almost limitless when it comes to medicating food and turning everyday delicacies into a recreational stoning treat. By using cannabutter and other medicated bases, almost any dish you can think of can be laced with cannabinoids, adding a psychoactive and even nutritional touch. Anything from pasta, salad dressings, and sauces can be modified to become vessels of cannabinoids. It's even possible to infused bread with THC, CBD, and other cannabinoids, meaning anything from a slice of toast to a multi-layered sandwich can get you baked.
INGREDIENTS
Note, this recipe requires cannabutter – check our easy to follow recipe for making your own.
The quantities displayed below will make enough bread to serve approximately 6 people. You will need:
1½ cups water
3 teaspoons caster sugar
1 litre nonfat dry milk
4 cups flour bread flour or all purpose flour
1½ teaspoons salt
3 tablespoons cannabutter (this amount can be easily adjusted to enhance or weaken the psychoactive effect of the bread)
2 tablespoons ground cannabis
2 teaspoons active dry yeast
DIRECTIONS
First you will need to proof the yeast. This can be done by adding it to warm water, with equal amounts of water and yeast. Then add ⅛ teaspoon of sugar. After a period of around ten minutes, you should see bubbles start to rise around the edges of the mixture.
Now it's time to make another mixture. Grab a bowl and add the dry milk, sugar, flour, and the ground weed. Mix these ingredients together with your hands in order to achieve a pleasant fluffy texture. Now that the dry ingredients have been mixed, create a space in the middle of the bowl and fill it with the wet ingredients, meaning the yeast mixture.
ACHIEVING THE RIGHT TEXTURE
The next task is to mix these ingredients together adequately and to achieve the correct texture. Continue using your hands to punch the mixture; it should gradually start to form a dough consistency within around 15 minutes. The mixture should start to form a soft and smooth ball. If the mixture has become too wet and stick, add some extra flour. If it has become too hard and dry, throw some extra water into the mix.
Once you have achieved the correct consistency, cover the top of the bowl with some plastic wrap or a lid. Over time the dough should pretty much double in size, so make sure your bowl has enough space to contain this transformation. If you plan on setting this dough aside to use in another recipe such as pizza then your job here is done. Simply freeze the dough until you plan on using it.
If you plan on making a loaf of weed bread then you can add the entire dough in a loaf pan, or you can break it apart and make several small rolls or buns. Whatever option you choose, cover the pan or pans again and let the dough continue to rise. Now spread your cannabutter supply over the top of the loaf or separate rolls. Place them into an oven and cook at a temperature of 177 degrees Celsius for about half an hour. You should see your bread start to display a golden brown colour.
How and why to make & bake with cannabis flour 
Unlike infused butter and oil, cannabis flour involves cooking with and consuming the whole plant. We don't use the stems, but we use all the leaves and buds. A good bang for your buck. Of course, you don't have to use leaves if bud is all you have. Just note that bud-only cannabis flour is a little bit more potent.
The technique here is the easiest, quickest way to make it, and the canna-flour keeps for months and months, at the minimum, in a tightly sealed jar kept cool and out of the sunlight. Not only is it a fiber boost and loaded with great nutrients and medicine, it's a super simple preparation.
The only downside might be the taste—if you have an aversion to cannabis flavor, this might not be the method for you. That said, with the right amount of sugar and spice you can mask the taste pretty completely. I made French toast last week with crumbs from granola, coconut shreds and canna-flour. Superb.
You'll need:
7 grams of cannabis
Food processor or coffee grinder
Sifter
Yield: ¼ cup
Prep time: 10 minutes
Cook time: 45 minutes
Make the canna-flour
Place cannabis on a rimmed baking sheet in a 240°F oven for 45 minutes to activate the THC (decarboxylate). Allow to cool.
Transfer cooled cannabis to a food processor or a clean coffee grinder. Process the cannabis until it becomes a very fine powder.
Store in an airtight container in a cool, dark, dry place until ready to use. Use within 3 months for optimal freshness.
Use the canna-flour
To use, replace up to ¼ (25%) of the flour the recipes calls for with your cannabis flour. Sift the regular flour and cannabis flour together right before using in your recipe to blend the two together. Sifting together is very important for consistent dosing throughout your baked goods.
Pro tips
When cooking with canna-flour, do not exceed temperatures of 340°F
Since the plant has a strong flavor, you may need to increase the other strong flavors in your dish to balance out the taste
7 grams of cannabis at 15% THC will yield about 100 servings of 10mg THC
Recipe for marijuana-infused zucchini bread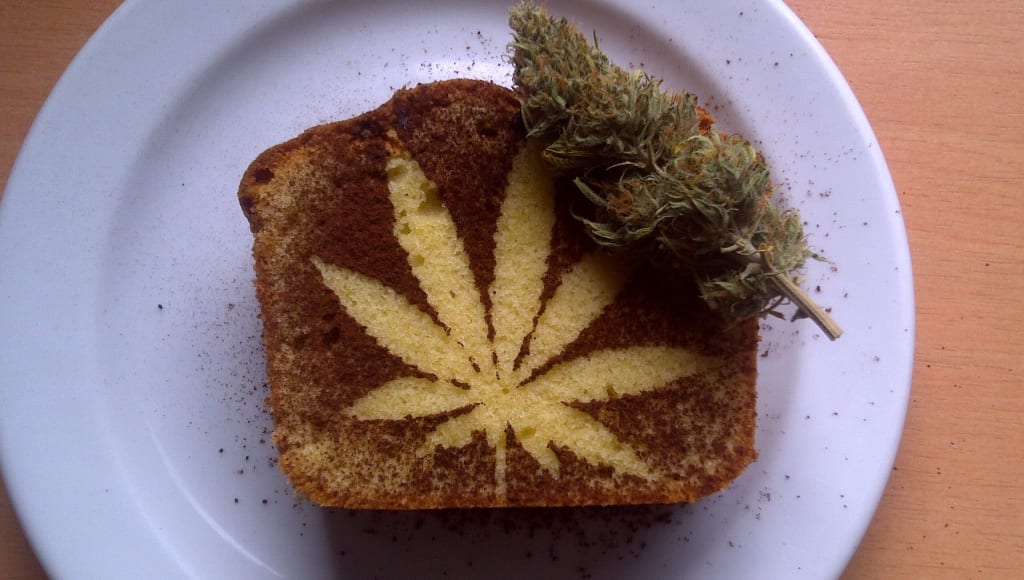 If you have a garden and plant zucchini, you're probably starting to wonder what the heck to do with it. There is just so much sautéed zucchini a person can eat.
Time to embrace infused zucchini bread. This is a case of the whole being greater than the sum of its parts. Much greater.
In this recipe, the cannaflour replaces a ½ cup of regular flour. There is no weed taste (we ramped up the vanilla, ginger, and cloves) and before the cannabis kicks in you would never know you were indulging. Of course, always alert your guests to your special ingredient! ALWAYS.
If you want a more potent bread, use more canna-flour. This method is the way to go with all of your favorite, pretty simple, very delicious, sweet breads.
This recipe begs the question of why we eat zucchini any other way. I like zucchini, but I love this bread!
This has been my go to since I lived in Vermont a billion years ago. I infused it back then, too. Full of late summer and fall spice, it's perfect with a cup of chai or a London Fog. With a schmear of cream cheese or fresh ricotta, it's an amazing breakfast or dessert. With ricotta I like the tiniest drizzle of the best honey I have in the house.