How do you make weed ice cream?
I scream, you scream, we all scream for weed ice cream
If you're reading this, you've probably come up with the high-dea for cannabis-infused ice cream. Unfortunately, we don't think any cannabis-infused ice cream trucks exist (although that would be awesome). So, we've come up with three different ways to make cannabis-infused ice cream at home, any time.
Turning store-bought ice cream into cannabis-infused ice cream
The easiest way to create weed ice cream is to simply infuse a pint of your favorite flavor with a cannabis tincture.
Let your pint sit on the counter until it's soft but not completely melted. We recommend using this time to smoke a bowl, but that's just us. Once your ice cream reaches chunky soup status, dump it into a medium bowl and stir until smooth. Add 1 tablespoon of your favorite cannabis tincture (175mg THC) and mix it up. Pour back into your pint container and re-freeze. Be sure label your ice cream to avoid unintentional dosing, and enjoy!
How do I make weed ice cream using cannabutter?
If you keep cannabutter in your fridge on the reg, then this recipe is for you. If not, no worries. You can always follow our step-by-step guide for making cannabutter.
Marijuana edibles have soared in popularity in recent years and while the average dispensary stocks everything from THC-infused gummy bears to cannabis chocolates and weed lemonade, there's something to be said for just combining cannabis with the greatest comfort food of all — ice cream. 
To make things easier, fixing up a batch of marijuana ice cream doesn't require any expensive or specialized equipment, and once you get the hang of it you can start experimenting with other ingredients as you see fit.
So, without further ado, here's how to turn your smoke spot into an ice cream parlor.
Why make marijuana ice cream and other edibles when you can just smoke weed?
Breaking up a perfect bud, sparking it and exhaling a cloud to the heavens is easy, quick, and about as effective as it gets. But edibles bring a totally different vibe and experience to getting high. There's the hour or so wait for it to kick in, followed by a few hours of laughs and permanent grin as a full body high envelops you. 
Also, edibles can be a good alternative for people who are trying to cut down on their smoking, or who are looking for a discrete way to use cannabis without stinking up the place. Also, in some states where cannabis is legal there are still restrictions on the sale of edibles, so making your own may be your best option.
First things first: What not to do
It's a common cautionary tale — an eager edibles consumer takes a dose and after about an hour, isn't feeling anything and decides to take more. Fast forward 20-30 minutes and they are on their own manned mission to Mars inside the living room.
It can take one to three hours for edibles to kick in, especially if you take them on a full stomach. Your best bet is to always take your time, be patient, and if you don't feel anything, just wait a while. This is especially true with homemade edibles that you're trying for the first time. When in doubt about the strength of the edibles, take your time and wait and see. 
How to make cannabis-infused whipping cream
A number of marijuana ice cream recipes call for using cannabutter or oil, but we think it makes the most sense to go with weed-infused heavy cream.
The reason you need infused cream (or butter or oil) to begin with is that both THC and CBD are fat-soluble. 
Advertisement
One of the great things about making a cannabis infusion is that you're always basically one step away from making a great batch of edibles.
When you're making cannabis heavy cream, your first step is to decarboxylate some cannabis, an essential step without which you will not feel the effects of the THC.
1. Decarboxylate some cannabis
Decarboxylation is a long word that refers to a process that makes it so that cannabis can get you high. Basically, it's applying heat to weed to activate the compounds inside, which converts THCA into THC, the cannabis compound you know and love. When you smoke weed, decarboxylation happens as soon as the lighter hits the bowl, but for cooking weed, a very easy way to decarboxylate is just to set some weed on some foil or a baking sheet in the oven for about 30-45 minutes at around 220-245°F (105-120°C). Don't forget to check it from time to time and make sure it doesn't get too hot and scorch the weed.  
2. Mix it together on the stove
In cannabis whipping cream recipes, the amount of cannabis used ranges from around 1-5 grams per 2 cups of cream. The amount you use depends on your personal preference and your tolerance. In addition, the potency of the cannabis used can make a big difference in terms of how much to put (for instance, if your cannabis is 24% THC, you may want to use less than you would with a 12% THC strain).
However much weed you use, here are three easy methods for infusing whipping cream:
1. Take your decarboxylated cannabis and place it in a saucepan with the whipping cream. Bring the mixture to a boil and then reduce it to a simmer for around 45 minutes to 2 hours, making sure to stir regularly so that it doesn't burn. Strain into a jar and refrigerate.
2. If you have a double boiler, you can combine the cannabis and 2 cups of heavy cream and double boil it on a medium pot of water for around 40 minutes or so. Afterwards, pour it through a strainer into a jar for storage.
3. Another method is a bit more complicated, but still easy. Pour the whipping cream and ground, decarboxylated cannabis into a mason jar and seal it. Place the sealed jar inside a deep pot filled with hot water that reaches about ¾ of the way up the jar. Simmer the water below 185 degrees fahrenheit for about three hours, adding more water as needed. Take off the heat, and strain through a cheesecloth into a jar.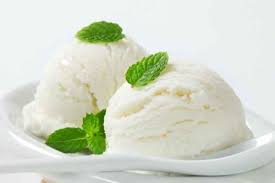 That's it, you now have your own batch of whipping cream that you can use to make cannabis ice cream, or to just put a dollop of magic on a piece of pie this Thanksgiving. 
Recipe: How to make cannabis ice cream
Some ice cream chains may have 31 flavors (though as far as we know none of them have weed), but we decided that your best bet is to go with a simple vanilla ice cream recipe, to which you can add toppings or flavors as you see fit.  
Ingredients
1 14oz can of sweetened condensed milk
½ cup cocoa powder (optional — only if you want to make it chocolate)
1 teaspoon vanilla extract
¼ teaspoon salt
2 cups cannabis-infused whipping cream
Instructions
Whisk the condensed milk, vanilla, and salt in a medium bowl (plus cocoa powder if you want to make chocolate ice cream)
In a separate, chilled bowl, used a mixer to whip the cannabis cream until firm peaks form
Take a spatula and fold about half of the cannabis whipped cream mixture into the condensed milk mixture until combined, then fold that mixture back into the whipped cream and blend well.
Put the mixture into an airtight container and freeze for around 3 hours.
If you want to put your own unique touch on your batch of ice cream, feel free to add your own toppings and flavors. Chop up some chocolate and make chocolate chip ice cream, or don't stop there and add some mint leaves or mint extract to make mint chocolate chip. It's also very hard to go wrong with salted caramel.
Why not just add cannabis oil to ice cream?
There's a good chance you've looked at this recipe and thought: Why don't I just add a teaspoon of cannabutter or drizzle some cannabis oil over a bowl of ice cream? You certainly could, and there's nothing stopping you from taking that shortcut. (Though it's probably best at home. You may not want to walk into a Baskin-Robbins and start dousing your cone with cannabis oil.) And as long as your infusion works, you'll get high all the same.
With your own made-from-scratch ice cream with cannabis whipping cream though, the flavor will be more seamlessly ice cream — without any butter or oil taste or texture. Also, there's just something nice about making your own batch at home.