Did you eat Rice Krispies as a kid watching Saturday morning cartoons? Years back, these treats were all the rage and some good things just don't change. When it comes to the famous Rice Krispies, there's no shortage of recipes. But have you ever tried Rice Krispies edibles before? Well, now you can! Introducing weed-infused rice krispy edibles. A super simple recipe that only requires 3 ingredients! When it comes to homemade edibles it's always hard to determine what the potency is. Luckily we have a dosage calculator that can be used to help estimate the potency of the homemade weed-infused Rice Krispy edibles! Keep in mind, this is just a rough estimate. Weed-Infused Rice Krispies Edibles are the easiest, tastiest, and most wonderful weed edible you can make and we'll show you how.
How do I make rice krispies squares from Scratch?
You'll need a few basic ingredients that will take you less than five minutes at the grocery store to grab. Marshmallows are the binding ingredient that holds these bad boys together and gives them a sweet, gooey-texture that you loved as a kid. When choosing marshmallows, always check the expiry date and grab a few bags of the big ones – no small stuff here! Cannabis butter, however, is the next best thing to sliced bread and it adds a rich, delicious and velvety-smooth taste in your mouth. Start drooling now! Of course, you can't have Rice Krispies without an old-fashioned box of Rice Krispies. Make sure you get the box with Snap,Crackle and Pop on it – don't skimp here and get a no-name brand.
How to make Weed-Infused rice Krispies edibles
Stove top
Saucepan
Glass dish
Parchment Paper
Silicone Spatula
Measuring Cup
Ingredients
1/4 cup Cannabis butter
2 whole bags Marshmallows
5 cups Rice Krispies Cereal
Instructions
In a saucepan melt the cannabis butter over low heat.
Add in the marshmellows and stir until melted and blended together.
Add the rice krispies in. Stir until the cereal is completely coated and everything is sticky and gooey! Remove from the heat.
With a silcone spatula, press the mixture firmly and evenly into your parchment-lined glass pan.
Cover with a clena towel and let it cool for about 10 minutes or so – cut into squares and enjoy!
Infusing your Rice Krispie Treats with THC
Using the above recipe as a template, here are some modifications you can make to maximize your edible's potential:
Replace Your Butter with Cannabis Butter
If you want to turn your rice crispy treats into bonafide marijuana edibles swapping out your regular butter for cannabis butter is the most basic and easy way to do so. Take extra care when heating it on the stove top, though, as you want to avoid boiling away the THC and other cannabinoids preserved within.
Replace Your Marshmallows with Cannabis Marshmallows
These sweet treats are a popular item at cannabis bakeries and easy to make at home (if you have the right equipment); for an extra hit of marijuana goodness toss these in as an ingredient along with your cannabis infused butter.
Use your Cannabis Butter Instead of Cooking Spray
Anyone who's ever made rice krispie treats before knows the importance of ensuring that every last millimeter of your receiving pan must be greased and greased thoroughly. Though cooking spray is fast and easy any kind of oil will do, so why not use one that's been infused? Cannabis butter is fairly standard for this type of recipe but you could also use cannabis infused olive oil or even coconut oil for this; just remember that these oils then become ingredients, and their flavor will carry over to the final treat.
Switch up Your Flavors
Though this won't contribute to the psychoactive nature of your edibles you can mix it up and create some unique flavor combinations by using different brands/flavors of cereal or marshmallows. Nearly any puffed-rice-based cereal (such as Fruity Pebbles) make an excellent substitute for the Rice Krispies. Just think: Cannabis infused Cocoa Pebbles treats made with chocolate marshmallows and topped with a layer of dark chocolate ganache? Yes, your friends will want that recipe.
Side Note: Using a Microwave
It is possible to make this recipe with only the use of a microwave oven, if you lack access to a stove burner or saucepan for any reason. We recommend using miniature marshmallows for this technique, as they will melt more evenly in the heat of the microwave. Try to heat your cannabis butter in short, even bursts, stopping every 15-20 seconds to stir the mixture around and let it cool slightly.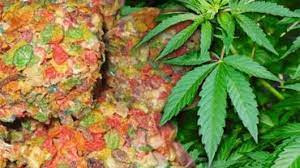 Otherwise proceed with the recipe as normal, emptying your mix into a well-greased pan or casserole dish when done. Take care not to burn your hands as this mixture will likely be incredibly hot for quite some time after being removed from the microwave (or the stove top for that matter).
The Wrap Up
And there you have it. Your cannabis rice krispie treats are fully loaded with THC goodness and ready to be enjoyed. Again, it's worth playing around with the ingredients list and trying different recipes to see exactly what combination of flavors you enjoy, but if you're just looking for the classic rice krispie treats with a cannabis twist? Our recipe above should have you covered.
Do you have any favorite twists on the classic rice krispies treats recipes? Drop us a line and let us know! Until then, happy cooking!
Rice krispies treat with a twist
Theses vegan cannabis-infused rice krispies treat are the perfect on-the-go snack to stay medicated all day. They are quick and easy to make!
For me, there is nothing more nostalgic than making rice crispies treat. This is one of the first recipes I learned to make when I was a kid. When my weed mentor ended up craving rice crispies the other day, I was more than happy to help her fill her belly, and mine at the same time.
What a night! We ended up eating the whole pan of rice krispies in one sitting – yes, the whole 16 pieces- and watching doctor who till wayyyy too late…. or too early depending on your point of view. Still, these rice Krispies are my go to when I need a quick edible or am craving for a crunch.
You should also try my creme of zucchini soup for diner!
Limitations
While Dandies are very similar to regular marshmallows, they do have a certain downside. Rice crispies made with Dandies dry up and harden up quicker than their non-vegan counterpart. This only means that you need to eat them quickly, but trust me, it wont be a hardship.
You should try some Dandies with my hot chocolate on a stick!
Info infusion
This recipe is not very sensitive to changes in oil. This means that the quantity of canna-oil can be increased if you want stronger edibles. THC distillate can also be used instead of canna-oil
What about a rice krispies without a twist AKA a sober version? Simply remove the canna-oil from the recipe. No need to replace it with anything
Always clearly label your edibles, keep them out of reach of children and pets, and don't eat more than you can handle.
It's not a race. Take it slowly
You can also estimate the potency of your edibles by using my THC calculator.
Cannabis-Infused Rice Krispies treats
Ingredients
110 ( 1/2 cup ) canna-oil
283 g ( 1 bag ) Vegan marshmallowes like Dandies
250 g ( 5 cups ) vegan rice puff cereal like Nature's Path
Instructions
In a large saucepan, heat the oil over low heat.
Add the vegan marshmallow to the saucepan, cover with a lid and let it melt slowly while stirring from time to time.
Add the rice cereal and stir until well coated.
Press the mixture into a parchment paper covered 13 x 9x 2-inch pan and let it cool.
Cut into 16 portions (4×4) and enjoy!
Notes
Store in an airtight container at room temperature.
Best eaten fresh.