Potato chips are probably the most popular snack of all time. For this reason, I had to find a way to infuse them with cannabis. I present to you, weed potato chips!
If you're just skimming this post, make sure to check out the potency calculator near the bottom. It will help you determine the total mg of THC per serving.
How To Make Weed Potato Chips
When you get the munchies, nothing is better than something crispy and crunchy, but have you ever wondered how to make weed potato chips?
Satisfying little bites of flavour – chips have been loved forever and now you're going to love making them yourself!
What Kind Of Potatoes Are Used For Chips?
We 'highly' recommend using Russet potatoes. They are the best!
You'll want to make sure your potatoes are:
Preparing Your Potatoes
Soak your thinly sliced potato in icey-cold water to remove a lot of the starch, which will result in a crispier tasting chip!
Before you fry them, pat them dry with a paper towel.
To make a small batch just for yourself, two-three large Russet potatoes will do, but if you're having a little fiesta, use 5-6 for sure!
We'll show you how to make the perfect weed potato chip below, but there are a few other things you'll need to do first and that is learning how to make Cannabis Oil.
Here's What You're Going to Need
To make this recipe you're going to need cannabis-infused oil. 
You're also going to need some equipment
An oven
A baking tray
Parchment paper
Kernels popcorn seasoning (optional)
Peeler
Weed Potato Chips Recipe
Servings: 4 servings Calories: 346kcal
Ingredients
1/2 cup Cannabis oil (coconut or olive oil will work)
2 large potatoes peeled
2 tbsp Kernels popcorn seasoning (any flavour of your choice)
2 tbsp salt (only If you aren't using kernels seasoning)
DIRECTIONS
Preheat your oven to 240°F and put your ground weed in an ovenproof bowl. Add the coconut oil to the bowl over the weed and place it in the oven for 30 minutes to decarb.
 
Remove the weed-infused coconut oil from the oven and strain using a sieve lined with cheesecloth to rid it of plant matter. Set the strained cannabis coconut oil aside. You can also use melted cannabutter for this as well.
 
Grab another bowl, fill it with ice cold water and stir in salt. Peel your potatoes, and using a mandoline slicer, slice them into paper-thin pieces. Add the potato slices into the bowl of salty water as you cut and let them soak for 30 minutes.
 
Drain the potatoes, place the slices on paper towels and pat them to dry. Put the potatoes back into the bowl and drizzle the weed-infused coconut oil over them along with the pepper and garlic powder, mixing it with your hands to make sure all the potato slices are covered in the oil and spices.
 
Line a baking sheet with parchment paper and arrange the potato slices on it. Bake in the oven at 400°F for 15 minutes until it's crisp and golden brown. Remove your pot-infused potato chips from the oven and allow to cool before munching. Enjoy!
It's true. These are Cannabis Infused Doritos and yes, they're amazing.
If you're thinking that Dorito Chips can't get any better, think again. Cannabis Infused Doritos are an exciting way to get your weed on. This is the ultimate cannabis edible and we're happy to show you how to make them.
How do I infuse my Dorito Chips?
Not only is this recipe THE BOMB, it is super simple. You're going to need a few simple ingredients. The main ingredients are a bag of Cool Ranch Dorito Chips, and cannabis coconut oil.
Firstly, cannabis coconut oil is how you're going to get your dose of cannabis with these chips. Create your cannabis coconut oil following this step-by-step recipe. You're going to decarb your weed and infuse it into coconut oil. This step takes a little bit of time as you will need to boil the infusion for 3 hours. Don't let this deter you. Cannabis coconut oil is a weed staple and you'll surely get plenty of use out of this weed infusion.
Why make cannabis infused Doritos?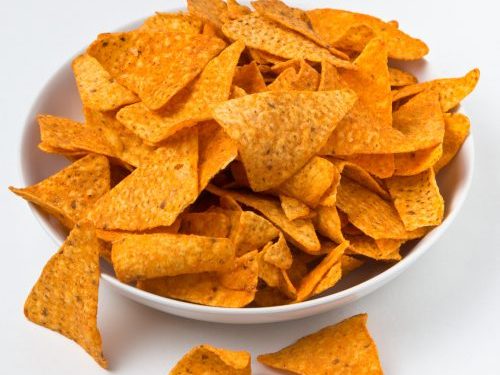 It is a no brainer. These cannabis chips are super delicious and easy to create. This is one of the tastiest weed edibles to hit the scene. They are easy to serve and make a great portion for a gathering or cannabis party. These chips require a few household ingredients and won't stress a cook that is hosting a group of people.
If your cannabis coconut oil is ready, all you need to do is mix these Doritos with a few common spices. This way, the cannabis coconut oil won't take away from the flavor of these amazing chips. We love Doritos, and we definitely don't want to ruin their taste.
Start Your Cannabis Infused Doritos Today!
Closely follow the recipe below to create these amazing weed chips. Show us your cannabis snack on social media and leave us a note in the comments below!
Ingredients
1 ten ounce Bag of Ranch Doritos
1/3 cup canna-coconut oil
1/4 cup powdered buttermilk
1 tsp dry parsley
1/2 tbs garlic powder
1/2 tsp onion powder
1 tsp sugar
1 tsp salt
Instructions
Preheat oven to 250°
In a medium size bowl, add your canna-coconut, grape-seed oil, or vegetable oil.
Add your powdered buttermilk, salt, sugar, dry parsley, garlic powder, onion powder to the infused coconut oil. Mix well.
Gently pour the bag of Doritos onto the pan.
Using a pastry brush, dip the brush into the mixture and gently and liberally brush the mixture on both sides of each chip.
Spread the chips all around the pan as evenly as possible. Bake on the middle rack for 30 minutes or until the chips are dry.