Cannabis cream is a topical product made from cannabis that has multiple medical applications. It is usually used externally on skin issues and can also be applied to localized pain relief among other things.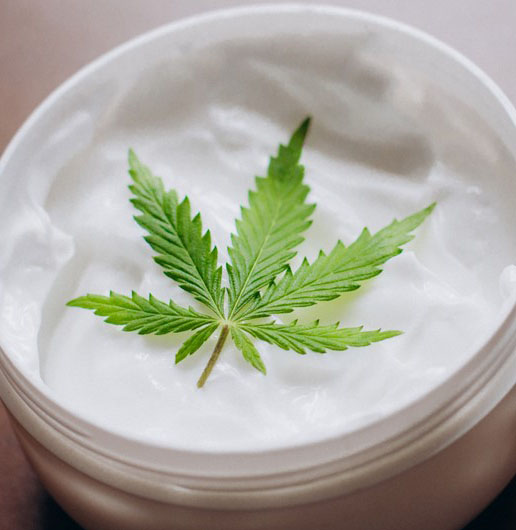 Many anecdotal reports suggest that cannabis lotions can heal arthritis, relieve skin issues such as eczema and psoriasis. Cannabis balm is a mixture of oil and cannabis plant leaves that has been mixed with beeswax for better consistency. Beeswax also adds vitamin A to the balm, which has antibacterial and antiviral properties.
Topicals are a popular new trend where cannabis oil is applied to the skin, often for localized pain relief.
Infused lotions, salves, or balms can provide relief from chronic and acute pain. Daytime relief is easy with a topical. Topicals are applied to the skin and so won't get you high which means they can be used comfortably at work or when you have an activity you need to maintain concentration for.
Creating cannabis-infused lotions and salves is not as difficult as you might think. Basically, they are the same recipe for making edibles, but an oil or butter can be used instead of a chocolate product.
If you want to make your own cannabis-infused balms and lotions, there are lots of recipes out there in print and online; one simple recipe is found on page 4 of the document.
Ingredients:
1 ounce of cannabis trim
16 ounces of organic coconut oil
2 tablespoons of beeswax
Essential oils such as clove, wintergreen, lemon or lavender, if desired
Materials:
Device to grind the cannabis: coffee grinder, blender or food processor
Crockpot
Large spoon
Mesh strainer
Cheesecloth
Small funnel (optional)
Individual small containers or one large container to hold the cannabis balm
Instructions:
Finely grind your cannabis in a coffee grinder, blender or food processor. Combine ground cannabis with coconut oil and heat on the "low" setting using a crock pot.
Heat for approximately 8 hours or overnight.
Add the beeswax and stir until it is melted.
Add a few drops of essential oil(s), if desired.
Place cheesecloth over a mesh strainer. Pour mixture into the sieve and place over a bowl big enough to hold it all. Slowly pour the cannabis balm through a cheesecloth and then twist it well to extract as much of the liquid as possible. Discard plant material.
Line a sieve with pre-cut cheesecloth and strain again to extract as much dairy as possible. Wring the cloth so that any extra liquid is squeezed out.
Pour the cannabis balm into the final container or containers.
Let the balm cool and set before using.
For best results, store your cannabis balm in a cool, dark place.
What can cannabis balm treat?
There is a dearth of conclusive research to support the effectiveness of cannabis for pain relief, but there are some popular theories and respective anecdotal evidence from patients who have tried topical cannabis balm for pain treatment.
Localized pain
Inflammation
Muscle and joint pain
Muscle tension
Skin irritations
Skin infections
Dry or chapped skin
Bruises, cuts and scrapes
Are there disadvantages to using a cannabis balm?
Studies indicate that topically-applied medical cannabis is some what less effective than inhaled or ingested medical cannabis. If you are looking for relief from chronic headaches, joint pain, or other conditions related to the oral cavity and throat, topicals should not be used as a replacement.
If the symptoms persist or worsen, please see your physician for possible treatment.
The Source's patient advisors are here to answer questions and help you find the treatment option that will alleviate your pain or discomfort.
Here is a toast to the healing properties of cannabis—and to your health and wellness!
How to make a cannabis-infused cream or lotion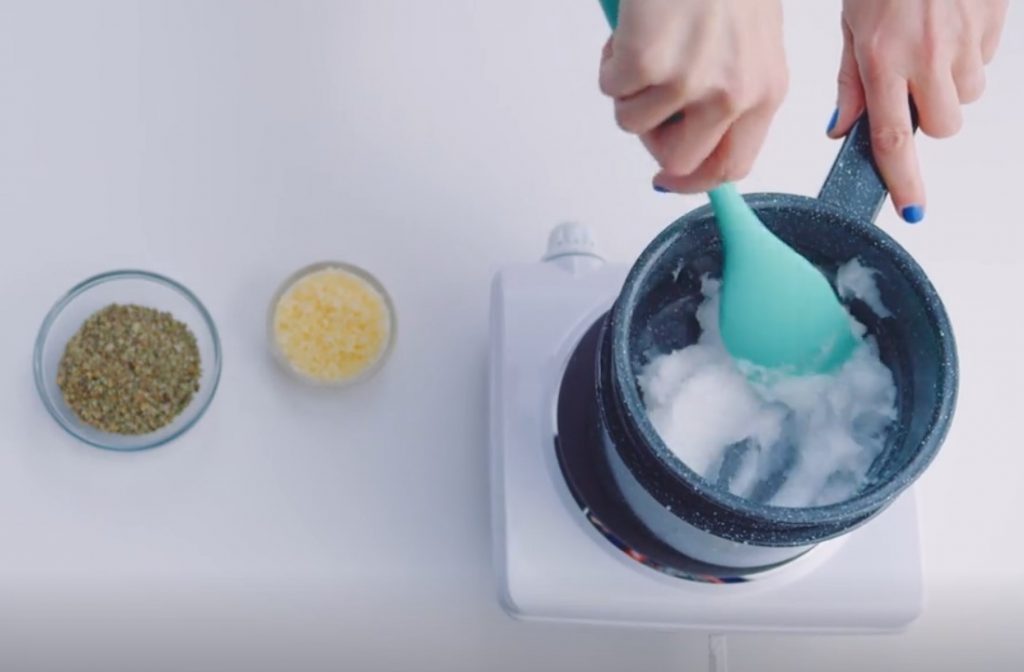 In order to make your salve into an infused lotion or cream, add:
1 cup aloe vera gel
1 teaspoon vitamin E oil
2 tablespoons shea butter or cocoa butter
To increase the fluidity of your cream, increase the amount of olive oil or any other kind of oil–we recommend vitamin E oil or almond oil, in your mixture.
Keep in mind that lotion is designed to stay on the skin, so we don't recommend trying to put it inside a pump.
If you're not sure what container to use for a cannabis product, many containers used for flowers can also be used. Our personal favorite is the classic 4 oz. glass canning jar, easily bought in bulk and useful for a number of purposes.
Your cannabis salve will not last forever, but it should stay fresh longer if kept in a cool dark place. Just rub the salve onto the affected area and watch your aches start to disappear.
Other creative ideas:
Tinted lip balm: Adding frozen raspberries to your coconut oil and beeswax mixture is an easy way to make your own natural lip balm.
Flavored lip balm: A teaspoon of honey or cocoa powder will add sweetness to your balms. If you're feeling adventurous, a tablespoon may work too!
Arthritis relief: Be sure to take caution when handling anything that may have come into contact with cayenne pepper, as it can cause a burning sensation on sensitive skin.
Headache relief balm: If you suffer from migraines, making a headache relief balm is fairly simple. Just add 15 to 20 drops each of peppermint, lavender, tea tree, and eucalyptus oil to your coconut and beeswax mixture. Apply sparingly to your temple and the nape of your neck for best results.
The soothing smell of rose petals and the tranquil aroma of chamomile can easily lull a child to sleep. Just add either dried roses or tea leaves to some basic lotion before bedtime for a natural sleep-inducing foot massage.
Easiest cannabis cream recipe
The easiest recipe is to create a double boiler by filling pot with water and putting it on the stove so that there is an even amount of water and weed. Mix gently using a bain-marie and be careful not to burn, or mix until smooth. The amount of cannabis and olive oil each have to be equal, three cups for both. Cook them on low heat for an hour without boiling the mixture. Let it cool down, then you'll have a cannabis cream.
More elaborated recipe:
There are other recipes that require an elaborate process. For example, the following: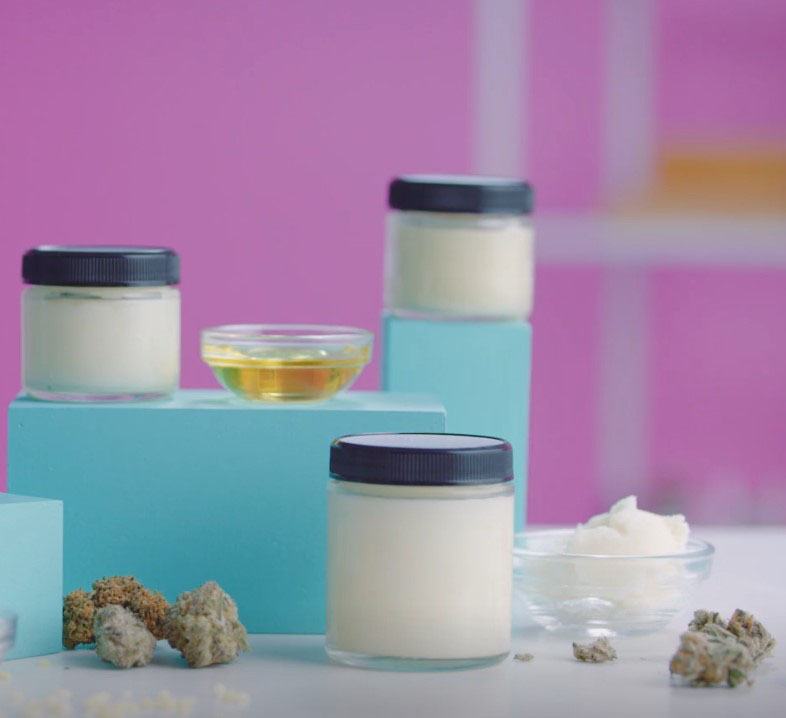 1 oz (30 grams) of beeswax
0.88 oz (25 grams) of cannabis buds
8.45 US liq oz (250 ml) of olive oil
16.9 US liq oz (500 ml) mineral water
Terpenes to your taste.
To cook in the oven, we will need two dishes that will fit inside each other. We put a third of the big one's capacity filled with water on the fire:
In the small pot, crush the buds and add a mixture of water and oil. Put this pot inside one that is large to catch collected steam.
Cook everything for four hours in Bain Marie (an electric water cooking pot), stirring every 20 minutes.
Let it cool down before you take the food off of the heat.
Once the liquid is boiled, use a cloth to filter all the content of the soup. Place a container for the liquid and strain it all with this tool, remembering to press the strainer firmly so that you extract all of its contents
Put the container in the fridge for a couple of hours.
After the tupper has been in water for that amount of time, you will see how the water has floated to the top and separate from any oil.
Take the solid part and put it in a saucepan on the fire. Add beeswax bits to melt until it becomes uniform.
When adding terpenes or an essence, make sure to add the one that suits you best and then stir everything before turning off the fire.
Transfer the contents of your saucepan to small containers and place them in the fridge so that they solidify. In an hour, the cheese will be ready to apply to your skin.
This recipe takes around 5 hours to prepare, but the instructions are very easy to follow.
Tips on how to use cannabis cream
If this is your first time trying this cream, start by using it on one area of your body and wait several hours to check that you are not allergic.
Combine the same cream base with different aromas to compare their effectiveness.
Decarboxylate cannabis before making the cream to enhance its effects.
Mix the cream with other components good for the skin such as glycerin, aloe vera, vitamin E, etc.