Baking sweet treats becomes serious business around holiday season, with racks of filled cookies coming in and out of the oven.
And if you're a purist who still relies on your family recipe, or someone just beginning to bake, you may want to consider baking them. Yes, we're talking about cookies that are made with cannabis.
There are a few steps worth considering before you start using the oven. Let's talk about them.
There are a lot of warnings about eating edibles.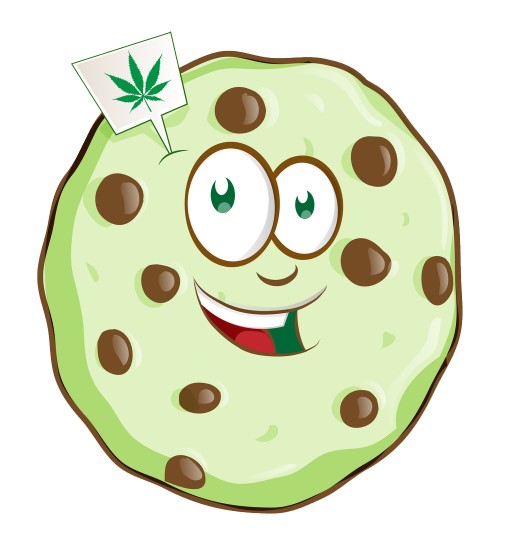 While those used to the effects of edibles may have a simple swell time with these recipes, people who are new to them may find it hard knowing how much to eat.
Due to their delayed effect/ You'll feel their buzz between 30 minutes and 2 hours later. Edible products have a high potential to lead to overdose, and their effects can last significantly longer than smoking.
When baking at home, it can be hard to tell how much THC you are consuming. Take care and use moderation.
The "I don't feel anything, just one more" mentality is what we're all guilty of. Don't give away your cookies to anyone until you warn them about the impending pain.
Pick your strain
First, you need to choose the strain of cannabis that will be in your future edibles. There are about 15 strains available with different properties and effects. Use this knowledge as a starting point when choosing which one might work for you.
Decarboxylation
To make edibles you first need to decarboxylate your cannabis. Decarboxylation is a two step process where the cannabinoids turn from acidic forms into psychoactive ones to give you that high. Herewith, you need to do that beforehand you start to mix all the ingredients. Here is a detailed guide on how to decarboxylate and create cannaoil/flour.
Cannabis-infused sugar cookies
You wait all year to stuff your face with sugar cookies so might as well make them gorgeous. And intoxicating.
If the intended recipient of your cookie is fine and dandy with the surprise ingredient of cannabis butter, we see these as the perfect gift for any holiday visit.
Plus, you can regulate how potent your sweet treats come out by swapping out any portion of the cannabutter with standard butter.
Ingredients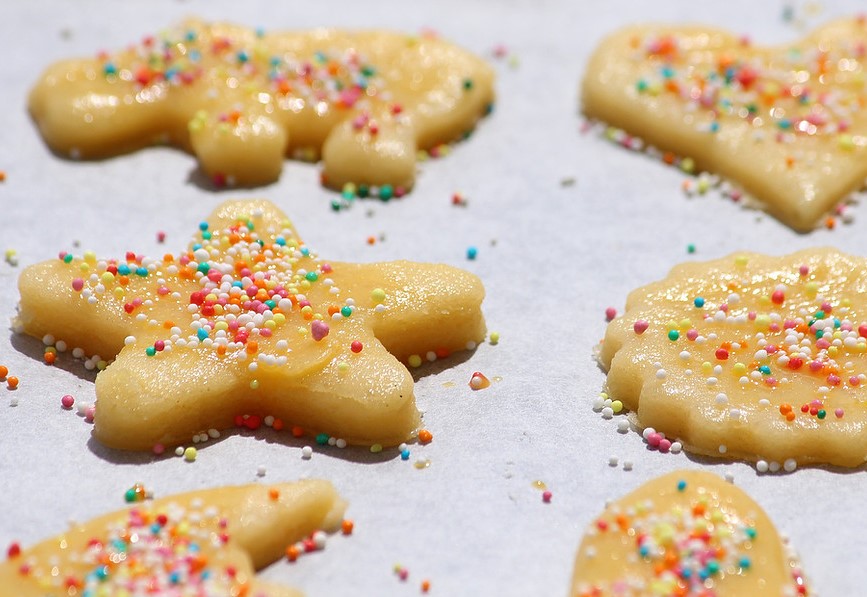 2 ½ cups flour, plus more for rolling
1 cup sugar
1 cup of 240mg cannabutter
1 egg
1 teaspoon baking powder
1 teaspoon vanilla
1 teaspoon salt
Optional: Powdered sugar and milk, for frosting
Instructions
Beat cannabutter, sugar, eggs and vanilla in a large bowl on medium speed until thoroughly combined.
In a separate bowl, mix dry ingredients.
Add dry ingredients to cannabutter mixture a little at a time, stirring until all ingredients are incorporated.
Cover dough and refrigerate for an hour or longer.
Remove dough from refrigerator and preheat oven to 375°F.
Roll dough on a generously floured surface to approximately ⅓" thick. Cut cookies (see below for thematic cookie cutter suggestions) and transfer to ungreased baking sheets.
Bake for 10-12 minutes or until lightly golden in color.
Remove from oven, transfer to cooling rack and let cool completely before frosting.
Cannabis-infused almond laced cookies
If you need a break from classic gingerbreads, we hear you. There's definitely a time and place for crispy snowflake-like cookies with a different kind of look and zing — one of fresh orange zest and almond.
(And a little cannabis-infused coconut oil.)
They're drizzle-coated with chocolate, so, as you can imagine, that combination is killer. These treats are vegan and gluten-free too, made with coconut oil, coconut milk, gluten-free all-purpose flour, and brown rice syrup.
But, as another reminder before licking the delicious spoon too many times — there's definitely cannabis-infused coconut oil in here. So if you want to finish the bake without getting baked, then it might be wise to refrain from spoon-lickage.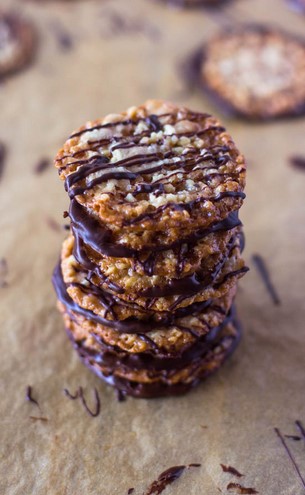 Ingredients:
2 cups sliced almonds
3 tbsp gluten-free all-purpose flour (I like this one) or white flour
1 tbsp powdered or fresh orange zest
1/4 tsp salt
1/2 cup sugar
1/8 cup coconut oil
1/8 cup cannabis infused coconut oil
2 tbsp brown rice syrup (this one is my fave)
2 tbsp full-fat canned coconut milk
1 tsp vanilla
1/4-1/3 cup dark chocolate chips
1/2 tsp coconut oil
powdered sugar (optional)
Instructions:
Preheat the oven to 275° and line 2 baking sheets with parchment paper.
Chop the sliced almonds into small pieces and add them to a bowl with the Flour, Orange Zest, Salt and Sugar.
In a small saucepan, over medium high heat, combine Green Oil, Coconut Oil, Brown Rice Syrup, and Coconut Milk. Stir just until the mixture comes to a low boil. Remove from heat and add Vanilla.
Add the dry ingredients to the saucepan and mix until combined. Allow to cool for 10 minutes, or until the mixture is cool enough to handle with your fingers.
Using a Tablespoon, scoop mixture onto the prepared baking sheets, leaving about 3-4 inches of space in between the cookies.
Bake 15-17 minutes, rotating the pan once during baking. Cool on sheet for at least 5 minutes before moving them onto a cooling rack.
In a double boiler, melt chocolate chips. Using a fork, drizzle chocolate over cookies and sprinkle with powdered sugar.
Cannabis chocolate chip cookie dough balls
When cookie dough cravings hit, cookies that require zero baking are a must.
Usually sneaking a chunk of cookie dough means risking the chance of a belly ache after eating raw egg. Not today, belly bother!
This recipe is sans egg but needs cannabutter, brown sugar, granulated sugar, milk, vanilla extract, flour, and semisweet chocolate chips.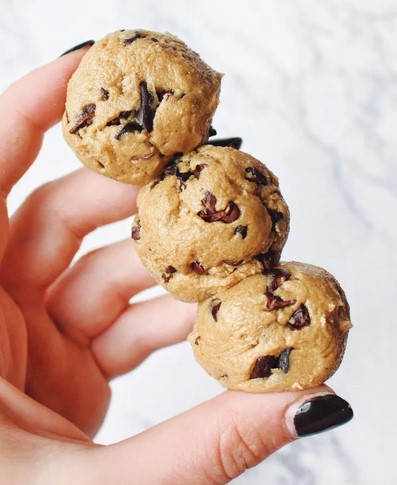 Ingredients
1½ cups flour
2 tablespoons cannabis butter melted
6 tablespoons unsalted butter melted
¼ cup brown sugar packed
½ cup granulated sugar
2 teaspoons vanilla extract
¼ teaspoon salt
1 cup chocolate chips
¼ cup milk
Instructions
Spread flour onto a baking sheet and bake at 350° for five minutes.
Whisk together cannabis butter, unsalted butter, brown sugar, granulated sugar, vanilla extract, and salt.
Fold in flour, then the chocolate chips.
Add milk a tablespoon at a time until you reach the consistency that you want. Keep it dryer if you're forming balls, or add milk if you want to serve the cookie dough as a spread or dip.
Roll dough into 1½ tablespoon sized balls and store in the refrigerator.
Oatmeal canna cookies
Oatmeal cookies are always a hit on the dessert table. These dense treats come to life as a result of raisins, oats, pecans, and the wild-card ingredient of cannabis-infused butter.
Bake these (very) bad boys until they're slightly browned and serve. But do let the people know what they're biting into — they're in for one heck of a journey.
Ingredients
1/4 cup of cannabis butter
2 cups of packed dark brown sugar
2 sticks of softened butter
2 teaspoons of vanilla extract
2 eggs
1 1/2 cups of all-purpose flour
1 teaspoon of salt
1/2 teaspoon of baking soda
3 cups of oats
Instructions
Preheat your oven to 350 degrees F.
Grab an electric mixer or a hand mixer and beat that brown sugar and butter until it's nice and fluffy. Then beat in the vanilla. Then beat in one egg at a time.
Now mix all that flour, salt, and baking soda into a medium bowl. Add in your creamed mixture in 2 to 3 batches, mixing each batch until everything is combined.
Use a cookie scoop or regular ol' spoon to scoop out portions of the dough onto a baking sheet. Leave a couple of inches between each cookie. Bake for 12-13 minutes until they're dark and chewy. If you want a crispier cookie (oatcake style!), cook it longer.
Remove cookies from oven and let them cool on the baking sheet. Then transfer them on to a plate
Marijuana peanut butter cookies
Peanut butter cookies are a no-brainer.
They're both salty and sweet, and we often reach for them when a classic chocolate chip just isn't cutting it. Who doesn't love that soft, chewy, peanut buttery-ness?
This recipe, based on a grandma's very old recipe, provides a bunch of protein alongside a touch of cannabutter.
Ingredients
1 cup peanut butter
4 tablespoons canna-butter, softened
½ cup white sugar
½ cup brown sugar
½ cup flour
1 egg
pinch of salt
Instructions
Heat oven to 340
Combine all of the ingredients in a large bowl. Stir until smooth.
Divide the dough into 15 balls and press them down on a baking sheet covered with parchment.
Bake until set and until the edges have the slightest bit of color, about 8-10 minutes. Allow to cool for 15 minutes. Cookies will get firm during the cooling process.