To grow and make your own medicine… that is the stuff that dreams are made of, am I right?! We like to use our organic homegrown cannabis in a variety of ways, but making topical cannabis salve is on the top of the list. Cannabis salve can help to reduce inflammation, soothe skin irritation, joint pain, and more! It also happens to be quite simple to make your own cannabis salve, and easy to customize it to suit your needs.
If you've been diagnosed with a skin condition like eczema or psoriasis or deal with daily pain from inflammatory conditions like arthritis, you may be wondering if cannabis can help
What is Cannabis Salve

Maybe we need to step back a moment. How about, "what is a salve?". A salve is simply the term for a healing solution that you put on your skin, including creams, ointments, or balms. Generally, salves are fairly thick, shelf-stable, and include nourishing oils such as coconut oil, olive oil, sweet almond oil, or others.
In our cannabis salve recipe, we prefer to use mostly coconut oil, because it is full of saturated fat that binds well with cannabinoids. It is also ultra-moisturizing. We also add a dash of olive oil to increase absorption and smoothness. To learn more about various carrier oils, check out our homemadecalendula oil article – where I discuss the pros and cons of a dozen different oil options!
Salves also typically contain waxes or butters to bind the ingredients and make them semi-solid at room temperature. Beeswax is a popular option because it is readily available, easy to work with (especially when purchased in pastilles), and creates perfectly smooth results. See the ingredient list below for recommended vegan substitutions.
When cannabis is added to salve as an ingredient… voila! You've got yourself a cannabis salve. The most common way to add cannabis to a salve recipe is to create a cannabis-infused oil first, and then combine the oil with the other salve ingredients.
Using Decarboxylated or Raw Cannabis in Salve

How about a little bit of both?

If you aren't familiar with the term, decarboxylation is the process of heating cannabis at an ideal time and temperature to transform raw cannabinoid compounds from their "acid" form to more active and potent versions. For example, CBDA and THCA are changed into CBD and THC respectively. Decarboxylation naturally occurs when cannabis is smoked or vaporized, but it needs to be accomplished by other means when using cannabis in oil or salves – such as by heating it in the oven.
The medicinal benefits of decarboxylated THC and CBD are well-documented. Both are anti-inflammatory, anti-microbial, high in antioxidants, relieve pain, relax muscles, and suppress tumor growth. This is especially true when they're used and work together, known as the "entourage effect". THC is a particularly powerful analgesic (pain-reliever). CBD has even more expansive healing applications, and can help relieve seizures, rheumatoid arthritis, and psoriasis. That said, we definitely want to reap those benefits and use decarbed cannabis in this salve recipe!
On the other hand, emerging studies are revealing that raw THCA and CBDA have some pretty groovy perks too. THCA is showing a promising ability to reduce inflammation, muscle spasms, arthritis, and cancer. CBDA also fights inflammation and tumor growth.
Beyond CBD and THC, there are dozens of other compounds found in cannabis that may produce individual, interactive, or synergistic benefits, including phytocannabinoids, flavonoids, and terpenes. It should be noted that THC is psychoactive and CBD is not, though that doesn't matter all that much when making a cannabis salve intended for topical use only.
Considering all of this, we like to use both decarbed and raw organic cannabis (containing both THC and CBD) to create a full-spectrum, well-rounded, ultra-healing finished product.

What Can Cannabis Salve Be Used For?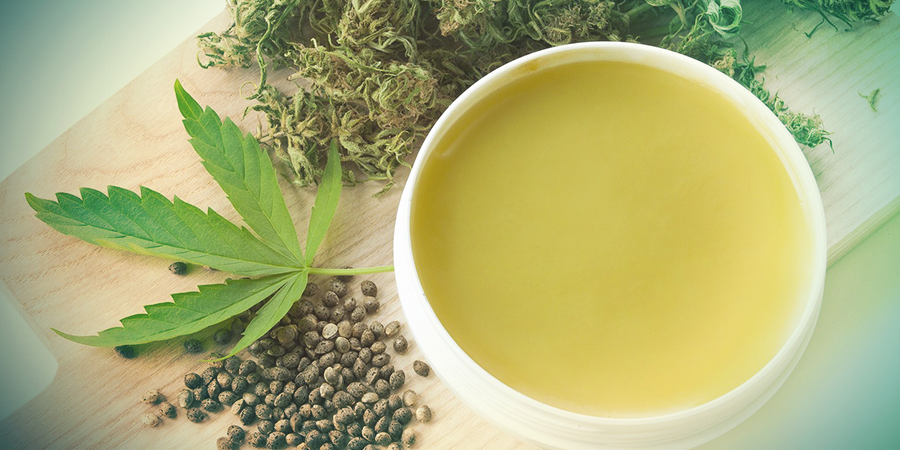 Cannabis salve is stellar at relieving many ailments! First of all, coconut oil and olive oil are extremely nourishing on their own – so you're going to get plenty of moisture from your salve to heal dry, cracked, or otherwise irritated skin. If you add a few drops of essential oils to your salve, you'll also get the benefit of aromatherapy.
The healing properties of your homemade cannabis salve may vary slightly depending on what type of cannabis you use. In general, cannabis salve can be used to treat or relieve the following :

Psoriasis
Eczema
Rashes, itching, or other skin irritation
General inflammation
Sore joints
Arthritis
Muscle aches
Carpal tunnel syndrome
Irregular cell growth (e.g. skin cancer cells)

Personally, I like to rub a little cannabis salve on my tight and sore neck muscles, shoulders, wrists, knees, elbows, ankles, bottom of my feet, and behind my ears. Hey, all this gardening (and sitting to blog) does a number on my body!
RECIPE
INGREDIENTS
2 teaspoons organic beeswax
2 teaspoons organic cacao butter
8 teaspoons floral cannabis-infused oil
1 mL cannabis concentrate optional
INSTRUCTIONS
In a double-boiler over medium heat, combine the beeswax and cacao butter and allow to melt.
Once melted, stir in the floral cannabis-infused oil and stir until well combined.
If using, add the cannabis concentrate, stir until well combined, and then remove from the heat.
Carefully transfer the hot liquid to a small glass jar or storing vessel of choice.
Allow the salve to cool to room temperature and then cover with the lid.CBD concentrate
Store in a cool dark place until ready to use.
NOTES
*Optional: If you do not have access to the floral cannabis-infused oil, simply use your carrier oil of choice and add the cannabis concentrate where directed.*Melting the beeswax and cacao butter before measuring will ensure a more accurate measurement, I melted them in separate mason jars in my double boiler before measuring.*Essential oils can be added at Step 3 if desired. Based on personal preference, you can use camphor, eucalyptus, capsaicin, etc.