Looking to whip up a weed edible that takes the least amount of time and effort possible? Look no further than the humble firecracker, quite possibly the simplest cannabis treat you can make. Learning how to make firecrackers is easy, and for the most part foolproof. But there are some things to keep in mind to make sure the firecrackers weed doesn't burn up, leaving you with a worthless, if tasty, snack.

One downside to edibles, though, is that they usually take a while to make, not to mention some skill. I'm not sure about you, but ain't nobody got time to make canna-butter or canna-oil. That's why I present to you, the "Firecracker." Some of you true stoners out there may have heard of this concoction before. If you haven't, all you need to know is that the dish only requires three ingredients, 30 minutes, and an oven. Perfect for when you want that edible but didn't plan far enough ahead for brownies.
This post is going to go cover everything there is to know about making firecrackers. Furthermore, near the end of this post there is a potency calculator to help you find the potency of you firecrackers.
What are Weed Firecrackers
Weed firecrackers are a cannabis edible that is made at home. It is cannabis and peanut butter between two crackers.
Firecrackers are not an edible recipe renowned for their taste. Most edible recipes will require that you make an infused ingredient, like cannabis butter, and then use that ingredient in a recipe. Since firecrackers add plant matter directly to a recipe, they tend to be unpleasant. However, they certainly get the job done.
Here's How to Make Firecrackers
Let's start with what you need to pull off an amazing firecracker recipe.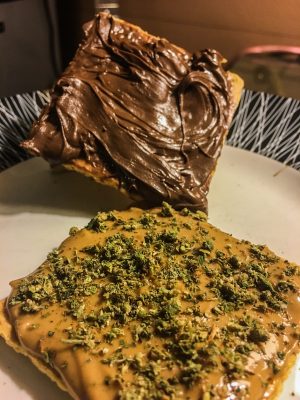 First, you'll need some high-quality flower. If you're making firecrackers just for yourself, about a half gram (0.5 g) should do. Use more if you're planning to make enough to share.
Next, you need your graham crackers. Nabisco or HoneyMaid work best due to their higher fat content. Spice things up with the cinnamon version!
Finally, you need peanut butter. Go for the natural stuff with the higher amounts of fat. The higher (the fat), the better! Nutella also works well in combination with the peanut butter or on its own.
That's why firecrackers are so simple to make. The firecrackers weed easily bonds to the fats in the peanut butter, eliminating many of the steps needed to make other weed edibles.
And don't forget the tools: a toothpick for stirring, aluminum foil for baking, and an oven with an accurate temperature control. Toaster ovens work well, especially the digital kind.
Don't Forget To Decarboxylate Your Firecrackers Weed!
In order for this firecrackers weed recipe to work, you have to activate the THC and other cannabinoids in your buds before you eat them. That means using heat to decarboxylate your cannabis.
For the first-timer, figuring out how to make firecrackers weed decarboxylated can be a little challenging. But really, the process is simple. Just remember, low and slow.
Preheat your oven to 250 degrees F (120 C) and wait about 10 minutes for it to get warm. While you're waiting, break up your nugs by hand or coarsely grind them.
Next, put the weed in the oven. Set a timer for about 15 minutes. That's plenty of time for a decarb, so don't go any longer. Heating too long can ruin your weed.
After 15 minutes, set your weed to the side and let cool.
Assemble Your Weed Firecrackers
Now, heat the oven to 300 degrees F (150 C). As it gets to temp, spread a thick layer of peanut butter (and/or Nutella) on one side of each graham cracker.
Pro Tip: the fat in the peanut butter is what absorbs the THC from your weed, so the more fat the better. That's why you should really spread it on thick.
Now, evenly sprinkle your weed on the peanut butter-covered crackers. Now's the time to use that toothpick to stir and fold your weed into the peanut butter.
Mix your weed in very thoroughly, so that all of it is covered with fatty peanut butter. Don't rush this step.
To finish assembling your firecrackers, add a second peanut butter and covered cracker on top and sandwich them together.
Ingredients:
Weed
Peanut Butter (It is always a good idea to go with the natural organic peanut butter not only because it is healthier, but because it has a higher amount of fats. That is because most of phytocannabinoids (including THC and CBD) are lipids-soluble and you need fat to break down these molecules and release the weed potency.)
Crackers (You should go with the fattest solution for the same reason I mentioned. Potency! Graham crackers proved to work best.)
Dosage for one serving (one firecracker per person)
You need 2 crackers and around 0.3 g of weed.
Experienced smokers can go as high as 0.5 g per one serving, but I would not recommend this dosage for a beginner or occasional smoker.
One tablespoon of peanut butter is enough to cover the crackers, but you can put as much as you want depending on your preference.
If you are planning a party, just multiply these amounts with the number of people you are planning to get stoned.
Instructions:
First, you need to decarboxylate cannabis to activate THC/CBD. In order to do so,  put your ground cannabis flowers on tin foil and bake it in the oven for 10 minutes at 250°F (120°C).
While weed is "baking", take two Graham crackers and cover one side of each cracker with peanut butter. 
Take the weed out of the oven, and when it cools down, sprinkle each peanut butter spread with an even amount of weed. You should do this carefully and make sure that each piece of butter spread is covered with weed. This way, THC will dissolve perfectly with the fats from butter. 
Increase the temperature in the oven to 300°F (150°C) and sandwich the two Graham cracker pieces together.
Wrap your firecracker sandwich in tin foil and bake it for another 20 minutes. 
Enjoy!
Pro tip: You can replace peanut butter with Nutella or even blend the two together (this is my perfect combination). You can also use any other high-fat spread for this delicious edible.
Pro pro tip: If you are always looking for that extra ingredient to enhance the flavor of your snacks, just drizzle the firecrackers with honey, maple or chocolate syrup, or any other sweetness that you can think of.