We love marijuana, and we love food – so when it comes to that time of the month where we get the opportunity to share some of our favorite cannabis recipes we jump at the chance! Now, it is the beginning of a brand new year, and with 2018 being such a massive success for the cannabis industry, we felt there was no better way to kick off the year other than sharing not one, but five cannabis recipes with you!
If you are a budding chef, or love marijuana and want to experiment with your edibles, then you're in for a treat! Check out our five must-try recipes of this year to meet your culinary and cannabis needs in one go! Oh, and there is even a cheeky tipple in there for those who like a weekend drink with their pot!
Why Choose Edibles?
Before we jump straight into the recipes we want to share – let's take a minute to check out whether edibles are right for you.
Every cannabis user is different, and depending on your health, you may opt for one method of consumption over another. With that in mind, we expect that some of our readers will never have tried a cannabis recipe before, so here is what you need to know.
Cannabis edibles take a considerably longer time to take effect. Unlike when we smoke or vape cannabis, consuming cannabis in an edible must go through our digestive system before we start feeling the effects, so we would always stress that you enjoy your recipes in small amounts and give it time to take effect before enjoying more.
We know how easy it can be to over-indulge on a delicious recipe, but remember that if you get a sudden hit of pot after eating six helpings, you will be very unlikely to enjoy the high and will likely feel some unwanted side effects.
Have fun, but always consume cannabis responsibly.
#1 Weed Milk – You'll Never Have Your Cereal the Same Again!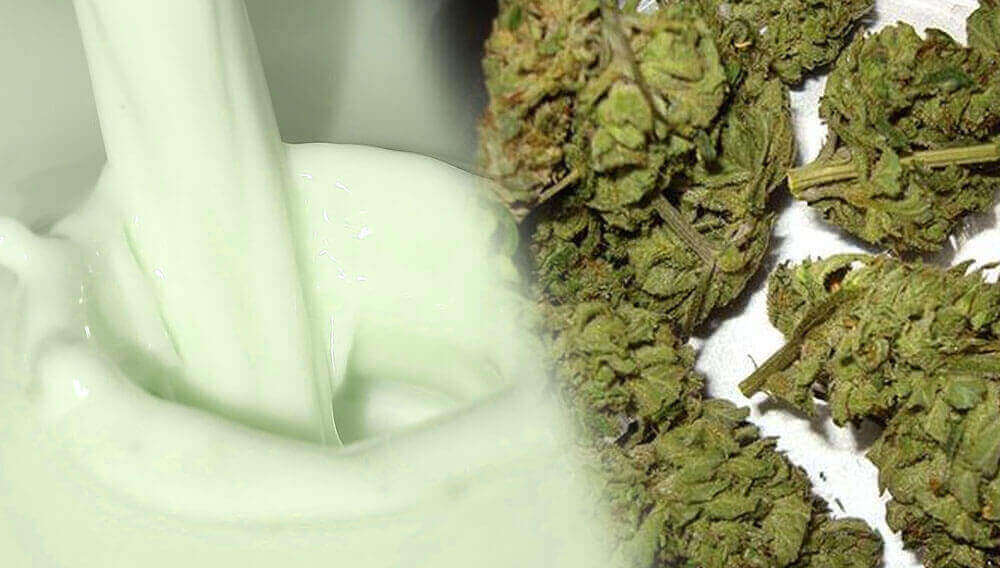 SERVES 2
2 HOURS COOK TIME
You've heard wake and bake? Well if sparking up first thing in the morning isn't for you – try this delicious weed milk! On its own, with cereal, or even in a cup of coffee, we never start a day without it now!
WARNING: This recipe is super simple, but takes some patience – you've been warned!
What You'll Need:
6 grams cannabis of your choice
2 cups of whole milk or heavy cream
Baking tray
Saucepan
Grinder
Mesh sieve
What to Do:
This is probably one of the most straightforward recipes you will ever follow; start by turning the oven to 250˚
Spread your cannabis out in an even layer on a baking tray (ensure you keep an eye on the temperature – too high, and you can quickly lose potency).
Bake your marijuana for around 35-40 minutes, checking regularly.
Once removed from the oven, allow the cannabis to cool before grinding into a coarse, powdery texture.
Keep your cannabis in an airtight container over two months.
Once your marijuana has been stored in a dark, cool area for two months, it is time to cook! Get a medium saucepan and heat your milk or cream of a low to medium heat.
Add the cannabis to the milk and cook gently, ensuring it does not go over 200˚
For around 45 minutes, keep your milk and cannabis mixture cooking.
Remove from heat and leave for a further 10 minutes to rest.
Drain through a mesh sieve over a glass or bowl, ensuring you are careful to extract all liquid and leave behind any bits.
And you're done! Your milk will stay fresh if left covered and refrigerated for up to 8 weeks.
#2 Cannabis-Infused Vodka – The True Meaning of Happy Hour!
SERVES 6 – 10
We don't condone mixing massive amounts of cannabis with alcohol, but now and then a little of the two can go hand in hand, and this recipe offers the perfect balance! Enjoy a cannabis-infused cocktail that will give you a happy buzz for those post-work pick me ups.
WARNING: We recommend a ratio of around 3.5 grams of cannabis per 750ml of alcohol for a safe and healthy balance of both. This is to avoid any adverse effects from either alcohol or marijuana.
What You'll Need:
Cannabis of your choice
Vodka is our tipple of choice here, but you can do it with whatever spirit you like
An electric whipper that can tolerate heat
A heat-proof measuring glass
2 Nitrous oxide chargers
One large double boiler
A cheesecloth
Metal strainer
Thermometer
What to Do:
Measure out 250ml of alcohol and pour into the whipper, then adding the cannabis into the mix.
Attaching the nitrous charger to the whipper, release the gas and then unscrew the charger and add the second charge, following the process. Once charged the second time, allow it to sit for a couple of minutes before opening it up.
Using your double boiler next, heat up the water to around 200 degrees and then pour the infused alcohol to the top of the double boiler.
Your liquid at this point should look very green; this is normal and shows that the THC is not yet active.
Simmer the alcohol steadily at this temperature; it should take around 45 minutes and will reduce a little bit in the process. Add straight spirit to bring the alcohol volume back up to its original.
Remove the pot from the heat and put to one side.
Use your heatproof measuring glass and metal strainer with the cheesecloth inside to strain out any leftover cannabis from your liquid.
If you wish to, this is where you will add your pure spirit to replenish any alcohol lost from the finished mixture.
Using the alcoholic, pot-infused liquid you have just made, add it to your favorite cocktail as the alcohol substitute, and you're good to go!
#3 Garlic Cheese Pasta – Italian Cuisine at its Finest!
SERVES 6-8
10 MINUTES COOK TIME
Who doesn't crave a massive bowl of carbs when they are smoking a bit of cannabis? Well, why not try something different? Ditch the joint and opt for a cannabis-infused bowl of cheesy pasta!
What You'll Need:
Pasta of your choice, we love this with a good quality spaghetti
Salt and pepper for seasoning
4 tablespoons of cannabutter
Seven cloves of garlic, chopped
¾ cup parmesan cheese
Large skillet
Large saucepan
What to Do:
Melt your cannabutter over a large skillet on medium heat.
Add garlic to the butter, cooking until a light golden brown
Remove pan from the heat and set to one side
Bring a large pot of salted water to the boil and add your pasta.
Cook until soft, and then drain away the pasta water, leaving around ½ cup behind for later
Put the pasta back into your pan with the last of the pasta water, and add in the garlic infused cannabutter, salt, and pepper.
Combine all the ingredients well and finish with a topping of parmesan cheese – yum!
#4 Cannasmoothie – This One is as Good as it Sounds!
SERVES 2
Who doesn't love a refreshing, fruity smoothie for a bit of a nutrient kick? If you are craving a boost, why not give this tasty cannasmoothie a go? All the benefits of a fruit smoothie, but with a twist!
What You'll Need:
2 tablespoons canna-coconut oil
1 frozen banana, sliced
1-2 cups of coconut milk
2 cups of frozen strawberries
4 tablespoons of pomegranate juice
2 tablespoons pomegranate molasses for drizzling
Small skillet
What to Do:
Heat your homemade canna-coconut oil in a small skillet. Once hot, add in your sliced banana, and allow this to cook for 3-4 minutes, stirring occasionally.
Take this off the heat and allow to cool.
In the meantime, place the rest of your ingredients, excluding the molasses, into a blender.
Add in your now cooled down banana in the cannabutter and blitz the entire mixture until smooth.
Divide between two glasses, drizzle on the pomegranate molasses, and enjoy!