This recipe will have about 25 mg THC per marijuana muffin IF you made your marijuana oil from average cannabis (10% THC) and used 1/2 ounce of marijuana to make 1 cup oil.  To adjust the dosage up or down to meet your personal needs and to reflect the strength of the marijuana you are cooking with and the amounts you used to make your oil, be sure to take my basic Dosing course. Even better, my handy dosage calculator tools will do all the math for you.
While the "special brownie" will always be a classic for cannabis lovers, sometimes it's nice to branch out with your pastries. This easy recipe for marijuana-infused blueberry muffins breaks away from the traditional, throwing some chocolate chunks and lavender into the mix.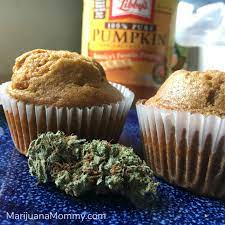 Note: If you choose to make your own butter using the recipe below, each muffin will be equivalent to one light dose. Wait at least one full hour after eating your first muffin before trying another, as your body needs to metabolize the edible before the effects of the medication can kick in.
Canna-tastic Blueberry Lavender Chocolate Chip Muffins Recipe
Materials:
1 lightly greased muffin pan or muffin pan with paper liners
1 hand mixer
Large mixing bowl
Medium mixing bowl
Measuring cup
Large spoon or spatula
Whisk
Crock pot (for making canna-butter)
Cheese cloth or strainer
Glass Tupperware
Cannabis Ingredients:
1 ½ sticks (3/4 cup) unsalted butter (to make canna-butter)
1 cup water
¼ ounce of ground cannabis flower or ½ ounce high-quality cannabis trim
Ingredients:
1 cup frozen blueberries
½ cup dark chocolate chips
3 Tbsp dried lavender
2 cups all-purpose flour (subtract 2 Tbsp if using whole wheat)
¼ tsp salt
2 tsp baking powder
2 eggs
1/2 cup milk
1 tsp vanilla extract
½ stick unsalted butter (to help manage flavor), softened
1 ½ sticks canna-butter, softened
1 cup sugar
To Make Infused Butter:
Turn Crock Pot onto low and add in 1 cup of water, 1 ½ sticks of unsalted butter, and ¼ ounce of ground cannabis flower.
Cover Crock Pot and let simmer on low for 8 to 24 hours, stirring occasionally. 
After simmering for your desired amount of time, pour the hot mixture into a glass, refrigerator-safe container, using a cheese cloth or fine mesh strainer to strain out all plant product from the butter mixture. Squeeze or press plant material to get as much liquid off of the plant product as possible. Discard leftover plant material.
Cover and refrigerate remaining liquid overnight or until the butter is fully hardened. Once hardened, the butter will separate from the water, allowing you to lift the now infused canna-butter from the water to use in your recipes. Discard remaining water after removing the hardened canna-butter.
Let the canna-butter sit at room temperature to soften for use in the blueberry muffin recipe. Do not use a microwave to soften the butter.
Making the Blueberry, Lavender, and Chocolate Chunk Muffins:
Preheat oven to 375 degrees.
In a medium bowl, whisk together flour, baking powder, and salt. Set aside.
Cream together softened butter, canna-butter, and sugar using a hand mixer.
Add in eggs, one at a time, until fully combined.
Slowly begin to fold in flour mixture, alternating with milk, until fully combined.
Add in vanilla and mix until combined.
Using a spatula or large spoon, gently fold in frozen blueberries, chocolate chips, and lavender.
Using a cookie or ice cream scoop, scoop out portions of the muffin mixture and fill each well of the muffin pan about 3/4ths full.
Bake for 20-25 minutes, until toothpick inserted in the center comes out clean.
Remove muffin pan from oven and let cool slightly before removing individual muffins. Let muffins cool completely on a wire rack.
Note: The amount of cannabis butter specified in this recipe is a very loose suggestion; the actual amount you use should be modified based on the strength of your cannabutter and the potency you desire. Dosing homemade edibles can be tricky (click here to learn why), so the best way to test for potency is to start with one portion of a serving, wait one to two hours, then make an informed decision on whether to consume more. Always dose carefully and listen to your body, and never drive under the influence of cannabis.
These muffins are infused with cannabis oil
What a simple way to dose this cannabis dish. weed oil is the cannabis edible ingredient that everyone needs. Its versatility is enough to convince you that you should either make it or buy it. There are so many recipes on this site alone that use this weed infusion as its base. These recipes range from cannabis desserts, to savory weed meals, and crushable weed candies.
Here is a recipe to create your own cannabis cooking oil. Remember, you can follow this recipe to make a THC oil or a CBD oil. Select your preferred strain accordingly.
Cannabis Banana Muffins are the weed edible that almost everyone can enjoy
All allergies aside, this is a weed infused edible that that will please the masses. If you use a CBD infused oil, it is possible that it can be enjoyed by even more. We understand that not everyone can withstand or enjoy the effects of THC. Using a CBD infused cooking oil is a way to include a wider reach for your muffins.
If you are making these for friends, no matter if you use THC or CBD we always recommend labelling your Cannabis Banana Muffins accordingly. It is possible your friends will thoroughly enjoy the muffin and want to recreate it themselves. It is also possible that these muffins could fall into the wrong hands. We recommend labelling the amount of THC or CBD the cananabis bud strain, the dosage, and the ratio of CBD vs. THC.
Start your Cannabis Banana Muffins today!
Create your very own weed infused breakfast food with these outstanding muffins. Send us a picture of your batch on social media or hit us up in the comments!
Ingredients
1/4 Cup Cannabis Oil
2 1/2 cups unbleached all-purpose flour
1/2 teaspoon baking soda
3/4 cup dark brown sugar
1/4 teaspoon ground cinnamon
2 cups smashed bananas (about 4 to
1/2 cup milk
2 large eggs, at room temperature
1/8 teaspoon fine salt
1/2 teaspoon pure vanilla extract
3/4 cups chopped walnuts
Instructions
Preheat the oven to 350 degrees F. Lightly brush a 12-muffin tin with butter and set aside.
Whisk the flour, baking soda, brown sugar, and cinnamon together in a medium bowl, set aside.
Whisk the banana, cannabis oil, milk, eggs, salt, and vanilla in a large measuring cup with a spout or another bowl.
Make a small well in the center of the dry ingredients. Pour wet ingredients into the center; then stir with a wooden spoon until the dry ingredients are moistened but still lumpy. Do not overmix the batter or your muffins will come out dense. Gently stir in the nuts. Divide the batter evenly into the muffin tin.
Put the muffins in the oven and
Bake until golden brown, about 25 minutes, rotating the pan halfway through the cooking. (Insert a toothpick into the center of a muffin to check if it is done. Toothpick should come out clean). Cool muffins in the pan on a rack for a couple minutes. Turn the muffins out of the pan and cool on the rack. Serve warm or at room temperature.
Serve the Cannabis Banana Muffins.