Here you will find the best recipe for cannabis-infused brownies made with coconut oil, cannabutter, or specific concentrates. These classic, delicious, medicated treats are ready in a few minutes and don't require any fancy ingredients!
If you have access to legally cultivated strains of medical cannabis, you might notice the large variety of edible items that are now in general circulation. Edibles were once mainly comprised of sugar, high fructose corn syrup, and other unhealthy ingredients.
These pre-made, pre-packaged cannabis infused treats are more accessible to patients nowadays than ever before but unfortunately many edibles still come packed with sugar, high fructose corn syrup and other unhealthy ingredients.While processed food created to be marijuana snacks might seem like an easy way to medicate, many medical users prefer making their own creations with specific doses and ingredients. Want to become a cannabis cooking master? Here are some of the most popular tips for cutting-edge chefs.
Easy Homemade Cannabis Brownies
The very best recipe for easy, simple, and delicious fudgy chocolate cannabis brownies made using cannabis coconut oil, cannabutter, or cannabis sugar. No fancy ingredients, just your classic, delicious, medicated brownies that are ready in just 40 minutes.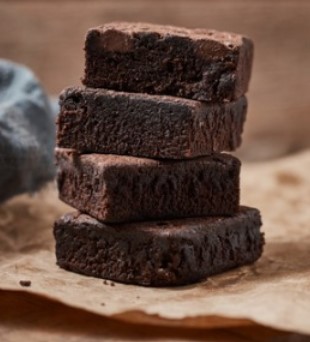 Ingredients
2.25 cup all-purpose flour
1.5 cup unsweetened cocoa powder
1.5 teaspoon salt
0.75 teaspoon baking powder
1.5 cup cannabutter or cannabis coconut oil room temperature
3 cup white sugar or cannabis sugar
0.75 cup brown sugar
6 large eggs
3 teaspoon vanilla extract
3 teaspoon optional toppings nuts, chocolate chips, sea salt
Instructions
Preheat the oven to 350° F.
Grease an 8″x8″ metal baking pan and set it aside.
In a medium-sized bowl, mix the dry ingredients. Sift the flour and the cocoa powder to remove any lumps, then add the salt, followed by the baking powder. Set aside.
In a separate medium-sized bowl, cream together the cannabutter or oil, white or cannabis sugar, and brown sugar with a hand mixer.
Add the eggs and vanilla to the creamed sugar and beat on medium speed for one minute (note: the mixture's color should lighten a bit).
Add the dry ingredients to the wet ingredients and beat on low until everything is well incorporated.
Transfer the batter to the reserved greased baking pan. Lightly tap the pan to even out the batter.
If you are adding and any optional toppings, like sea salt, add them now.
Place the pan in the oven to bake for 25-30 minutes. The time will depend on your oven and your brownie consistency preferences. Test the finished brownies with a toothpick. Unlike making a cake, the toothpick does NOT need to come out clean. Making fudgy brownies will leave deliciousness on the toothpick. Just verify that what is in the toothpick doesn't have a batter consistency, which would indicate that the batter needs to bake a bit longer.
If you can wait, allow the brownies to cool for 30 minutes. Enjoy and repeat!
Toasty Garlic Bread Sticks
One fail-proof way to take your edibles to the next level is with bread and cheese. This cheesy garlic bread recipe makes a perfect batch of homemade edibles for a small group or can be saved for just yourself. In fact, they're so good, you'll probably have to go back for another piece. For a smaller dose per breadstick, dilute the cannabutter with regular butter or olive oil.
Ingredients
1 large loaf of bread
1/2 cup cannabutter
1 tbsp garlic powder or 4 cloves garlic
1/2 cup sharp cheddar cheese
1/2 cup mozzarella cheese
1/4 cup Italian seasoning mixture (or preferred seasoning mix)
1/2 tsp salt
1 tsp black pepper
1 tbsp parsley flakes
Bread edible steps
Preheat oven to 400°F
Cut bread in half longways. Cut each half into 6 strips, making 12 bread sticks in total.
Lay them out on a baking sheet or toaster oven rack.
In a bowl, mix cannabutter, garlic, and salt. Spread as evenly as possible on all pieces to make sure dosage is more accurate.
Sprinkle Italian herb seasoning evenly across each slice. I used a mix of rosemary, thyme, paprika, but you can use your personal fave spice mixture.
Add the mixture of both cheeses across the bread sticks. Top with salt, pepper, and parsley flakes.
Bake for 10-15 minutes or until bread and cheese are crispy.
You now have 12 garlic breadstick edibles, each with approx. 20-25 mg THC. Dig in and enjoy the high!
Weed Granola
This medicated granola recipe is the best snack for the start of your day or as a topping on a midnight treat. By replacing coconut oil or regular butter with weed butter, these granola edibles make for a stoney topping that will have you going in for more. Plus, you can add any of your favorite toppings (coconut, sunflower seeds, etc.) to this recipe for a more personalized mixture.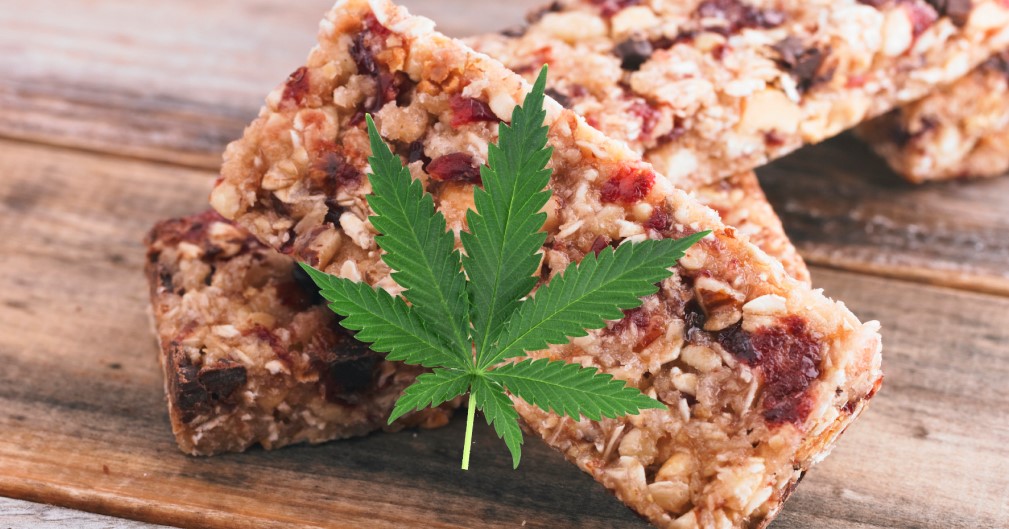 Ingredients
4 cups rolled oats
1 cup chopped almonds (or a nut mixture of your choice)
2 tsp cinnamon
1 tsp salt
1/2 cup melted cannabutter
1/4 cup maple syrup
1/4 cup brown sugar
2 tsp vanilla extract
2/3 cup cranberries, raisins, or chocolate chips
Homemade edibles instructions
Preheat oven to 350°F
In a large bowl, mix rolled oats with nuts, cinnamon, and salt. Add in seeds or more nuts for a crunchier granola.
In another bowl, stir melted cannabutter, vanilla extract, syrup, and brown sugar together.
Pour the melted weed butter mix over the granola, and toss everything in the large bowl until oats are evenly coated.
Spread the granola out on a parchment lined baking sheet and put in the oven for 25 minutes, stirring halfway through.
Remove from the oven and let cool. Mix in the dried cranberries, raisins, and/or chocolate.
Time to snack! Store the ganja granola in any container and keep for a few weeks in the pantry. 1/2 cup granola contains about 20 mg THC.
Don't miss out on your dank feast! Infusing food with weed makes for an amazing, elevated experience. While any snack can be medicated with some marijuana butter or oil, sometimes it's a challenge to decide where to begin. With these three easy edible recipes, you'll have homemade edibles that taste amazing and easily divide into more accurate servings.
Infused Fettuccine Alfredo
This recipe will knock your socks off. Before to start, there is an ingredient that you won't find in your cupboard. You're going to need cannabis butter. Make sure to check the potency guide further down in this article to get a better understanding.
We have guides on how to make cannabis butter here.
Equipment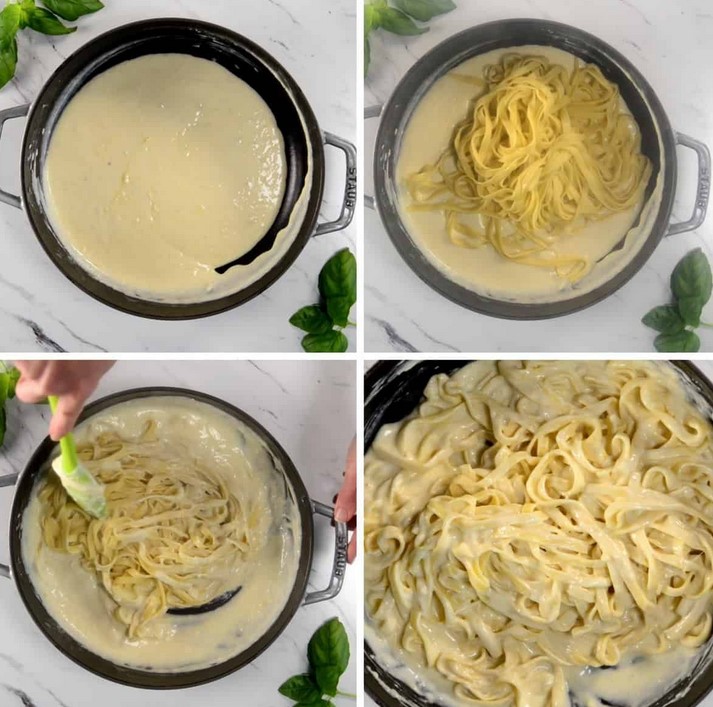 Ingredients
24 Ounces Dry Fettuccine Pasta
1 Cup Cannabutter
3/4 Pint Heavy Cream
3/4 Cup Grated Romano Cheese
1/2 Cup Grated Parmesan Cheese
1 Dash Garlic Salt
Salt & Pepper Optional
Instructions
With the large pot, bring lightly salted water to a boil. Then add the dry fettucini pasta and cook for 8 – 10 minutes or until ready, drain the pot.
In the saucepan, melt the cannabutter and cream on low heat. Then add your salt and pepper and garlic salt. Stir in the cheese over medium heat until its nice and melted.
Finally, add the pasta to the sauce. Make sure to use all the sauce and ensure the pasta is entirely coated. You do not want to waste any cannabutter.
Add the fettuccine and parmesan cheese to the cream sauce, and then toss until well coated. If the sauce needs more moisture, slowly add in some of the pasta water-about 1 tablespoon at a time.
Serve immediately or place in an airtight container and refrigerate for up to three days. Add freshly cracked black pepper to taste, if desired.
---
Bon appetit