The Cotton Candy strain produces a heady buzz while soothing the body and calming aches and pain. Those seeking a balance between cerebral and physical should give cotton candy a whirl. It is also very tasty, with cotton candy highlights, bubblegum undertones and great sweet and earthy flavors.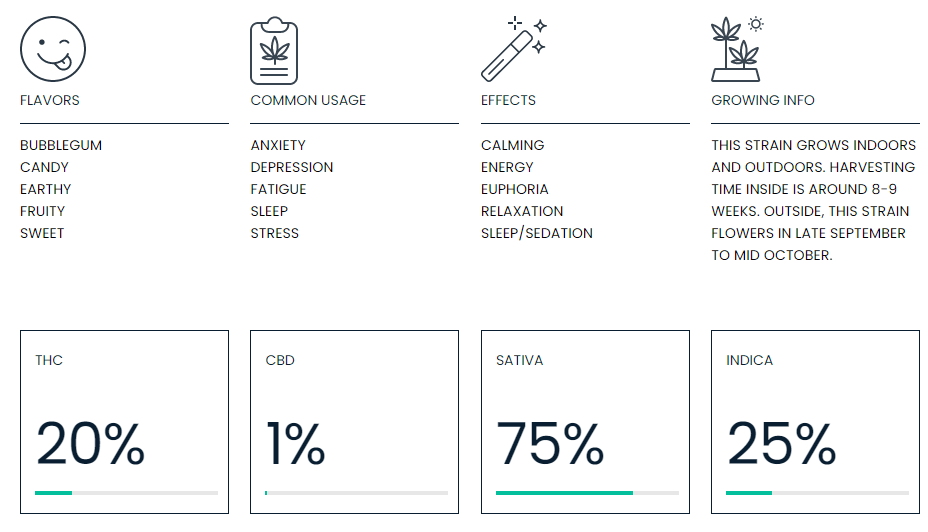 What Is the Cotton Candy Strain?
Cotton Candy strain weed is one of the sweetest sativas available. This weed was created a long time ago by the breeders at Delicious Seeds. They took the South African landrace, Power Plant, and crossed it with Caramelo. The result was this sugary sweet strain. Delicious Seeds certainly lived up to their name with this one.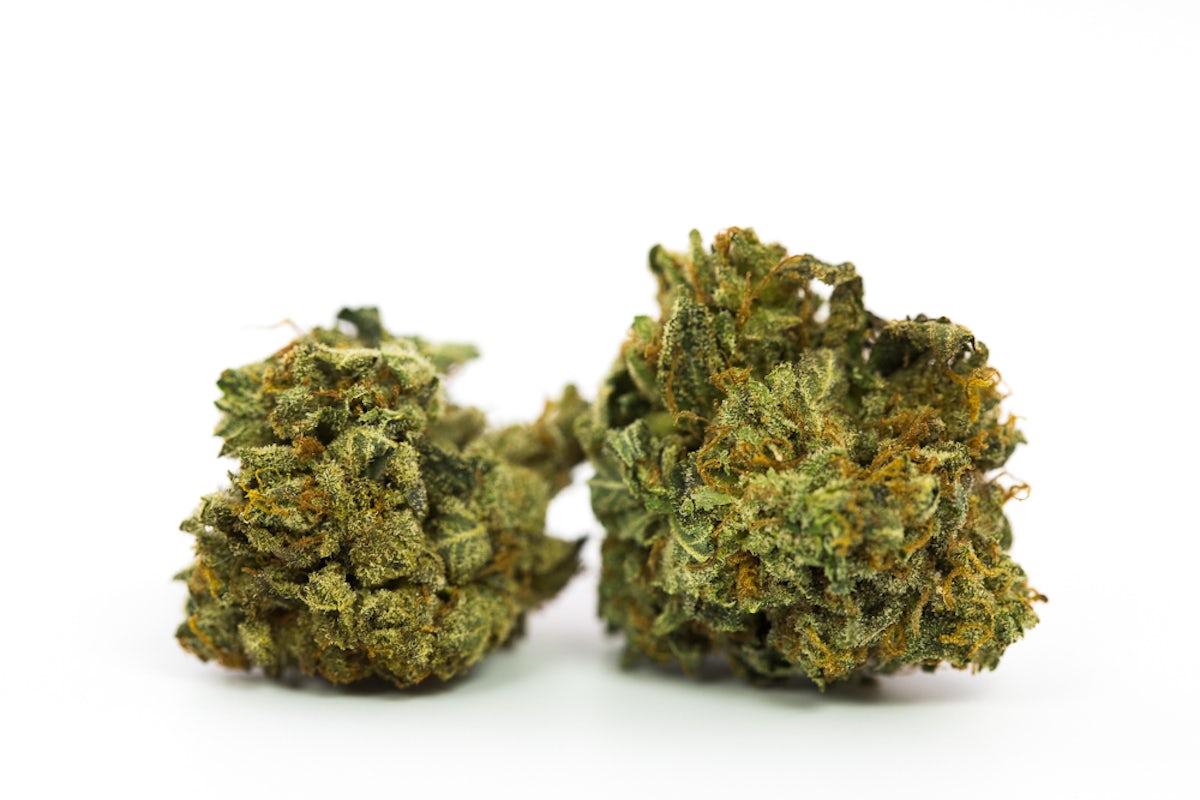 The plant takes the best aspects of its parents and makes one hell of a strain. You get one of the best smell and flavor profiles around, high yielding plants, and fantastic effects. If all that wasn't enough, it also looks incredible with a real rainbow of color on show.
This sativa has lovers all over the West Coast, particularly in Washington State and Oregon, and equally in Arizona and Canada. Around these areas, it is a fairly common find, but you should be able to track it down almost anywhere. Another bonus is that Cotton Candy tends to be priced towards the cheaper end of the scale in dispensaries. The low cost and great taste make it a favorite for those looking to make their own edibles.
Now we go into a bit more detail about the different aspects of Cotton Candy strain, starting with the aroma.
Indica Dominant Hybrid – 70% Indica / 30% Sativa
THC: 17% – 22%, CBD: 1%
Also known as Cotton Candy Kush, this strain is an indica-dominant hybrid, though the exact ratio of sativa to indica isn't widely known. Cotton Candy is a complex mix of Power Plant from South Africa and Lavender from Amsterdam, itself a blend of Skunk strains and an Afghani Hawaiian. THC levels are relatively high, topping 22% in some samples, while CBD is much less prominent. That chemical makes up less than 1% of this strain, meaning Cotton Candy shouldn't be used as the sole treatment for conditions that respond to CBD, including seizure disorders. Expect a calming body high from this strain, along with cerebral effects, euphoria, and a boost of happiness. It's a good choice for patients who suffer from anxiety, migraines and other headaches, chronic pain, and everyday stress. Not surprisingly, the smell and flavor are reminiscent of cotton candy, with sweet, fruity notes and hints of other kinds of candy. Cotton Candy produces the usual side effects: dry mouth and dry eyes, as well as paranoia and dizziness. It sells best on the West Coast, in Arizona, in Colorado, and British Columbia.
The highlight of any childhood trip to the fair was a big bag of cotton candy. When you grow up, the Cotton Candy cannabis strain can provide the highlight of many a smoke session, too.
This weed is known for being super sweet, super beautiful, and super popular. Cotton Candy is a strain particularly loved by smokers in Washington State, but it is easy to find in most locations. The herb is renowned for providing a strong head high that sets the mind racing, yet can sedate the body into couch-lock.
Does this strain induce a sugar rush, or is it as fun as tooth rot? What can you expect from Cotton Candy in terms of smell, taste, and looks? And what about its effects? We cover all of this and more in this article.
Cotton Candy Strain Aroma
One of the things the Cotton Candy marijuana strain is most famous for is its sweet stench. The cannabis has a smell just like the cotton candy it is named after. Close your eyes, take a big whiff, and let the scent transport you back to the carnival.
Underneath this candy-like scent, there are soft floral tones that come from its Power Plant parent. This mingles with citrusy, grapefruit-like odors.
Cotton Candy is particularly pungent, and the smell hangs in the air even after you seal the weed away. This doesn't lend itself to covert smoking, but in all honesty, a fragrance like this shouldn't be hidden away.
The aroma truly is mouth-watering and will have you begging to taste. Does the flavor live up to these expectations, though?
Grow information
According to Dutch Seeds Shop, a seed bank that carries feminized Cotton Candy seeds, this plant grows to a moderate height, producing long foxtail-shaped colas and well-balanced leaf proportions. The leaves of Cotton Candy can take on a lavender-colored hue during the end of a 60-to-70-day flowering cycle.
A long time ago, the DELICIOUS SEEDS breeders took up the challenge and set to work in our growrooms. Their objective was to develop a plant with enormous yields without sacrificing any of the organoleptic qualities. This strain combines the sugary sweetness of Caramelo and the more delicate floral flavours of South African Sativas such as Power Plant.
The result is a perfect Sativa type plant that is easy to control and which produces large, foxtail buds and whose leaves take on a metallic lavender hue towards the end of the flowering cycle. Branches out considerably, especially outdoors, where the lower branches can get almost as long as the plant's height, which can triple in size during the flowering phase. Easy to trim owing to the small amount of leaves between the buds.
Gives off a very strong citrussy aroma like grapefruit or lime. Very sweet taste with hints of skunk and cedarwood making it even more earthy and citrussy. The very euphoric effect, which is cerebral and almost impercetible in the body, is almost instantaneous and longlasting. A strain with very high levels of THC, some growers have found it difficult to sleep when they smoke our Cotton Candy Kush (DS19).
Cotton Candy Strain Flavor
The taste of Cotton Candy is just as sweet as its fragrance. There is a flowery aspect to the flavor upon first inhaling, which adds a sense of freshness.
Upon exhale, the sugary, flowery flavor is joined by an underscore of earthiness with hints of cedarwood. The taste lingers on your palate for a minute or so afterward. It is almost as if the sweetness of the smoke has stained your tongue.
It is a hugely enjoyable taste sensation, similar to smoking your favorite, fruitiest bubble gum.
Does Cotton Candy look as good as it tastes?