With marijuana legalized in an increasing number of states, experts continue to explore its potential benefits, side effects, and interactions with other substances. The interactions between caffeine and marijuana aren't totally clear yet. Still, you don't have to look too hard to find products that already mix caffeine with two key compounds of marijuana, CBD and THC. Read on to learn more about how caffeine can interact with marijuana and the potential side effects and risks of combining the two.
Do they counteract each other?
Research on the interaction between caffeine and marijuana is still in the early stages, but so far, it seems that consuming the two together may produce different effects than using them separately. Caffeine generally acts as a stimulant, while marijuana can act as either a stimulant or a depressant. In other words, using caffeine tends to energize most people. The effects of marijuana can vary, but many people use it to feel more relaxed. It may seem possible, then, that caffeine might cancel out the effects of marijuana, or vice versa. For example, maybe smoking a little weed could help counteract coffee jitters. But so far, there's no evidence to support that the two counteract each other in any way.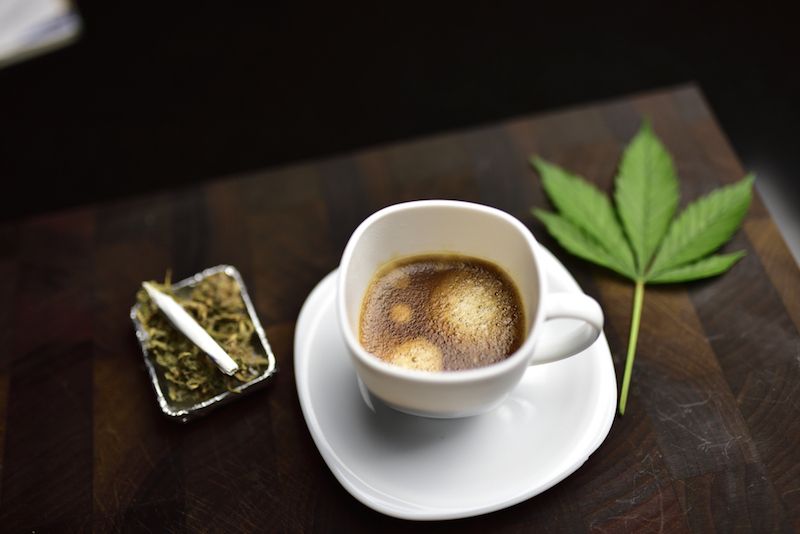 What are the effects of mixing them?
While there's no evidence to suggest that marijuana and caffeine simply cancel each other out, two animal studies suggest that mixing the two may enhance some of marijuana's effects.
How to make coffee with cannabis
Time 7 minutes
For some people, this is the most enjoyable way to start or end the day, combining two products they love: coffee and cannabis; the science concludes that coffee consumption increases the desire to consume cannabis. We discuss how to prepare this combination and its effects, among other things.
A few days ago, I met a friend on the street. He barely noticed I was there. He was painting one of his paintings, but with particular dedication. I didn't want to disturb him, but I was curious to know what he was painting. The first thing he said to me was when I approached him: God bless coffee with cannabis!
Cannabis coffee? I didn't understand anything. He and I share our passion for cannabis, so the first thing I thought was that it was a new product he bought. Finally, he told me that he had tasted cannabis coffee for breakfast and that he felt really inspired.
Then I understood everything. Some time ago, a common friend told us about the benefits of having breakfast or finishing the day with a cannabis coffee. I had tried to take cannabis herbal teas (How to Make Marijuana Infusion), but it wasn't the same thing.
Tell me, when do you usually have coffee? in the morning? in the afternoon? at night? Probably, if you like it very much, you will drink it several times a day and almost certainly there will also be a specific goal for each of these cups, even if you don't know it consciously.
I explain myself. Usually, when we drink coffee in the morning, it's usually to cool our minds, as well as after lunch, when you're knocked out or in the middle of the morning, when you're hungry or feel that if you don't drink it, you won't be able to continue your chores.
Something similar happens with cannabis. If we smoke it in the morning, or at least if we do it during the week, we always try to use one that activates us, a sativa. If we also carry out artistic works, as was the case with my friend, we will also seek to achieve this effect.
If you've ever read the stories of Sherlock Holmes, you've probably heard this sentence:"There's nothing like a cup of coffee to stimulate brain cells," but you know as well as I do that there's something else. Isn't that correct?
Am I wrong or am I on the right track? Well, I'll keep going. If we smoke at night, we usually use an indica, which helps us to relax and fall asleep. Like when we were having decaffeinated coffee.
And another question: how many social cafes do you have? That is, how often do you meet for coffee? In such cases, the objective is different. Usually to have a good time. Like when you smoke cannabis with a laugh and date friends.Therefore, the first thing to keep in mind when preparing your coffee with cannabis is the type of effect you want to achieve and also the time of day.
But since I know that you also like to drink coffee, don't forget its flavour, because depending on the type of roasting you choose (light, medium or strong), it would also be advisable to choose one type of cannabis or another.
Par exemple, pour les cafés torréfiés légers qui sont généralement beaucoup plus acides, mais au goût plus sucré, une variété de Skunk, comme Cheese, sera excellente parce qu'elle rehaussera la saveur du café, mais contrebalancera l'acidité. Ce pourrait être une combinaison parfaite pour commencer la journée, car elle vous apporte bonheur et créativité.
However, if you opt for strong roasted coffees, there's nothing like Blueberry, whose fruity flavor will go wonderfully well with this type of bitterness. If you also choose a variety with touches of chocolate or nuts, the result will be epic. How about a Blueberry 99 to start the day? It will bring you happiness and inspiration and make you enjoy your first cup of coffee of the day as never before.
In the case of medium roasting, it is also advisable to choose a sweet-tasting cannabis, but it all depends on how you like coffee. The fact is that combining the softness of one with the other could be excessive if you don't manage to do it properly.
A different 'high'
A 2014 studyTrusted Source looked at squirrel monkeys who had been given THC, the compound in marijuana that produces the high. The monkeys had the option to keep receiving more THC.
Researchers then gave them different doses of MSX-3, which produces effects similar to those of caffeine. When given low doses of MSX-3, the monkeys gave themselves less THC. But at high doses, the monkeys gave themselves more THC.
This suggests that low levels of caffeine may enhance your high so you don't use as much. But high levels of caffeine could affect your high in the opposite way, leading you to use more marijuana.
More research as needed, as this small study was conducted only on animals, not humans.
Memory impairment
Caffeine helps many people feel more alert. You might drink coffee, tea, or energy drinks every morning to help you wake up, or just to help increase your concentration when you feel tired or less focused than usual. Some people also find caffeine helps improve working memory. Marijuana, on the other hand, is known for its less desirable effect on memory. Again, you'd think the two would balance each other out, but that doesn't seem to be the case. A 2012 studyTrusted Source looking at how a combination of caffeine and THC affected memory in rats. The results suggest that a combination of caffeine and a low dose of THC seemed to impair working memory more than a higher dose of THC would on its own.
Are there any immediate risks?
So far, there haven't been any reported cases of extreme risks or side effects of combining caffeine and marijuana. But that doesn't mean they don't exist.
Plus, people can have varying reactions to both caffeine and marijuana. If you do try mixing the two, make sure you first understand how your body reacts to each one individually. If you're sensitive to marijuana, for example, combining it with caffeine might result in an unpleasantly strong high.
If you do decide to mix marijauna and caffeine, follow these tips to help you avoid a bad reaction:
Start small. Start with small amounts of both, less than you would typically consume of each individually.
Go slow. Give your body plenty of time (at least 30 minutes) to adjust to the combination before having more of either substance.
Pay attention to usage. It might sound like overkill, but it's easy to lose track of how much caffeine or marijuana you've had, especially when mixing the two.
There are serious side effects that can come from ingesting very high doses of caffeine, from high blood pressure to rapid heart rate. There have also been deaths related to ingesting large amounts of caffeine, though researchers notedTrusted Source that the deceased took caffeine pills or powder, not caffeinated drinks.
Above all, make sure to listen to your body and mind. If you experience unusual symptoms after mixing the two, reach out to a healthcare provider for guidance. You likely aren't in any great danger, but the combination of caffeine's heart-racing effects and marijuana's tendency to cause anxiety in some people can be a recipe for panic.
What about long-term effects?
It's unclear if mixing caffeine and marijuana has any long-term effects. But remember, an animal study found that consuming THC with large amounts of a substance that mimics the effects of caffeine may minimize marijuana's effects. This might lead you to use more marijuana than you usually would.
Over time, repeatedly using increasing amounts of marijuana may lead to developing a substance use disorder.
If you regularly mix caffeine and marijuana, keep an eye out for these signs of a substance use disorder:
developing a tolerance to marijuana, requiring you to use more to achieve the same effects
continuing to use marijuana despite not wanting to or encountering bad effects
spending a lot of time thinking about using marijuana
paying close attention to maintaining a constant supply of marijuana
missing out on important work or school events due to marijuana use