Cheeseburger is a hybrid strain of cannabis shrouded in almost complete mystery. No one knows for sure the exact Indica/Sativa ratio on this flower, but users agree that its effects are more Indica-leaning than they are Sativa-leaning. Very little is known about this strain. This strain was first bred by Cannasol Farms in the US, but the genetics behind this strain have not been disclosed to the public. In addition, test data for this strain is scarce, with only one reliable test showing a THC concentration of 20% in this flower.
Cheeseburger bred by Cannasol Farms produces insane yields and is best suited growing outdoors in the proper climate conditions. Uplifting cerebral euphoria and happy moods are provided at the same time as energy and creativity is encouraged. Users need to be careful of couch-lock and parania
What we do know about this flower pertains to its growing preferences. We know that this plant can grow exceptionally large, especially when left to its own devices in an outdoor grow. This specific strain has been known to yield pounds of smokeable flower per plant. Strangely, most note that this bud grows the best in places where there are long summer nights.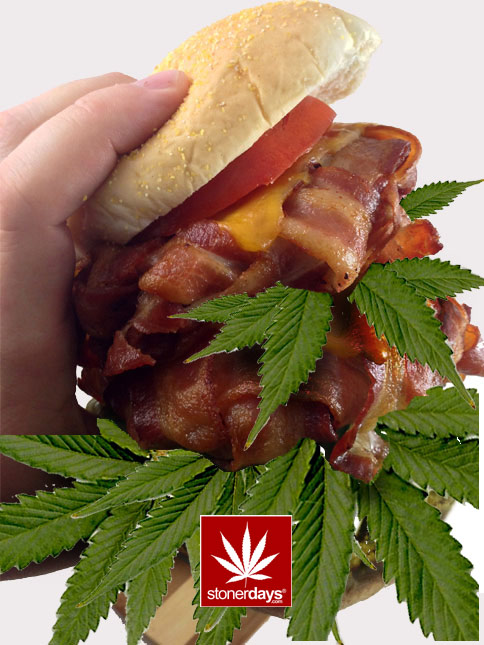 The high from this strain is reportedly quite uplifting. Users should expect mild cerebral euphoria and creativity to come after smoking a bit of Cheeseburger. Many have reported that this high is quite a mood-booster, instantly melting away thoughts of depression, stress, and anxiety. This strain's true powerhouse is its Indica effects, however. This strain is great for those who like couch lock, as the body high from this flower is quite potent. Many users have reported a light body buzz building into a state of pure mind-body relaxation in which nausea, pain, and worry melt away. If you're not careful, this state could turn sedative and you might end up sleeping wherever you're sitting.
How to make the strain infused cheeseburger
Learning how to make a weed cheese burger was a gamechanger. This delicious edible recipe is a spin on a classic cheese burger recipe. The best part; it only takes 32 minutes from start to finish.
If you're just skimming this post, make sure to check out the potency calculator at the bottom. It will help you determine the total mg of THC per serving.
Here's what you're going to need
To make a cannabis-infused cheese burger, you're going to need cannabis butter. This is not an ingredient that you'll find at your local supermarket, you're going to need to make this at home. If you don't know how, we have a comprehensive guide to making cannabis butter here.
This cannabis infused cheeseburger recipe is the stuff dreams are made of, here's why:
In this cannabis infused cheeseburger recipe we will show you the key to an amazing cannabis infused beef patty. This burger starts with a sesame seed bun, wrapped around a perfectly seasoned, mouth-watering hamburger. We top this off with your favorite cheese, crisp onion, lettuce, juicy tomato, pickles and burger sauce. The best part about this weed-burger is that it is completely infused with THC.
How do I get this weed infused cheeseburger started?
Our cannabis infused cheeseburger recipe we will show how to infuse burger patties with cannabis without wasting any valuable THC. To make that happen, you will first need to make a cannabis butter before starting the rest of the recipe. Cannabutter roughly takes 3 hours to make, so be sure to make it ahead of time.
Once your cannabis infusion is ready to go, it's time to start working on the weed burgers. High quality meat is important in this burger, so make sure to get the best from your butcher. And, ask for the meat to be at least 20% fat and 80% lean.
When you would be making a regular burger, an oven is usually not needed. However, for this cannabuger recipe, we use an oven to make sure the THC does not degrade due to high heat. We also brush any remaining cannabis butter from the pan onto the buns and crisp 'em up in the oven.
Let's get this patty started!
Do you hope to plan this recipe for a cannabis party or for 420? You can easily create smaller patties and pick up small buns. Are you picking up what we're putting down? Use this recipe to create cannabis infused sliders!
Enjoy the recipe and always consume weed edibles responsibly! Hit us up in the comments below and tag us on social media! We would love to see how your canna-cheeseburger turns out!
Ingredients
2 Pounds Freshly grounder chuck 20 percent fat
12 Slices American cheese
6 Burger buns
6 Tbsp Cannabis butter
Salt and pepper
Sliced tomatoes
Sliced pickles
Sliced onions
Lettuce
Burger sauce
Decarboxylate and Infuse Cannabis1 Grind cannabis, cover and place in oven safe dish, place in oven set at 250°F for 25 minutes . Remove cannabis from oven and combine with butter in , cover and place in oven still set at 250°F for 25 minutes. Strain butter from cannabis flowers. Let chill until solid.Assemble Burger. Cut 2 thick slices from the onion. Divide beef into 4 equal balls and flatten into thin patty. Stack each burger on a separate piece of foil about 10″ square. Start with onion slice on bottom, then add a patty of beef. Smear each patty with half of the butter. Add a slice of cheese on top pulled into smaller pieces leaving an edge of meat. Finish stack with second meat and seal edge as best as possible.
Instructions
In a large bowl, mix ground beef and cannabis butter until just combined. Do not overmix.
Divide into 6 portions and create nice round patties. Using your hands or a burger pattie device.
Season the patties with salt and pepper. Preheat your cast iron pan and sear the burger 1 min per side. Do this with all 6 burgers and transfer to an oven tray. (Keep the remaining fat in the pan for the buns)
Finish the burgers in the oven untill medium well on 350F.
While the burgers are in the oven: Take your buns and cut them all in half. Place on an oven tray with the insides facing up. Take the remaining fat that was in the burger pan and brush the inside of your buns with it. Place buns in the oven on 350F untill nicely golden.
Take out your burger patties and place sliced cheese on them. Put back in the oven for 10 sec untill cheese melted nicely.
Start building your burger with all vegetables, burger sauce and meat patties.
Enjoy!