What are the benefits of CBD brownies?
Edible CBD products, like our CBD brownies, may help support cartilage and joint function, provide positive mental support, help improve mood, promote relaxation, help maintain immune system and cardiovascular function, and provide relief for mild discomfort. CBD may also help with trouble concentrating, difficulty sleeping, and help remove impurities from the body. CBD brownies also make a tasty snack!
How are CBD brownies used?
Our CBD brownies can be eaten as needed, whenever you'd like a serving of CBD. Each brownie is two servings, so you may want to eat only half at a time. Each serving contains 15mg of CBD, which equals 30mg per full brownie. Get the benefits of CBD oil while satisfying your sweet tooth at the same time!
Why Make Brownies with CBD Oil?
CBD oil, which is the commonly-used term for Cannabidiol, is a non-psychotropic natural substance derived from the hemp plant. Unlike THC (tetrahydrocannabinol), CBD does not produce a "high."
However, it is considered to have anti-inflammatory properties, and as such CBD oil has become commonly used for treating minor aches and pains.
While these and other claims – like CBD helping with anxiety, nausea, insomnia, eczema, and a slew of other conditions – have not been scientifically evaluated and proven, a simple Google search on the subject shows that many people are firm believers in the medicinal benefits of cannabidiol.
Which part of the brownie contains CBD?
Our CBD brownies have CBD in their icing. So, if you're not a fan of icing and were planning on scraping it off, don't! You won't get the benefits of CBD without the icing; you would just have a tasty, but regular, non-CBD brownie. And if you're like us, you know that the icing is the best part of the brownie anyway!
Many of us love brownies right from our childhood. Astonishingly, brownie recipes evolved a lot with interesting and lovable combinations. However, would you even think about eating a chocolate brownie when you are in unbearable and extremely unpleasant pain?
Primarily, people consume CBD, infused food products to get relief from pain and inflammation. Studies claim that CBD can reduce pain and provide relief from symptoms of chronic pain. Unsurprisingly, CBD can be included in brownies just like THC cannabis can be added. That way, it becomes enjoyable and lovable to include CBD to one's diet while enjoying your favourite snack.
Unlike THC brownies, CBD brownies are non-psychoactive and safe to consume by everyone. Further, self-cooked brownies tend to be hygienic and tastier than the ones you buy from the retail stores. Equally, including CBD to the brownie makes it easier to make kids enjoy a nutrition-rich diet.
CBD brownie for Vegans and Non-Vegans
CBD is derived from the cannabis plant, and it is vegan. However, CBD users are not limited to vegans or non-vegans. CBD brownies can be prepared with or without eggs. For the benefit of all, we will discuss the preparation methods for both vegans and non-vegans.
Non-Vegan CBD brownie
Ingredients
½ cup Flour
1 cup Sugar
1 cup of sunflower oil
1/3 cup Cocoa powder
½ teaspoon baking powder
¼ teaspoon salt
1 eggs
CBD oil
Vanilla extract
Instructions
Step 1:
The oven is to be preheated to 180°. Now, blend the sunflower oil and sugar in a bowl until it gets blended thoroughly. Once it gets blended, add vanilla extract and CBD as required. Plus, add the eggs and stir the mix till its blend well.
Step 2:
Separately, take a bowl and include salt, flour, baking powder, and cocoa powder. Add the wet mixture which you prepared in step 1 to the bowl and stir it well to blend it. Now you got the perfect brownie mix ready to pan.
Step 3:
Pour the mix into a well-greased pan and cook till the sides of the brownie get separated from the pan. Place the cooked brownie on a plate and allow it to cool. Cut it into pieces and enjoy the brownie.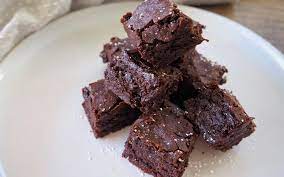 Vegan CBD Brownie
Except for the eggs, everything else is going to be same to prepare a vegan CBD brownie. On top, you will be adding sunflower oil, almond oil, and apple sauce in the Vegan CBD brownie recipe.
Ingredients
3 cups of sugar
2 cups apple sauce
2 cups of cocoa powder
4 cups flour
1 ½ teaspoon salt
1 cup almond milk
1 tablespoon vanilla extract
1 ½ cups sunflower oil
CBD oil
1 tablespoon baking powder
Step 1:
Set the preheat to 160° in the oven. Prepare the dry mix with cocoa powder, sugar, flour, and salt by mixing it well in a bowl. Ensure it gets mixed well to avoid an uneven or rough surface on the brownie.
Step 2:
Prepare the wet mix by adding sunflower oil, CBD oil, almond milk, apple sauce, and vanilla extract. Stir it well to blend it well.
Step 3:
Now pour the wet mix in the bowl which contains the dry mix prepared in step 1. Mix everything using a whisk, so that you get a smooth and perfect brownie mix.
Step 4:
Grease the pan and pour the brownie mix to cook it till the sides get separated from the pan. Make slices and enjoy the perfect vegan CBD brownie.
CBD brownies with vaped buds
Practically, including the vaped CBD buds to the brownies is the easiest preparation method. Right from preparing the wet mix till cooking the brownie everything is the same as the vegan CBD brownie. 
Except, at the final step, you should melt the chocolate and pour it on the cooked CBD brownie. On top, sprinkle the vaped CBD buds on the melted chocolate.
CBD brownies with Cannabutter
Hope you all know what is the cannabutter. To put it simply, fine CBD strains are added to the butter. That way, cannabidiol gets activated. Before the chocolate is added to the brownie mix, cannabutter has to be melted and mixed with the chocolate. That way, CBD gets added to the recipe without disturbing the actual taste and flavour of the brownie.
Wrap:
CBD brownies are a great way to include CBD to your diet. Having said that, preparing it on your own makes it authentic and tastier. Moreover, if you learn to cook CBD infused foods on your own, then you can customize the flavour as per your needs.
As we discussed, you can cook CBD brownies using cannabutter, vaped CBD buds, or CBD oil. Remember, no matter if you add more flavour or sweetness to the brownie, you should always add a limited amount of CBD to it.
Precisely, making brownies with proper CBD dosage is critical to avoid any unpleasant side effects. Besides, it helps in preventing the taste of CBD from disturbing the actual taste of the brownie.