Chewy. Gooey. Weed Rice Krispie Treats are here to soothe away all of your rough edges.
Enjoy this easy childhood classic original recipe as you relax into the perfect cannabis-infused high. There is no craving these satisfying edibles won't cure!
Even if you don't know how to make Rice Krispie treats, you'll be able to make these!
When it comes to the famous Rice Krispies, there's no shortage of recipes. But have you ever tried Rice Krispies edibles before? Well, now you can! Introducing weed-infused rice krispy edibles. A super simple recipe that only requires 3 ingredients!
Want to eat your feelings?
Feel your own crunchy edges melt away as these chewy, gooey Rice Krispie Treats get you high.
Cannabis-infused butter folds perfectly into this recipe to level up your childhood favorite treat to your adult favorite edibles!
BEFORE YOU GET STARTED
If you're new to cooking with cannabis, you'll want to learn more about getting started. It's not hard to cook with cannabis, but there are a few things you'll need to understand first. For this recipe, you'll need to know:
How to Decarb your Weed
How to Make CannaButter
Our dosing guidelines (how much you'll want to eat to find your perfect high). For this recipe, we recommend cutting your Cannabis Rice Krispie Treats into 12 equal servings.
HOW TO MAKE CANNABIS RICE KRISPIE TREATS This recipe will truly bring back your best childhood memories. And the process you follow to make them will be just like the process you followed as a kid.
With one tiny ingredient change.
First you'll mix CannaButter, regular butter and marshmallows in a microwaveable bowl or in a pot on the stove and melt them all down.
Then you'll stir in your Rice Krispies cereal.
And finally you'll press them into a greased 9×13 pan. Let them cool, cut them into 12 equal servings and enjoy!
It really is that easy to get high.
HOW HIGH WILL I GET WHEN I EAT ONE OF THESE CANNABIS RICE KRISPIE TREATS?
You can read all of our dosing guidelines here. For this recipe, we recommend cutting your Rice Krispie Treats into 12 equal servings.
For one reason or another, cannabis users have always had a soft spot for cereal. I'm not entirely sure why that tends to be the case, but often you'll spot a stoner, fresh off a smoke session, comfortably lounging on their couch, with their TV on, and a bowl of freshly poured cereal in their lap.There's something inherently pleasing and relaxing about diving into a few bowls of your favorite breakfast cuisine to fend off those ever-present "munchies." A wave of nostalgia (and deliciousness) takes over with each delectable bite of these miniature milk-covered morsels of greatness. But, while it goes without saying, not all cereals are created equal. There are brands and types out there that are far superior than anything else you'll find in the cereal aisle.
However, even though there's a veritable plethora of options to choose from when it comes to cereal, there's a few selections that prove their worth through versatility. By that I mean, most cereals are only enjoyable when placed in a bowl full of milk, but there are others on the market who can transform themselves into a hearty, super-satisfying treat.Emphasis on treat.Perhaps, some of you already know where I'm going with this, or maybe you simply read the title of this recipe and deduced what I was referencing on your own. Regardless of your "detective" work, the fact remains that I am talking about the one, the only, Rice Krispies.
WILL THESE CANNABIS RICE KRISPIE TREATS CHANGE MY LIFE?
Anything is possible. And lives have certainly been changed by less. We say give it a try!
INGREDIENTS
2 tablespoons CannaButter
1 tablespoon regular butter
1 package (10 oz., about 40) Marshmallows
6 cups Kellogg's® Rice Krispies® cereal
INSTRUCTIONS
STOVETOP INSTRUCTIONS
In a large saucepan, melt CannaButter and regular butter over low heat.
Add marshmallows and stir until completely melted. Remove from heat.
Add Rice Krispies cereal. Stir until well coated.
Using wax paper, evenly press mixture into 9×13 pan coated with cooking spray.
Cool.
Cut into 2-inch squares to create 12 equal servings.
Best if served the same day.
MICROWAVE INSTRUCTIONS
In microwave-safe bowl heat regular butter, CannaButter and marshmallows on HIGH for 3 minutes, stirring after 2 minutes.
Stir until smooth.
Follow steps 3-7 above.
NOTES
For best results, use fresh marshmallows.
Store no more than two days at room temperature in airtight container.
To freeze, place in layers separated by wax paper in airtight container. Freeze for up to 6 weeks. Let stand at room temperature for 15 minutes before serving.
To make this recipe gluten free, be sure to purchase gluten free Rice Krispies Cereal.
To make this recipe dairy-free, use the dairy-free butter of your choice when making your CannaButter and as a substitute for the regular butter.
How Do I Make Rice Krispies Squares From Scratch?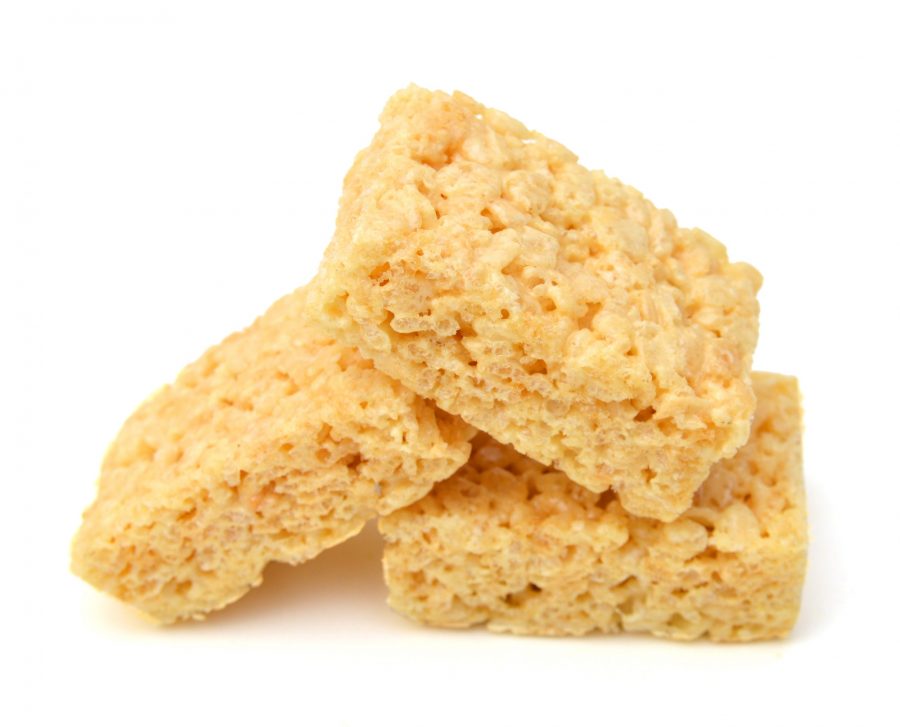 You'll need a few basic ingredients that will take you less than five minutes at the grocery store to grab.
Marshmallows are the binding ingredient that holds these bad boys together and gives them a sweet, gooey-texture that you loved as a kid.
When choosing marshmallows, always check the expiry date and grab a few bags of the big ones – no small stuff here!
Cannabis butter, however, is the next best thing to sliced bread and it adds a rich, delicious and velvety-smooth taste in your mouth. Start drooling now!
Of course, you can't have Rice Krispies without an old-fashioned box of Rice Krispies. Make sure you get the box with Snap,Crackle and Pop on it – don't skimp here and get a no-name brand.