A handful of startups are hoping cannabis-infused beverages become a trend. But while other CBD purveyors have leaned more heavily toward fizzy drinks, these producers are reaching for the brass ring with the development of "cannabis wine."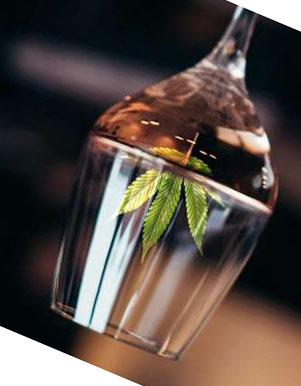 A wine-like product, these THC- and CBD-infused concotions are made with wine grapes sourced from reputed regions, including California's Sonoma County and Napa Valley. But instead of getting a buzz from alcohol, the sensation stems from the addition of a water-soluble cannabis mixture added to dealcoholized wine. And like real wine, you'll feel the effects in a matter of minutes.
Marijuana is becoming a culinary ingredient as more states focus on making the drug available for recreational use. Marijuana infused wine is growing in popularity, allowing people to drink their favorite beverage with the addition of pot inside of it. Is it really wine? Will it get you high? What are the benefits? We have all of the answers that you're probably asking right about now.
Let's be honest for a second; while we all know what it takes to be healthy, we are also aware that some healthy habits aren't fun.
Removing layers of blankets from your warm body at five in the morning in the dead of winter to push your body to its limits during spin class is one of them. Having to eat grilled chicken breast and brown rice on most days to get a flat tummy is another example.
Sure, it's exciting to see your hard work pay off, and there is nothing quite like the high that comes from a workout, but admittedly, these healthy habits aren't easy to adopt. So when a fun health habit comes around, most of us jump on the bandwagon and enjoy the trend. A bite of dark chocolate is one health habit we like to enjoy.
These days, there is a new product on the market that is proving to be of benefit to many, and it happens to be a fun way to be healthy — cannabis-infused wine.
What is cannabis-infused wine?
Cannabis-infused wines are a blend of CBD and wine. Cannabinol (CBD) is derived from the Cannabis Sativa plant, but unlike marijuana, CBD does not have psychoactive effects.
Marijuana contains a high percentage of THC, which is the compound that makes people high. On the other hand, CBD products with less than 0.3 percent of THC cannot get you high and are considered safe.
CBD comes in many forms, and you can easily find the product which best suits your lifestyle. There are CBD oils, balms, e-liquids, bath bombs, candles, and more. Some of our favorite CBD edibles happen to look like CBD gummies, making them the perfect CBD treat to ingest discreetly when in public.
When experts are creating their CBD-infused wines, they use tinctures to honor both the taste of the CBD and the wine. In doing so, they create a product where the two intense flavors mix seamlessly together.
Five reasons to try CBD-infused wines for better health
Now that you know more about CBD, here are five good reasons to try CBD-infused wines to improve your overall health.
#1 – CBD-infused wines contain less alcohol.
You may enjoy a glass of wine at the end of the day, but you're not entirely happy about the amount of alcohol you consume per week. Although a glass of wine a day increases the level of good cholesterol in the body and can limit atherosclerosis, you may still wish to decrease your alcohol consumption. With CBD-infused wines, you can do just this as these types of wines contain less alcohol.
#2 – CBD-infused wines are rich in antioxidants.
Antioxidants are essential to our body as they help repair the damage done by air pollution, the unhealthy food we eat, and even smoking.
We can give the body more antioxidants by consuming antioxidant-rich foods. CBD and wine, especially the red variety, both happen to be rich in antioxidants, and together, they can neutralize the harmful cells in the body.
#3 – CBD-infused wines help the heart.
It appears that together, CBD and wine can keep the heart healthier for longer. Studies have shown that when a person consumes up to two alcohol drinks a day, the risk of coronary heart disease decreases by 20 percent. When it comes to CBD, preliminary studies show that it can benefit the heart thanks to its anti-inflammatory properties. This is because inflammation leads to various diseases, such as high blood pressure, stroke, and coronary heart disease.
#4 – CBD-infused wines have anti-aging effects.
Having brighter and smoother skin is something we all strive for. Both CBD and wine have the potential to slow down the aging process of the skin. Among the vitamins and minerals found in antioxidants is retinol.
The latter is the one that fills in wrinkles, smooths fine lines, and brightens the skin. Retinol also softens bumps and patches. It fades scars and helps reduce acne as well.
#5 – CBD-infused wines boost mental health.
Stress and anxiety seem to be the norm these days. Although it is common to feel stressed or anxious, you should not allow yourself to become consumed by such negative emotions and thoughts as they can lead to more serious mental health issues such as depression. CBD and wine are both known to help people relax. When infused together, they continue to give us the sense of peace we are looking for at the end of the day.
Studies show that CBD has the potential to release serotonin and dopamine in the body — the happy chemicals that provide us with a sense of well-being. Studies have also shown that drinking a small amount of wine can relieve stress and anxiety.
Bigger bottles, bigger problems
In addition to the challenges shared by other infused beverages such as marketing language and navigating muddy legal waters, the logistics of large bottles presents challenges unique to wine. Salarizadeh laments, "Restrictions on infused beverages are crazy to begin with, but any beverage similar to wine is even more restricted … regulations are very favorable to single-serve jars, [for example] in terms of childproofing closures." In 2020 the bottles will need to be re-sealable and child-resistant for the life of the product.
Tracy Mason, co-founder and CEO of House of Saka shares the extreme challenge this represents by explaining "that technology is being developed, it doesn't exist…[we have] to meet a standard that doesn't exist yet, even in any other industry."
The standard 750-milliliter bottles, which contain five servings each, are also more difficult to work with in facilities licensed to distribute cannabis beverages that are typically packaged in single-serve bottles and cans; the infrastructure to get these bottles from point A to point B had to be created by pioneering brands in California, and still doesn't exist in most states.
The culture of weed wine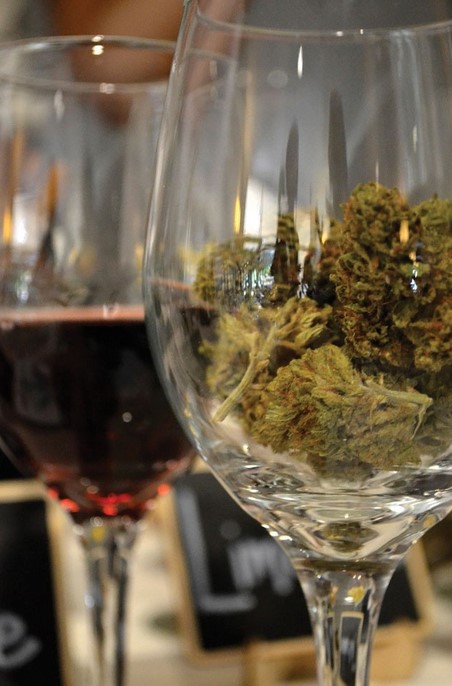 What sets cannabis wines apart? First and foremost, the audience. People want a delicious and relaxing non-alcoholic beverage that won't give them a horrible hangover. Alana Burstein, founder and president of Viv & Oak puts it simply: "Our whole mission is to provide a solution for people who don't drink alcohol, like myself … women between 35 and 65 is our target market." This particular audience may be underserved by the abundance of other soda and beer infusions. Just like regular wine, there is an element of luxury and social conviviality that these brands embody.
A great pull for cannabis-infused wine is the ability to control the dose. Like other infused beverages, weed wines offer a low-dose serving that sets on relatively quickly — within 20 minutes — and lasts about an hour. This is a far cry from some of the early prototypes, as Larson pointed out that "a lot of the infused beverages that people might have been familiar with in the past were sugary and high potency, very much like a liquid edible: you take it, it's a long onset and a very heavy, long experience, not very social and not a real beverage experience." Contemporary wines offer a consistent relaxing buzz similar to a glass of regular wine.
Now that you have learned some of the most critical ways CBD-infused wines can benefit your health, you have no other excuses than to get out there and try this sweet nectar for yourself.