This ice cream is an easy to make recipe with a short ingredient list. All you need is cannabis butter, whipped cream, mint, vanilla and condensed milk! You will need a couple of large bowls and a freezable container. Be sure to have some utensils handy for mixing!
Basic Weed Ice Cream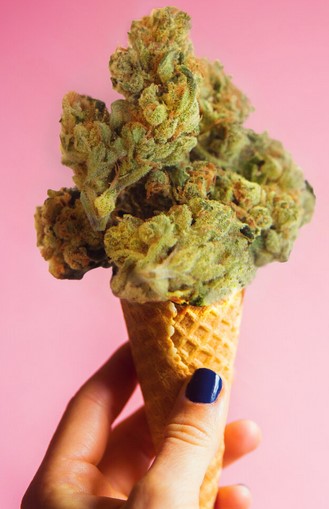 Yield: about 3 quarts
The following recipe creates a plain, white ice cream base. To add flavor, steep your milk with vanilla or herbs before mixing it with the weed cream. Peetz likes balancing out marijuana's earthy flavor with a sweet and sour strawberry rhubarb topping, made by cooking the fresh fruit with sugar until the water has evaporated.
Ingredients
1 ½ cups weed cream
4 cups milk
1 cup sugar
3 ½ tbsp honey
¾ cup dry milk powder
Scant tsp xanthan gum
3 large eggs
½ tsp kosher salt
Instructions
Heat the weed cream and milk to a simmer in a medium saucepan. Turn off the heat, and add the rest of the ingredients except for the eggs and salt. Whisk to dissolve the sugar and milk powder. (The xanthan gum may not dissolve totally. This is okay.) In a separate bowl, whisk the eggs until frothy and temper with a small amount of the hot cream mixture. Pour everything back into the saucepan. Turn the heat back on low and slowly bring the mixture up to 173 degrees, stirring the bottom of the pot often with a rubber spatula. Remove from heat. Add salt. Blend the mixture on a blender's low setting for one minute. Strain through a fine sieve into a container. Place the container in an ice bath. Let chill completely. Add honey or maple syrup to sweeten. For a bright flavor, add a squeeze of lemon. Spin the liquid mixture in your ice cream machine and serve.
Cannabis Ice Cream #1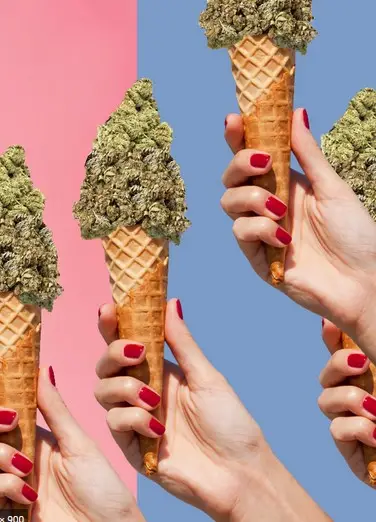 Follow the step-by-step recipe below to create a delicious ice cream
Be sure to let us know on social media and in the comments below what you think of this recipe!
Ingredients
4 Tbsp Cannabis butter
2 Cups Whipping Cream
1 Can(14oz) condensed milk
1/2 tsp Vanilla extract
1/4 Cup Chopped mint
Instructions
Whip the cream till stiff, Add all remaining ingredients in separate bowl and mix. Now fold the mixture with the whipping cream. Store in a container and freeze for 6 hours.
Serve the Cannabis Ice cream
Cannabis Ice Cream #2
Ingredients
5g hash or 10g finely ground bud
500ml heavy cream (or vegan equivalent)
Pinch of salt
400g banana
75g sugar or alternative sweetener
3 tbsp. rum
2 tbsp. butter (or vegan equivalent)
5 tbsp. honey (or vegan equivalent)
Instructions
Pour the cream into a saucepan and bring to a simmer over medium heat.
In a second saucepan, place your butter, sugar, and salt on medium heat and stir as they begin to melt.
Take your ground, decarboxylated weed and stir it into the saucepan with the butter, sugar, and salt, making sure to evenly distribute the weed.
Whisk the warm cream into the butter mixture.
Mash up the banana in a large bowl.
Once mashed into a paste, add the cream mixture, rum, honey, and any other ingredient you want into the bowl.
Mix everything together until the entire mixture has a paste-like consistency.
Place the mixture in the freezer for a few hours, until it begins to have a mushy consistency.
Take the bowl and pour the mixture into a suitable freezer container.
Whisk once again until the mixture is smooth.
Place a lid on the container and keep in the freezer until it is firm.
Cannabis Ice Cream #3
Ingredients
1-1/4 cup of All Purpose Flour
1/2 tsp of Baking Soda
1/4 tsp of Salt
1/3 cup of Granulated Sugar
1/3 cup of Brown Sugar
1/3 cup of Unsalted Butter, softened at room temperature
1 Egg
1/2 cup of Chocolate Chips
1 tsp of Vanilla Extract
Instructions
In a small food processor, add the chocolate chips and pulse until they are finely chopped and resemble coarse sand, set aside.
In a large bowl, using a spatula, cream together the butter and both kinds of sugar, add the egg and vanilla and mix until combined.
Add the flour, baking soda, salt and chocolate mixture and mix everything together.
Wrap the cookie dough in plastic wrap and pop it in the fridge for a couple hours.
Preheat the oven to 375 degrees, take a couple of muffin tins, flip them upside down and spray them with non stick spray.
Roll out the dough out on a floured surface, take a 4" biscuit cutter or small bowl and cut out little disks (re-roll the scraps and keep cutting) place each one over the muffin cup (fight the urge to cut them too big because they will expand as they bake, trust me) making sure to not put them all next to each other because they will all bake together otherwise.
Bake them for 12 to 15 minutes until golden brown then allow them to cool before serving.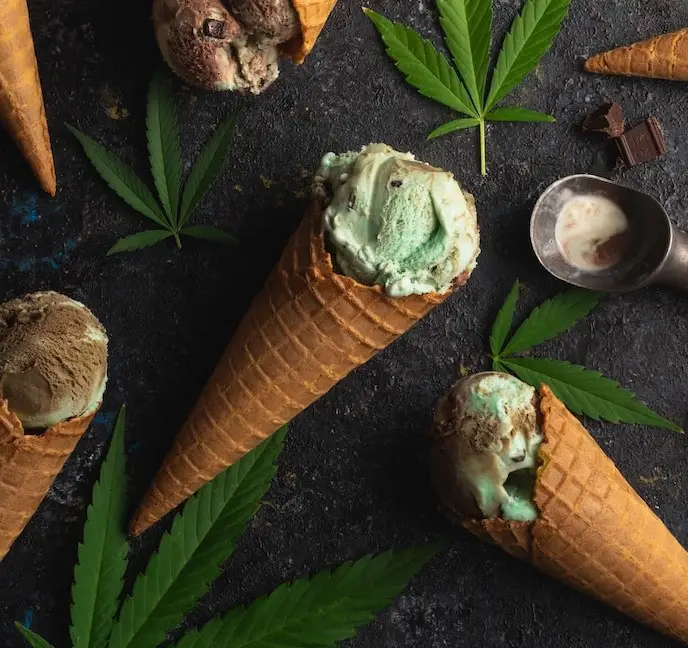 BEST WEED ICE CREAM STRAINS
If you have a chosen strain in mind to use with your ice cream, that is absolutely fine! If, however, you are looking for suggestions to get the most flavour and the biggest buzz from your ice cream, keep these strains in mind!
CHOCO HAZE
There should be very little confusion as to why we picked this strain. Choco Haze is a sativa-dominant hybrid boasting a sweet taste that perfectly partners with any ice cream. Sultry, rich chocolate flavours are a flat-out classic in ice cream, and cannabis strains for that matter. Choco Haze provides a potent yet smooth and tranquil high that won't give you a brain freeze!
GELATO
Gelato is a super-sweet-smelling strain, but also has some incredibly dense, varied, and textured flavours. In a good way! Mouthwatering hints of lemon, mint, and vanilla will tease your taste buds. This is a strain that is clearly crying out to be added to edibles of some kind. Don't delay and add some Gelato to your cannabis ice cream today!
STRAWBERRY BANANA
As the name suggests, you can expect a flavour powerhouse consisting of bananas and strawberries with a pure and pleasing aroma to match. Couple that with a soothing and long-lasting high, and we're sure you'll agree; you have a perfectly sweet accompaniment that can be added to any cannabis ice cream recipe! Strawberry Banana is simply begging to be included in sweet edibles.