Edible snickerdoodle cookie dough is full of cinnamon sugary goodness! Egg-free and with heat-treated flour, this cookie dough recipe is safe to eat!
This ultimate guide will help you make the most delicious edible and safe cookie dough. All five flavors store well in the refrigerator and can be frozen. You can also bake them! See all our tips below.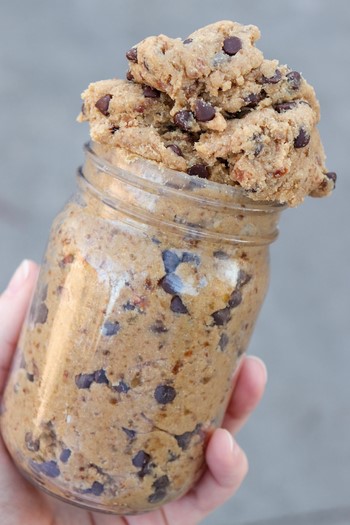 Edible cookie dough is simple to make. It's very similar to baked cookies. Start by beating butter and sugar together until fluffy, light, and creamy. Then add in dry ingredients like flour and mix until a dough forms. You can use a hand mixer or stand mixer. If you don't have a mixer, you can make the dough by hand. The texture won't be as fluffy, but it will still taste great.
Normally, the answer to this is no due to a small chance of contaminated flour and/or eggs, but thanks to our smart edible cookie dough recipe you can enjoy it without safety issues.
Based on our research, here's what we have learned: There are two culprits that make regular raw cookie dough unsafe to eat: unpasteurized eggs and raw flour. In this recipe, we remove the eggs completely and heat treat the flour so that it is safer.
Research is still being done surrounding the safety of raw flour. There was a recall of flour in 2016. Since we are not flour safety experts, here's what the US Department of Health and Human Services has to say about it. (No matter what recipe you follow, it's always a good idea to check flour recalls.)
To be safe, in this recipe, we treat the flour so that it reaches a minimum of 165 degrees Fahrenheit. You might also find heat treated flour for sale online. We're hoping more flour brands do this in the future, but for now, we did see that Page House sells heat-treated all-purpose wheat flour (search for it online).
Microwave it for a couple of minutes in a microwave-safe dish. Stir at least once during cooking. When it reaches 165 degrees Fahrenheit throughout, use it in the edible cookie dough recipe.
Edible snickerdoodle cookie dough Recipe #1
Raise your hand if you love cookie dough more than baked cookies! This cookie dough is safe to eat raw. Prep Time 20 minutes Total Time 20 minutes.
Ingredients
4 tablespoons butter, 1/2 stick unsalted butter, at room temperature
1/4 cup sugar, calls for superfine sugar, I used regular sugar
1/2 teaspoon vanilla
1 tablespoon milk
1/2 cup all-purpose flour, Spread flour on a baking sheet. Bake at 350 degrees for 5 mins to kill off any harmful bacteria. Let cool before adding to the ingredients.
1/4 teaspoon salt
1/2 teaspoon ground cinnamon, divided
Instructions
Beat the butter and sugar in a medium bowl for 3 minutes.
Stir in the vanilla and milk.
Add the toasted flour (see above – important for safety), salt, and 1/4 teaspoon of the cinnamon and mix. Blend well.
Sprinkle the rest of the cinnamon over the dough and fold it in, leaving some cinnamon streaks.
Notes
Note: Several people have said this recipe is too salty. You may want to start with 1/4 teaspoon and adjust to your taste.
Edible snickerdoodle cookie dough Recipe # 2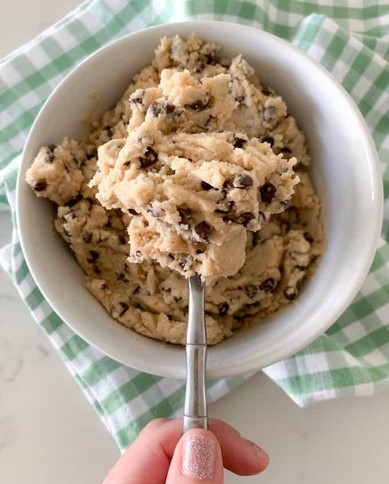 Ingredients
1/2 cup unsalted butter (can use vegan butter or margarine)
1/2 cup sugar
1/2 cup brown sugar
1/4 cup apple sauce (equivalent to 1 egg)
1 tsp vanilla extract
1 cup all-purpose flour (spread on a baking sheet and baked at 375 degrees f for 5 minutes)
1/2 tsp kosher salt
1/4 tsp baking soda
1 cup chopped chocolate
Instructions
The process for both cookies is the same
In a stand mixer with the paddle attachment, beat the butter and sugar(s) together at medium speed until light and fluffy, around 3 minutes.
Add the apple sauce and vanilla extract and beat on low until combined.
Add the flour, baking soda and salt. For the snickerdoodles, add the cinnamon as well. Beat on low until combined.
For the chocolate chip cookies, fold in the chocolate.
Scoop the dough onto parchment paper lined baking sheets using an ice cream scoop and refrigerate at least 1 hour. These cookies taste even better the next day! You can even freeze the dough so it's ready to serve without a second thought.
If you plan to use toppings on the cookies, create a well in the center of each ball of dough and fill with your favorite frostings and fun toppings; sprinkles, sandwich cookies, cereal, sea salt, cinnamon, powdered sugar.
Notes
These cookies can be eaten raw or baked. Before baking the snickerdoodles, roll them in a mixture of 2 tsp cinnamon and 1/4 cup sugar. Bake at 375 degrees f for 10-12 minutes.
Edible snickerdoodle cookie dough Recipe # 3
Ingredients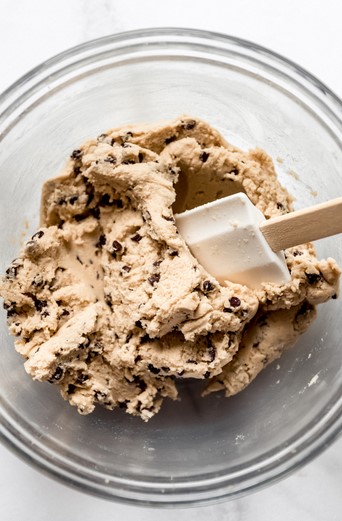 3 cups flour
2 teaspoons cream of tartar
1 teaspoon baking soda
1 1/2 teaspoons cinnamon
1/2 teaspoon salt
1/4 cup CannaButter, softened
3/4 cup unsalted butter, softened
1 1/3 cup granulated sugar
1 large egg
2 teaspoons vanilla
FOR THE TOPPING
1/3 cup granulated sugar
1 teaspoon cinnamon
Instructions
Preheat oven to 375°F.
Make the topping: Combine the granulated sugar and cinnamon together in a small bowl.
Make the cookies: Whisk together the flour, cream of tartar, baking soda, cinnamon and salt in a medium bowl.
In a large bowl, beat the CannaButter, butter and granulated sugar together on high speed until smooth and creamy, about 2 minutes.
Add the egg and vanilla. Beat on medium-high speed until combined.
With the mixer running on low speed, slowly add the dry ingredients to the wet ingredients. The dough will be thick.
Roll cookie dough into balls, about 1.5 tablespoons of cookie dough each.
Roll the dough balls in cinnamon-sugar topping. Sprinkle extra cinnamon-sugar on top if desired.
Bake cookies for 10 minutes.
Cookies remain soft & fresh for 7 days in an airtight container at room temperature.
Notes
DOSAGE INFORMATION
Serving Size: 1 cookie
Servings per Recipe: 24
Dosage: Approximately 11-12 mg THC per serving. Dosage determined using marijuana with 10% THC.