Coconut oil is the perfect substitute for butter when in need of dairy-free or vegan cannabutter. The coconut oil performs similarly to the butter in extracting the cannabinoids from the plant matter, and it remains solid at room temperature like butter.
Coconut oil is naturally dairy-free, vegan, vegetarian, plant-based, and allergen-friendly, and this is the product we use and recommend when making our own at home.
HOW TO MAKE CANNABIS COCONUT OIL
(yield about 1 cup)
1 ¼ cups coconut oil
½ ounce of your favorite dried bud 
About 4 cups of water (optional)
Stovetop Method
Place coconut oil, cannabis plant material, and water in a large saucepan or double boiler on the stove. Bring to a boil, reduce heat to very low and simmer for 2-4 hours. Take care and monitor the liquid level often, adding water as necessary to always keep at least 3 cups in the pot.
Cannabis is an aromatic plant. To reduce fumes, instead of simmering cannabis on the stovetop, use a slow cooker or our favorite, an Instant Pot, and set it to slow cooker mode.  Almost no odor!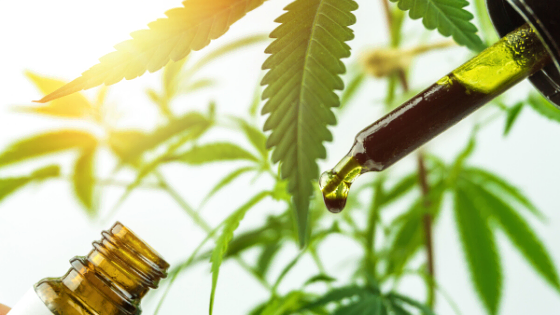 Draining & Straining
Place a cheesecloth-lined strainer over a large pot or bowl and strain the liquid through. Before discarding the plant material, pour a large kettle full of boiling water to wash through any extra oil clinging to the plant material.
Allow time to cool then squeeze out as much liquid as possible. Discard the plant material. Chill water and oil, the infused oil will harden into a solid, making it easy to lift off the water below and discard the water.
Refrigerate infused oil until ready to use or freeze for even longer storage. Fats can still go rancid in the freezer, so try to use it within 3 months.
You are now ready to use your Cannabis Oil in place of butter or oil in any of your plant-based recipes!
But what about the expensive edibles that can be found at most medical marijuana dispensaries, are they healthy? In fact, most brownies, cookies, and gummies are loaded with excessive sugar, corn syrup, and dyes. We believe that processed sugars, not cannabis, are the real concern.
Cannabis & Cacao Edible Body Paint!
On another note, we hope everyone is staying healthy and active, both mentally and physically. But just in case you are looking for a healthy treat or maybe even a fun romantic activity to spice things up, we have one last recommendation for you to try with your easy to make Cannabis and Coconut Oil…
For best results, you want the body paint to be liquid and warm, not hot. You can do this by microwaving for 20 seconds at a time, stirring between sessions until you get a temperature you like. You can also heat in a small saucepan on the stovetop. Either way, STIR WELL, to reduce hot spots and test on a small patch of skin before slathering it on!
Edible Body Paint Dosing
This recipe makes about a 1/2 cup of body paint, and is a vegan alteration of a recipe created by CannibusCheri. We're not sure EXACTLY how much a "serving" of body paint is, for the purposes for calculating dosing, we will call it 1 tablespoon.
In the case, each serving of this will have about 20 mg of THC if you made your Cannabis Oil from average cannabis (10% THC) and used 1/2 ounce of marijuana to make 1 cup of cannabis oil.
More Uses for your Cannabis & Cacao Edible Body Paint
You might have discovered that edible body paint bears a close resemblance to vegan hot fudge sauce. Likewise, if you DON'T have a body to paint, this recipe is excellent served over a variety of other plant-based desserts.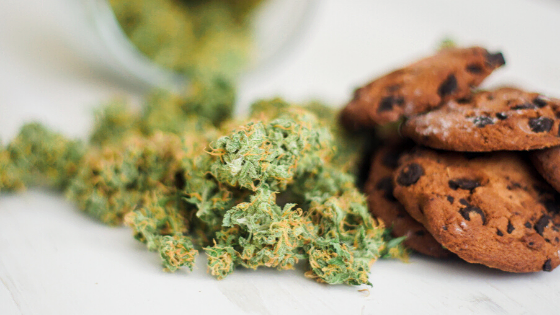 Looking for some mouth-watering, but quick recipes to use your cannabis infused oil with?Here are some easy comfort food go-to's that get a real flavor boost from your ganja concoction!
Mom's Simple Creamy Coconut Rice
Mom's Baked Sweet Potatoes Rounds
Mom's Simple Spicy Sweet Potato Hash Recipe 
Or if you're looking for a fun dessert project try one of these!
Raw Vegan Rainbow Champagne No-Bake Cheesecake
Organic Plant-Based Vegan Key Lime Pie
Chocolate Chunk Maple Glazed Pumpkin Loaf Recipe (use chocolate sauce from recipe below as a spread instead of maple glaze!)
Why Is Marijuana Considered a Medicinal Plant?
One of the lesser-known facts about this herbal remedy is that our very cells are biologically designed to receive cannabinoids, the active chemical compounds derived from this celebrated flower. Research initially suggested endocannabinoid receptors were only present in our brain and nerves. 
Yet, scientists later found that the receptors create a network between the connective tissues of our bodies, minds, and internal organs. This complex system contributes to balancing the state of our cells, despite constant fluctuations from our external environments and internal mental or emotional triggers.
There is a chart that you can view by marijuanaspan, this graphic explains the benefits of Hemp Oil, THC, and lesser known cannabinoids and where they provide the most relief. As demonstrated below, it is clear that Hemp Oil is the leader in effectiveness and uses.
Cannabis Coconut Oil Recipe and Tutorial
Step 1: Decarboxylate your cannabis
Always decarboxylate your cannabis before making cannabis-infused coconut oil or cannabutter.
When you heat cannabis at a controlled temperature, the THCa molecule transforms into the psychoactive and potent molecule THC. (This also goes for CBDa and CBGa. You need to decarboxylate your CBDa into CBD before making CBD infused coconut oil)
I use an Ardent FX or Nova every time I decarboxylate because it effectively transforms over 98% of THCa to THC without any loss.
Most home decarb methods are unreliable and can waste as much as 30% of the THC.
I did the math and the FX  was a no brainer for me since it saves me at least 1/3 lb cannabis every year and makes my edibles and topicals much more effective.
You can read more about the FX here or read the post on other home decarboxylation methods here.
Step 2: Infuse the coconut oil
1. Combine the following in a crockpot on warm or low (warm is usually sufficient in most crockpots):
1 Cup Coconut Oil [I like the big jug of unrefined Nutiva because I use it a lot and the flavor/scent is really delightful. If you don't like the taste of coconut or you'd like to save some money, the refined stuff is a bit cheaper and doesn't have a tropical smell]
1 teaspoon- 1 Tablespoon Sunflower Lecithin: If you reeeeallly don't like the flavor of lecithin use 1 teaspoon. Otherwise, use 1 Tablespoon per cup. 
*Try to keep oil near 160°-180f for best results*
For even better (hands-off, no worry, and much less clean up) results, again, I use the FX. It decarboxylates, infuses and strains every last drop out of your oil. No babysitting. Very little clean up. Virtually no oil loss. It's one of my favorite gadgets these days.
2. Add:
1 Cup Organic Decarboxylated Cannabis (about 7g or 1/4 oz.) –
[dosage note: At 20% THC this works out to about 29 mg THC per teaspoon. If you work with stronger cannabis, say 30% THC, each teaspoon would be about 42 mg THC per teaspoon. Make sure to take it slow and always get a rough idea of how strong your oil is by using the dosage calculator. If you're new to cannabis or if you're trying to refine your use, you can check out this post about microdosing and balancing ratios. You can also use cannabis that is high in CBD and CBG to make blends to create a cannabinoid ratio that works for you. I like Sacred Smoke Herbals for CBD and CBG flower to make oil infusions and tinctures.]
Stir every half hour or so.
After about 2 hours of heating and steeping, turn off the crockpot and allow the oil to cool before moving onto the next step.
Step 3: Strain Your Oil
3. Set up your strainer so it fits snugly in a container. Line with a large piece of cheesecloth.
4. Slowly pour plant matter and oil into the strainer.
5. Using a string or twist tie, gather the cheesecloth around the plant matter and secure it.
6. Squeeeeeeze that sh*t. Save this satchel to make High Chai.
7. Pour oil into a pint jar and place it in the fridge until cool. Seal with a lid. Store in refrigerator or in a cool, dark place.
Spread it on toast. Make Dazed + Infused recipes with it. Rub it on your achy body parts.
Dosing this Cannabis Infused Coconut Oil
For this recipe, 7 grams of 20% THC plant material in 1 cup of oil yields an oil that has approximately 30mg THC per teaspoon. Use the THC and CBD dosage calculator and adjust the calculations to reflect the percentage of THC and/or CBD is in your starting plant material.