How to make THC-Infused Coffee
Break weed down into small pieces. Heat three cups of water over medium heat on hob. Add butter or coconut oil when water is boiling. Sprinkle the crushed up cannabis and leave for 35 to 40 minutes. Strain the mixture through a small hole sieve. Take your coffee of choice and add the combination together.
If you know what it's like to rely on that morning cup of coffee, then you can appreciate how fantastic it would be to have the option of infusing it with a special addition. Though cannabutter can offer a quicker cannabis coffee alternative to this recipe, this from scratch combination is really easy to make, and you don't need any more than dry marijuana buds to make it happen.
Unfortunately, it is a lengthy process, as the steeping takes time to remove the cannabinoids from the plant materials, but you can always make a batch of cannabis coffee water far in advance of when you need it so that it's ready to use in your morning cup of joe for a good old fashioned wake and bake.
Are you one of those people who can't start their day without a steaming cup of hot java? Whether you love a wake and bake or can't get your head off the pillow without at least three shots of espresso, today we have something special for you.Yes, that's right – today we are combining the night owl's dream team; weed and caffeine! Once you have tried our THC infused coffee, you won't ever go back to just one or the other, and what's best is that it is super easy to make!
If you want to learn how you can make cannabis coffee in just five easy steps, keep reading…
Can THC be used in Coffee?
But wait, can THC be used in coffee? We hear you – if you've never tried cannabis-infused food or drink before, this concept might come as a bit of a surprise. Believe it or not, though, consuming THC through edibles is not only delicious but also gets to work much more effectively and the effects last longer, too.
People have been combining cannabis with food and drink for many years – much to our delight! So whether you are looking for a tastier way to consume weed, or want to avoid smoking, you can indulge in our THC coffee recipe to do just that.
Our 5-Step guide to delicious THC-Infused Coffee
Okay – so here is the bit you have been looking forward to, and probably the reason you are here in the first place! Our tasty, easy, and quick THC coffee requires just a few staple ingredients to create:
Coffee (whatever your favorite is!)
3 cups of water
Butter or coconut oil
Cannabis of your choice (recipe calls for ½ gram)
Instructions:
To start with, you want to break your weed down into small pieces for ease later on. We recommend using a good quality grinder for this.
Once you have crushed your cannabis down to a suitable size, heat your water (3 cups) over medium heat on the hob. Bring the water gently to the boil. You want to add your butter or coconut oil into the boiling water so that it melts. The butter/oil helps to absorb the cannabis as it boils, making for your high-hitting coffee later on!
Sprinkle in your crushed-up cannabis and leave for around 35-40 minutes. This shouldn't require too much watching over but stirring occasionally is essential.
Once your time has passed, you need to strain the mixture through a small hole sieve. Once sieved through, you are now ready to prepare your coffee!
Take your coffee of choice and add the combination together, adding any extras such as sugar as desired.
We will be exploring the following ways to make the perfect cup of cannabis coffee:
Cannabis Butter
Cannabis Coconut Oil or MCT Oil
Infused THC or CBD Oil
Cannabis Alcohol Tincture
Cannabis Sugar
Cannabis Concentrates: CBD Concentrate and Full-Extract Cannabis Oil (FECO)
Leftover Cannabis Pulp
What you need to know about Cannabis-Infused Coffee
If you love coffee, pot, or both, then this recipe will not disappoint. However, if you are new to trying edibles (or drinkables), we recommend that you take it slow!
Why slow? Cannabis takes a longer time to take effect when digested; it has your internal digestive system to navigate, after all. So, if you are used to smoking and wonder when the good stuff will start – don't go guzzling down cup after cup of coffee. Trust us on this – you will regret it!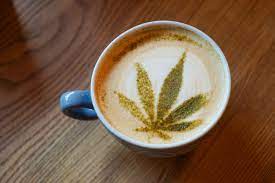 Another thing to point out is that coffee and cannabis do the opposite to your body. Marijuana is a well-known downer, coffee a well-known upper – so when we combine the two? Well… let's say not everyone has the same results with this combo.
While you may drink coffee like it's going out of fashion and still sleep like a baby, others may not be able to smell a coffee bean in the afternoon for fear of eternal awaken. So what can you do? Again, the key message here that we cannot stress enough is that you need to indulge in our THC coffee in moderation!
Round-Up: What did you think of our THC Coffee?
One thing you cannot deny is this is one hell of a simple recipe to follow. If you already have cannabis in the house, the chances are you won't need to buy anything to create this delicious drink.
But what do you think? Will you be tempted to try this recipe out for yourself on your next sluggish morning? Let us know what your favorite way to start the day is – and have you tried our THC coffee recipe?
We recommend decarboxylate the cannabis before cooking, because although during the process of elaboration of the recipe, the marijuana can be decarboxylated, if we do it before we make sure that the decarboxylation is done correctly. If you want to know how to do it click on this link Weed decarboxylation