While cooking with cannabis has long been a pastime among cannabis enthusiasts, the art of crafting edibles has only grown in depth and complexity in recent years. With the introduction of recreational legalization in states across the country, more options are available for cannabis consumers to be able to acquire the ingredients they need to make all manner of savory and delectable edible treats. For those searching for the best cannabis recipes to fill your days with warmth and THC-laden comforts, look no further than these premium selections that are simple enough to create at home.
Best Cannabis Recipes: Gnocchi in Ganja Butter
Servings: 4
Prep time: 20 minutes
Total time: 1 hour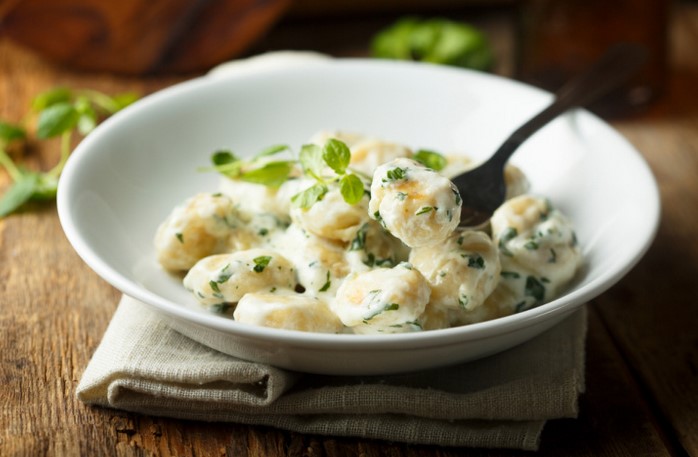 Ingredients
1 tablespoon plain olive oil
1 large egg, slightly beaten
3 cups of all-purpose flour (add more if needed)
weed-infused butter (optional)
grated Parmesan, Asiago, or Romano cheese (optional)
Directions
1. First and foremost, always, always use baking potatoes. Leave skins on and rinse well. Boil in salted water until done. While hot, remove skins, then put potatoes through a sieve to insure no "lumps" remain (However, if you can mash them successfully without lumps—good for you!)
2. Using a large wooden spoon, combine all ingredients until fairly well mixed together. Flour a board, then mix and kneed the potato/flour mixture until it resembles bread dough. If you are uncertain as to the right of amount of flour to use for the right consistency, boil some salted water in a small pan. Roll out a portion of dough in the width and length of a cigar and cut into sizes of a small thumb (you can decide on the size of the gnocchi you want.)
3. Place a fork upside down and roll over the uncut side of a piece of dough you've cut over the fork. Some cooks just make an indentation with their thumb, but if you apply some pressure on the dough over the fork, you will end up with nice, small ridges; the idea being that they cook better with the ridges. Use a little piece of dough to roll at a time and cover the larger remaining portion to keep them from getting dry.
4. Cook one or two pieces for about 4 minutes. Remove and taste them. They should be firm but not too hard.
5. When you have finished cutting all the pieces, place them on a floured board or cookie sheet and sprinkle lightly with flour. These can be covered with a dish towel for use the same day or frozen on the cookie sheet, then placed in a plastic bag for future use. If used on the same day, you will notice that they will turn slightly grey. However, this does not alter the taste. They will turn white again when boiled.
6. If you are going to use them right away, boil some salted water in a large pot adding a tablespoon of olive oil. When they rise to the top of the water, cook for about five minutes. Gently pour into a large sieve or colander. While still in the colander, rinse gnocchi under hot water to remove the flour you topped them with. This will keep them from sticking when you add the melted butter/garlic combo or the red sauce.
NOTE: After rinsing, gently pour the boiled gnocchi in a large bowl or oval platter. If using marijuana-infused butter, add a little coconut oil or olive oil with the butter, adding a few pieces of chopped garlic, browning lightly. Slowly pour over the boiled gnocchi. Sprinkle well with grated Parmesan, Asiago, or Romano cheeses. I generally grate and use all three. You can use a red sauce on the gnocchi after pouring the butter/garlic over them if you desire. Enjoy!
Best Cannabis Recipes: Ganja Guacamole
Ingredients:
3 avocados – peeled, pitted, and mashed
1 lime, juiced
1 teaspoon salt
1/2 cup diced onion
3 tablespoons chopped fresh cilantro
2 teaspoons of crushed cannabis (1.5-2 grams)
2 roma (plum) tomatoes, diced
1 teaspoon minced garlic
1 teaspoon of Cannabis oil
1 pinch ground cayenne pepper (optional)
Directions:
In a medium bowl, mash together the avocados, lime juice, cannabis oil and salt. Mix in onion, cilantro, cannabis, tomatoes and garlic. Stir in cayenne pepper. Refrigerate 1 hour for best flavor, or serve immediately.
CBD Recipe #1: Green Chickpea CBD Pancakes
'These chickpea/gram flour pancakes are on the slightly thicker, sturdier side of the savoury crepe,' says Vanderveldt. 'If you want to top these hearty, gluten-free pancakes with a sweet filling, simply leave out the herbs. You won't get the cool green colour, but you'll have nice golden pancakes for whatever tasty flavour combo you can think up'.
Makes about 4 pancakes
Serves 2
Ingredients:
125 g/1 cup chickpea/gram flour
295 ml/ 1 1/4 cups water
2 handfuls of fresh herbs such as parsley, basil and/or coriander/cilantro
1/2 teaspoon salt, or more to taste
1/4 – 1/2 teaspoon CBD oil
Olive oil, for frying
Savoury topping ideas:
Sautéed mushrooms
Roasted tomatoes
Avocado
Pesto
Method:
1. In a blender, combine the chickpea/gram flour with the water, herbs, salt and CBD oil and process until you get a smooth batter. Let the batter stand at room temperature for 10 minutes.
2. Heat the olive oil in a small non-stick frying pan/skillet over a medium heat. Add approximately 60–90 ml/1/4–⅓ cup of the batter to the warm pan and swirl it around so that it covers the base of the pan. Cook for about 2–3 minutes, until the batter begins to form bubbles. Flip over with a spatula and cook for another 1–2 minutes on the other side until golden and cooked through. Remove to a plate and keep warm until ready to serve.
3. Repeat with the remaining batter – you may need to add a little more oil to the pan as you go. Serve the pancakes with your desired toppings.
CBD Recipe #2: Soba Noodles, Kale & Kashews with CBD Garlic & Chilli Oil
'I love this simple noodle dish served warm for an easy dinner or at room temperature the next day for lunch – I actually think the leftovers taste even better because the flavours have had more time to meld'.
Serves 2-3
Ingredients:
2 garlic cloves, peeled and finely chopped
1 teaspoon chilli flakes/hot red pepper flakes
60 ml/ 1/4 cup avocado or olive oil
1/2 teaspoon CBD oil
60 g/ 1/2 cup raw cashews
225-g/8-oz. pack of buckwheat soba noodles
200 g/3 packed cups roughly chopped kale
Salt
Method:
1. Preheat the oven to 180C (350F) Gas 4.
2. In a medium frying pan/skillet, combine the garlic, chilli flakes/hot red pepper flakes and oil over a low heat. Heat through for about 4–5 minutes, giving a couple of stirs, until the garlic begins to sizzle and become fragrant, then remove from heat. Stir in the CBD oil and set aside until you're ready to use.
3. Spread the cashews out on a baking sheet and roast in the preheated oven for 8–10 minutes until golden.
4. Meanwhile, cook the noodles in salted boiling water for 1–2 minutes less than the package instructions state, adding the kale in the last 30 seconds of cooking. Drain the noodles and kale well and transfer to the pan with the garlic and chilli oil. Toss to combine the ingredients and serve in portions scattered with the roasted cashews.
5. Refrigerate and store any leftovers in an airtight container for up to 5 days. Bring to room temperature or reheat until hot all the way through before serving.
CBD Recipe #3: Lentil & Sweet Potato Bowl with CBD Chimichurri
'I love making this for lunches for the week ahead. But it's equally nice for a shared dinner. The chimichurri is great for livening up a bunch of other things like roasted vegetables and soups'.
Serves 3-4
Ingredients:
190 g/1 cup dry Puy lentils/French lentils
1 large sweet potato (or 2 small), peeled and cut into, 2.5-cm/ 1-inch cubes
2 tablespoons olive oil
1 bunch of kale, stems removed, roughly chopped
140 g/1 cup toasted walnuts, roughly chopped, to serve
Salt and freshly ground black pepper
For the chimichurri:
15 g/1/4 packed cup fresh parsley
15 g/1/4 packed cup fresh coriander/cilantro
2 tablespoons finely chopped shallot
75 ml/⅓ cup olive oil
Freshly squeezed juice of lemon
1 teaspoon unflavoured CBD oil
Sea salt
Method:
1. In a saucepan, combine the lentils with 950 ml/4 cups water and a generous pinch of salt. Bring to the boil over a medium-high heat. Once boiling, turn the heat down and simmer, covered, for 25–30 minutes until the lentils are just tender. Drain and set aside.
2. Meanwhile, toss the sweet potato cubes with 1 tablespoon of the olive oil and a large pinch of salt in a bowl. Spread on a baking sheet and roast in the preheated oven for about 30 minutes, until golden and tender.
3. In another large bowl, combine the kale, the second tablespoon of olive oil and some salt and pepper. Use your hands to rub the olive oil into the kale, making sure the kale is well covered. Massage the kale for 20–30 seconds. This helps to break the leaves down, making them more tender. Set side.
4. Make the chimichurri by combining all the ingredients in a food processor or blender and processing until the herbs are finely chopped and the ingredients are evenly combined.
5. Toss a spoonful or two of the dressing into the cooked lentils and let sit until you're ready to serve.
6. Divide the kale between bowls and top each with lentils and sweet potato. Spoon over some chimichurri and top each bowl with toasted walnuts.
7. Store the elements separately in the refrigerator in airtight containers for up to 5 days. Bring to room temperature and/or reheat the lentils and sweet potato until hot all the way through before eating.
Thai Iced Tea Recipe
Servings: 6
Ingredients:
6 chai tea bags, or 6 black tea bags with ½ teaspoon of ground cinnamon, two cardamom pods, 1 star anise and ½ teaspoon vanilla extract
8 cups boiling water
¼ to ½ cup granulated sugar, optional
1 can condensed milk (14 ounces)
3-5 tablespoons melted cannabutter
Directions
Place the chai tea bags (or the black tea bags with the spices) in a pitcher. Pour 8 cups of boiling water over the tea bags. Allow to steep for 4-5 minutes. Remove the bags and add the optional sugar. Let cool to room temperature.
In a small bowl combine the condensed milk and melted cannabutter.
Fill 6 glasses with ice cubes. Fill each glass two-thirds of the way with the tea. Top the tea with about 2 ounces of the condensed milk mixture. It will sink to the bottom, and that's good. Stir and drink. So, so good.
Mile high blondies Recipe
This is a favorite of edibles entrepreneur Dooley, who avoids gluten and refined sugar. The recipe has been tested at high altitude, and it makes 20 mini muffins with 10mg of THC each. If you use Julie & Kate's lab-tested cannabutter, use approximately 200mg activated THC, which is approximately 3 tablespoons of clarified cannabutter. Then add remaining non-medicated butter as needed.
Ingredients
1 cup all-purpose gluten-free flour of your choice
If the flour blend does not contain these, add:
1/2 teaspoon xantham gum
1/2 teaspoon baking powder
1/8 teaspoon baking soda
1/2 teaspoon salt
1/2 cup melted butter or cannabutter
3/4 cup coconut sugar (or brown sugar)
1 egg, beaten
1 tablespoon vanilla
Optional:
1/3 cup chocolate chips
1/3 cup walnuts
Directions:
Preheat oven to 325 degrees.
Mix all dry ingredients, including walnuts, if using.
Mix beaten egg, vanilla and sugar. Add flour mix to this and combine. Add chocolate chips if desired.
Pour into mini muffin cups and bake for 20-25 minutes at 325 degrees. Tops should be a nice golden color.
---